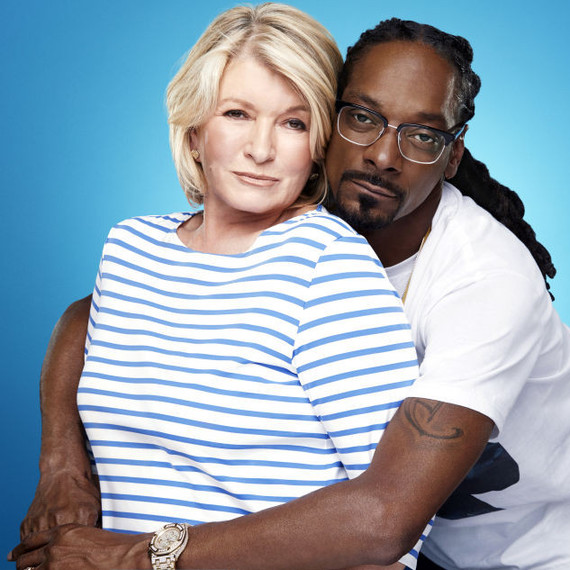 In case you missed it, Martha and Snoop's new show premiered last night, featuring a fried chicken cook-off with a little celebrity help. Wiz Khalifa was on Team Martha and Seth Rogen served as Snoop's sous chef while the two heavyweights competed for a fried chicken championship belt (and bragging rights, of course!). Once the chicken was ready, Ice Cube crashed the party as an extra judge and joined the table in a game of "Two Thighs and a Truth" (a themed take on the icebreaker that had everyone share two lies and one fact about themselves). Here are our favorite moments from yesterday's potluck, including a surprising truth about Martha and the outcome of the fried chicken battle.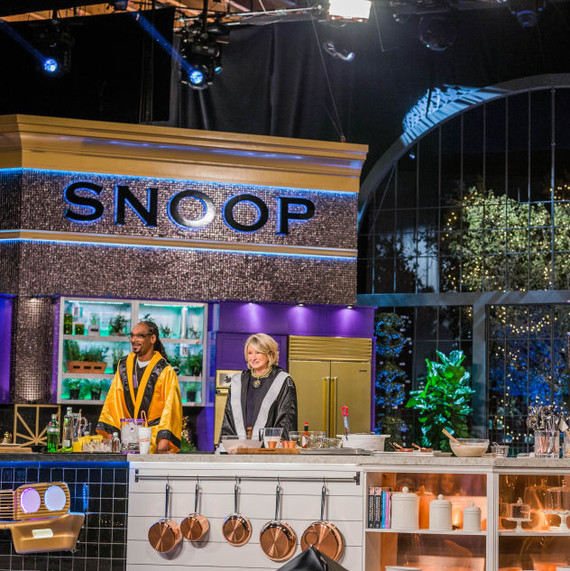 1. The contrast between Martha and Snoop's kitchens
We know this is intentionally exaggerated but still love the juxtaposition. Martha's side of the adjoining kitchen is outfitted in tasteful white and copper, and her fridge plays opera when opened. Snoop's side is decked out in purple and gold and decorated with the front grill of a '64 Impala, and his fridge plays rap when opened.
2. Martha is still the consummate teacher
She schools the audience on some fried chicken history: "Little-known fact: Scottish immigrants brought fried chicken to America. It was African-Americans who then improved upon fried chicken with novel spices and seasonings." She also amazes Khalifa with the use of a meat thermometer -- he turns to Snoop and says, "Look what we doing, man!"
3. Martha calls Seth Rogen nerdy
She calls it like she sees it! Or maybe she still associates Rogen with his "Freaks and Geeks" days. His response? "I'm wearing a chain, for God's sakes!" (Borrowed from Khalifa, of course.)
4. Wiz Khalifa's laugh is pure magic
His fans have known this for years and coined the term WKL to describe his unique cackle, and now we get to witness it on camera. His reaction shots on the show are EVERYTHING.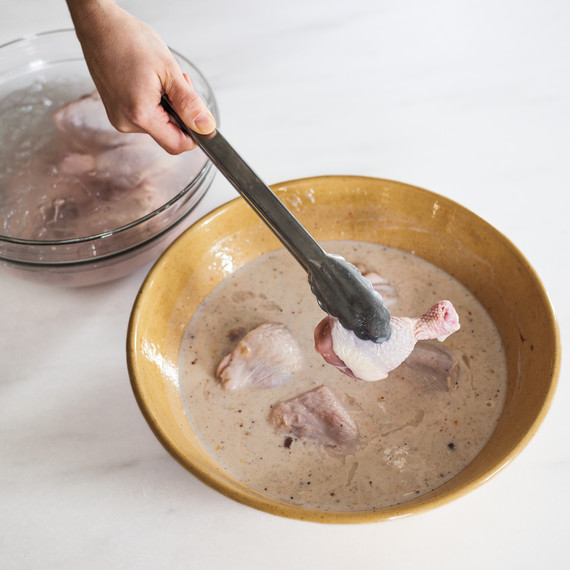 5. Rogen admires Martha's buttermilk bath for her fried chicken
"It looks so good that I would drink that sludge," he says. We wouldn't recommend trying that at home but can attest that the buttermilk does make the chicken super moist and flavorful.
6. Snoop's bedazzled frying goggles
Once Snoop gets his frying oil going, he breaks out a pair of souped-up goggles to protect himself. Martha of course uses a splatter guard.
7. Martha has (maybe) killed a chicken before
She says, "I fed it some vodka and cut off its head," to which Rogen quips, "If Martha gives you vodka, look out!" Watch the clip below:
8. Snoop's version of saying grace
Everyone holds hands, and that's pretty much where the resemblance to grace ends. Snoop says, "Oh Lord, we thank thee most high, so please do listen. We're about to eat fried chicken that will make our fingers glisten. But watch out for Martha -- she's about to lose because Snoop's chicken is soaked in chronic and booze."
9. Martha has been struck by lightning three times
This was Martha's truth! She says, "Going to jail doesn't make you stronger. Only lightning makes you stronger." Um, can we please get that on a T-shirt? The reactions around the table are just as priceless. Ice Cube asks, "Do you think God was trying to kill you?" and Khalifa deadpans, "I'm not going to the gym no more -- I'm going to get struck by lightning."
10. Martha lets Snoop keep the fried chicken championship belt after they tie
After Rogen and Khalifa each vote for their respective teams, and Ice Cube can't bring himself to break the tie, Snoop offers to hold onto the prize. Martha graciously agrees. Why? "It doesn't quite fit my decor."
"Martha & Snoop's Potluck Dinner Party" airs on VH1 Mondays at 10/9c.