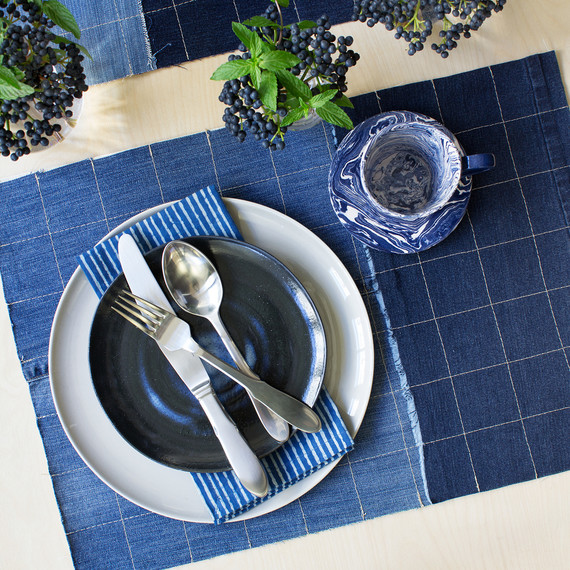 We like to think of place mats as one of the most versatile accessories you can add to your table. And right now, we are seeing grid patterns everywhere in the design world. So we've created these marvelously modern grid-stitched place mats using old denim pieces that were gathering dust in a donation box. We love combining multiple washes of denim in one mat, but how you select your shades is completely up to you!
[DON'T MISS: See How We Customized a Denim Jacket — 3 Different Ways]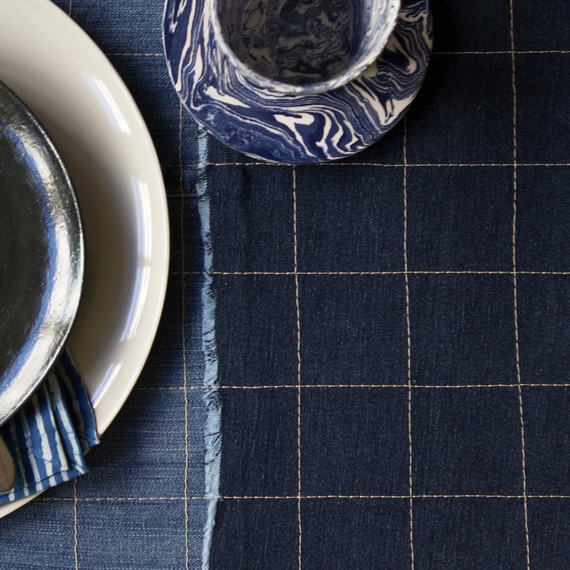 Although you have to bust out the sewing machine for this project, it just involves making straight lines. Therefore, this is a great project for sewing novices, enabling you to get wow-worthy home accent pieces with just a few simple stitches. Although you could use any fabric for this tutorial, denim is a stylish favorite that adds the perfect dose of unexpected charm to your table. Just like your favorite jeans, a denim place mat will go with almost everything. Indigo and other shades of blue pair perfectly with traditional autumnal hues of brown, orange, yellow, gold and red. The denim will provide the perfect color contrast to your typical fall shades when added to your Thanksgiving table. Or use the casual chic mats for a tailored contemporary table all year round.
Materials
Old denim such as jeans, jackets, etc. (washed and clean)
Medium or heavy Fusible Interfacing
Thread color of your choice
Sewing machine
Masking tape
Scissors
Quilting ruler
Cutting mat
Iron and ironing board or blanket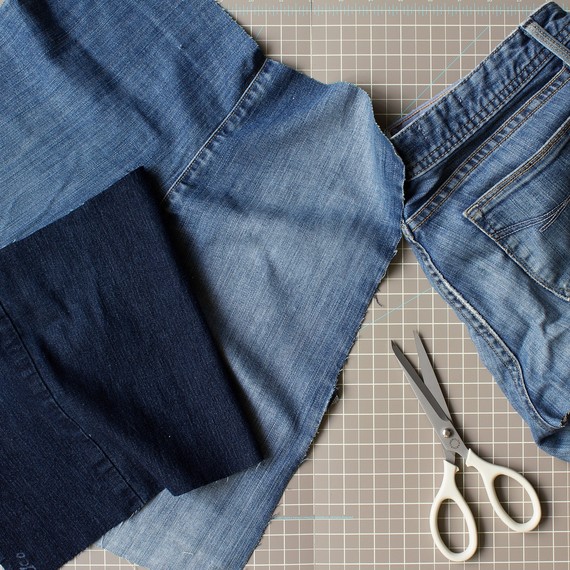 Step 1
Place your clothes on a flat surface and cut out the bigger areas to use. For example, cut out the thigh area on a pair of jeans. Cut open the leg at the seam and iron flat. For each place mat, you'll want to use two to three different pieces, depending on their size and if you want a variety of shades. Be sure to avoid areas that are stretched, which typically happens in the knee areas of pants. Stretched denim will create a warped effect, for a mat that won't flatten properly.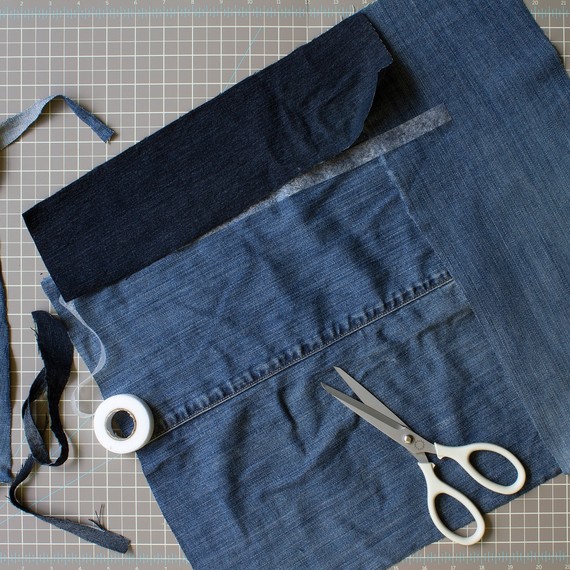 Step 2
Each place mat will end up being 14 by 20 inches, but it's best to start a little bigger so you have room to trim and square up the sides later. Layer the denim swatches in a pattern you like and secure them into place with the iron and stitch witchery.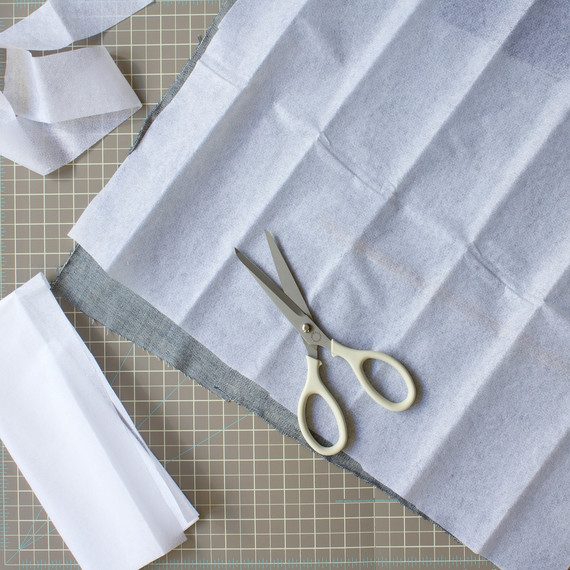 Step 3
Once you have your basic shape connected, make sure every piece is completely ironed flat. After cutting your interfacing to fit your place mat, use your iron to secure it to the mat, following the instructions on your interfacing package. The interfacing helps hold everything in place, while adding stability and weight to your place mats.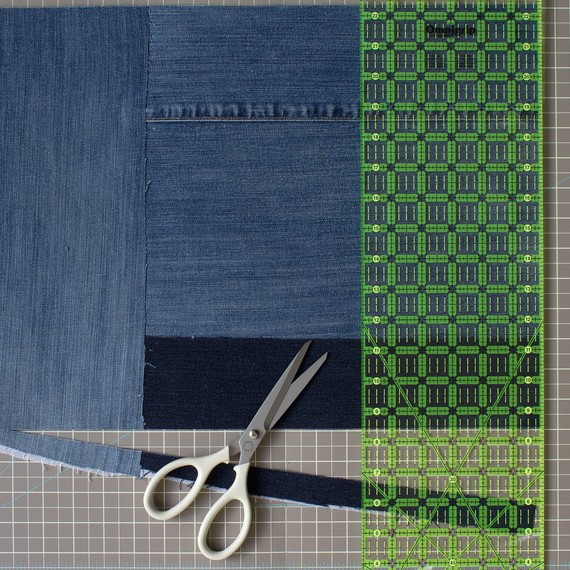 Step 4
Make sure you take time to check the edges and corners of your place mat, trimming again to make them perfectly square if necessary. Remember that you want each mat to be the aforementioned measurements.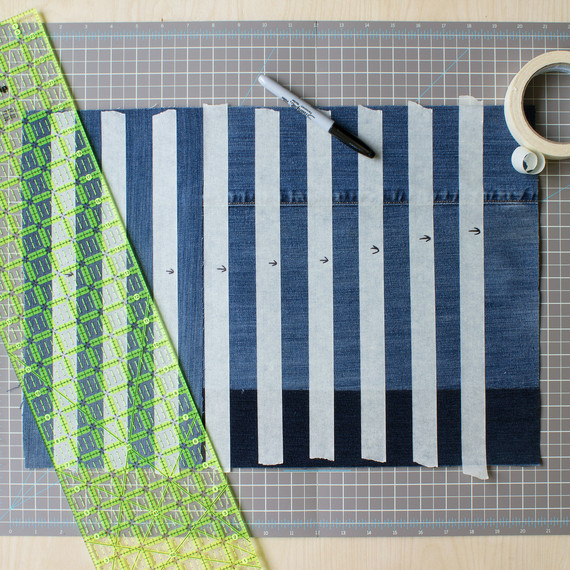 Step 5
Using your quilting square, add lines of masking tape every 2 inches vertically down the mat, placing the tape just to the left of every 2-inch mark. You'll use the edge of the tape as your guide for sewing the lines, ensuring each line is both perfectly straight and the necessary distance apart.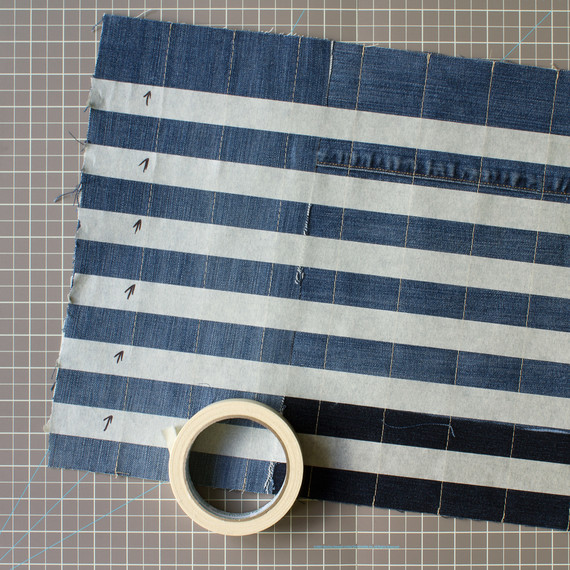 Step 6
Next, sew all of your straight lines just to the right of the tape. Remove the tape, and repeat steps 4 and 5 to add your guides and sew the lines horizontally to form the grid. Finally, remove the last strips of tape and trim any excess threads. Your mat is now ready for its place on the table!
Want to try another denim project? In this video, we show you how to create a denim case for your tech accessories!