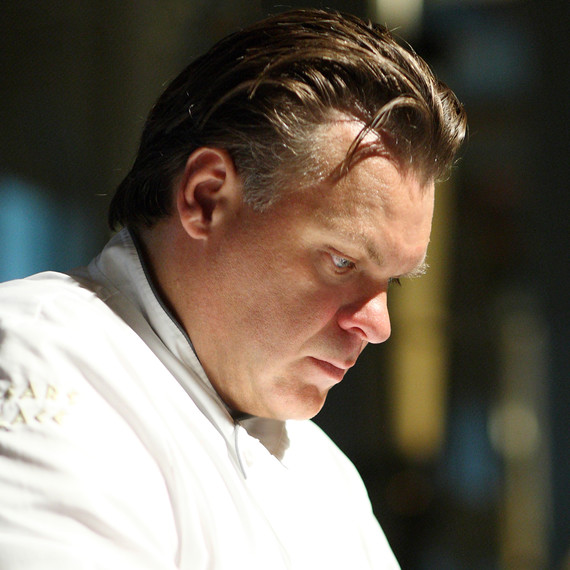 Francois Payard is a third-generation French pastry chef and has called New York City his home for the last 23 years. He's worked at top restaurants including Daniel, Le Bernardin, Lucas Carton, and his own, Payard; but he's now best-known for his wonderful bakeries and patisseries in NYC, Las Vegas, and abroad. There this master patisserier creates genoise, croissants, chocolates, and other delicacies that marry the best of French tradition with top-quality ingredients and a modern sensibility.
We caught up with him after he was a guest on Martha's Sirius XM radio show.
After the cupcake craze and then more cupcakes, then the Cronut and all the sugary mash-ups we've seen, what do you think is the next trend in pastry?
I think the macaron is the new cupcake. The Cronut is really the best idea of the year from Dominique (Ansel). Even though people copy it, he is the one who found the idea. It is an incredible idea because he was able to reach what Americans grew up on, doughnuts, and make his own twist. But macarons are classic, we make 10 flavors every day at FPB (Francois Payard Bakery), and they are the best for gift-giving.
What is the idea behind your new book, Payard Desserts?
This book is completely different from the ones I've done before. It's really giving my recipes from the last 25 years of dessert I did in all the restaurants: Daniel, Le Bernardin, Lucas Carton, Payard. I don't do plating desserts anymore, because I have the shop (his bakeries and patisseries). It's like sharing what I have been doing. I hope people will sit back and read the book and learn, take some things from it. I don't expect them to make all the recipes, but they can learn; when there is a dessert with four stages, they can use the components separately, like the chocolate Chantilly, you know what it is? It is like a chocolate mousse but made in two minutes. Two cups of heavy cream whipped and one cup of melted chocolate. You fold quickly and you have mousse.
Your wife, Fernanda Capobianco, is a vegan and owns a vegan bakery, and you're all about butter and eggs. We're curious, what have you learned from her?
I don't bake vegan because people come to me for the original, but I can make everything she makes because I understand her baking. If she needs support, I am always there to give it or make a recipe for her because -- you know what? -- her world is the same as my world. She doesn't have butter, she has coconut oil and olive-oil butter. She doesn't have eggs, she has egg replacer.
What do you and your wife eat when you eat at home -- and who cooks?
I'm not vegan, but I eat vegan when I cook at home three times a week. And when I go to my friends, I will have a good steak. At home, I cook, and we eat pasta once or twice a week, always whole-grain pasta but pretty much traditional with tomato or using the leftover vegetables from the fridge. After that, we cook a lot of vegetables. She loves kale, broccoli rabe, and Brussels sprouts. She needs to eat rice and beans -- like red beans, you know? -- to get protein. I don't absolutely like it myself, but for her, I know it cannot just be a vegetable without protein to eat. We don't use much tempeh or seitan. We use more like everything from the garden. Right now a lot of squash, sweet potato, broccoli rabe, and last week, I roasted the whole stalk of Brussels sprouts we got from a farm.


What are you doing for Thanksgiving?
I close all the places on Thanksgiving, and we always go to friends. Most of the time I am invited to go to the kitchen to cook the turkey and to prepare the things [laughs]. We cook together with our friends, and it's fun. I always bring dessert -- always pumpkin or pecan tart, and I take a special apple tart I make. An apple tart is great for Thanksgiving; you can serve it warm or cold or room temperature. And I also bring something chocolate, maybe a chocolate cake. It's not a holiday for some people without chocolate. I think with three things like that, it's really Thanksgiving. And I always bring my macarons like petits fours as an extra treat.
 
Visit Francois Payard Bakery and Patisserie
Read our other Q&As with chefs Daniel Boulud and Gaston Acurio
For more interviews, tune in to "Martha Live" on SiriusXM Stars Channel 106 weekdays 12pm ET to 2pm ET.
Call in with questions: 866-675-6675.