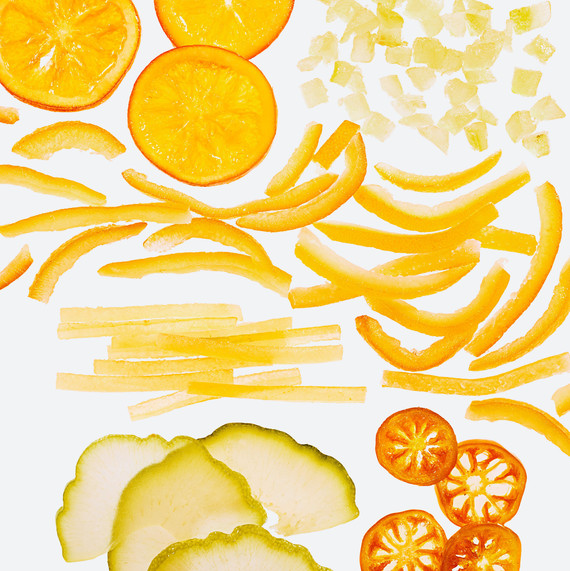 Do you have a recipe that calls for candied citron, and are you wondering what it is? It's not candied lemon or grapefruit peel; a citron is an actual semitropical fruit that's similar to a lemon but with thicker skin. To make candied citron, the citron is blanched in water, boiled in sugar syrup, and dried. It lends a mild floral note to fruitcakes, panettone, and other such confections.
We love candied citron but want to make sure you also consider all the other candied-citrus options. Each shines in a different way, but they can be used interchangeably in most recipes, so if you happen to have one kind on hand, try that in your recipe. 
ORANGE SLICES (Top Left)
They're great as a decorative flourish on top of cupcakes.
CITRON PEEL (Top Right)
Though the pulp is sour, the candied peel is perfect for baking into stollen or stirring into granola.
LEMON RIND (Middle Left)
Finely chop it and mix into muffins and pancakes for a bright flavor.
ORANGE PEEL (Middle Right)
Dip pieces in dark chocolate and serve as an after-dinner treat.
CITRON SLICES (Bottom Left)
Serve thin slices as part of a holiday cheese plate.
CLEMENTINE SLICES (Bottom Right)
Garnish cocktails with these gem-like rounds.
Candied citrus is available at specialty stores -- one of our favorite online sources is junetaylorjams.com -- and of course you can make candied citrus at home. Either way, store it in an airtight container in a cool, dry place for up to a month.