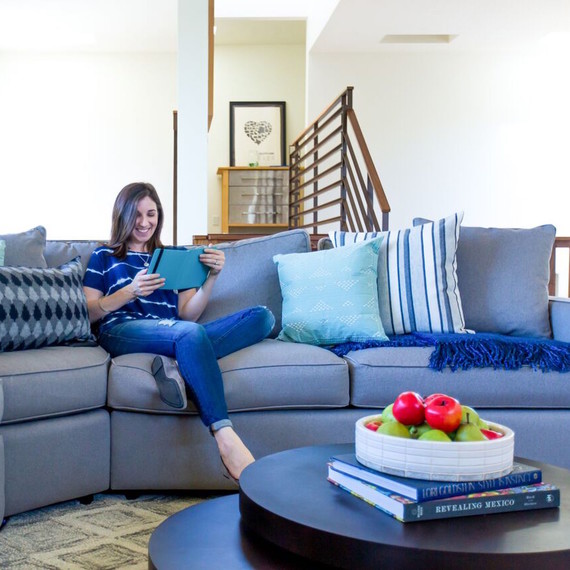 As one of the first people to manage YouTube stars, Penna was able to use her talent-finding skills to start her own media company, BigFrame, now known as Awestruck. The company produces content targeted at millennial moms, who Penna can easily relate to as she has a toddler of her own with husband and YouTube star Joe Penna (aka MysteryGuitarMan).
"It was really exciting to see how this space can work and how people are imaging things that I never would have imagined," Penna says.
[GET INSPIRED: A Kitchen Makeover on a Budget]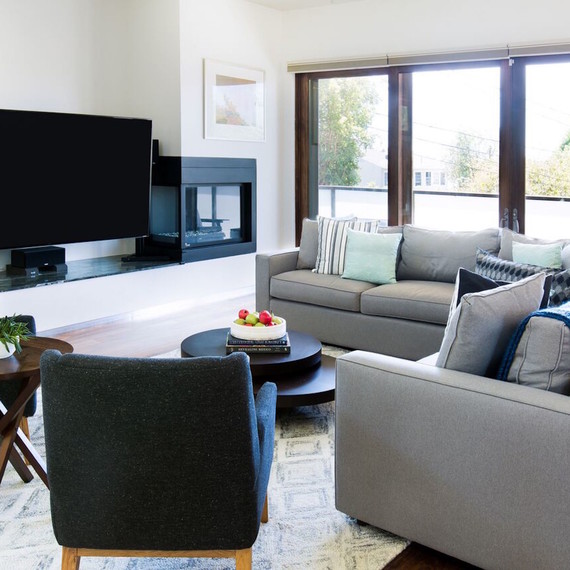 What was once a room with an uninviting layout filled with Penna's son Jonah's toys, has transformed into the heart of the home. The sectional that used to simply occupy space became a beautiful focal point. Accented with playful throw pillows, a plush geometric rug, and plenty of greenery, the living room is now one of the family's favorite areas in the house.
The calming cool tones in the room inspire relaxation while coastal imagery brings a sense of fluidity to the contemporary architectural style of the house.
[BRING ON THE BLUES! How to Decorate with this Cool Color]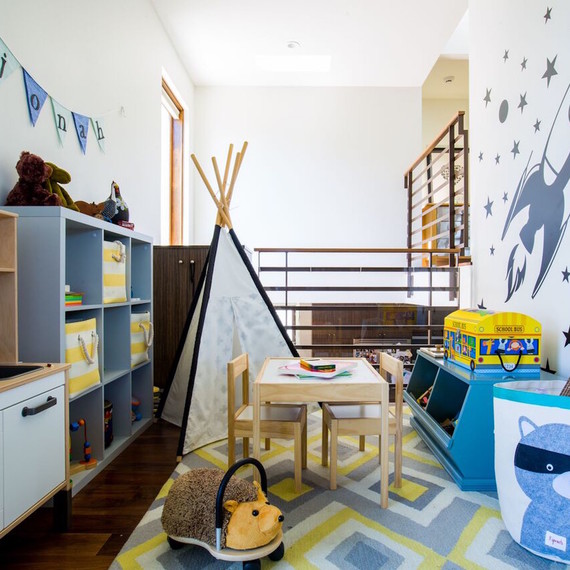 Laurel & Wolf designer Yekii Killion first separated Jonah's play nook from the rest of the space to give the rambunctious two-year-old his own area in the home. Jonah's special space is now filled with an ample amount of toys and is finished off with a giant rocket ship decal that invites play and lets his imagination soar.
"My son loves the new space. He knows it's his world, we're just living in it," Penna says.
[GET MORE IDEAS: A Perfect Gender-Neutral Kids' Room for Two Babes]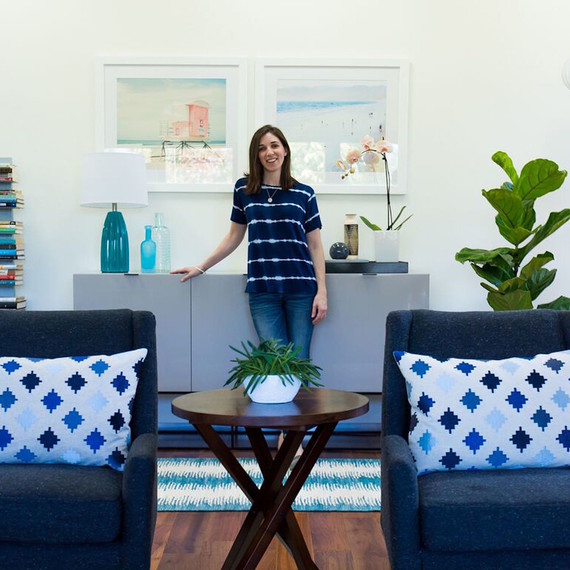 With all the freed up square footage, the main area was turned into a place for gathering with loved ones. The new design serves as an area where the couple's friends can come hang for some fun and relaxation, particularly on game nights. "We're the house everyone goes to now."
"The console plus the two photos on top of it were my favorite thing that I wouldn't have thought of myself," says Penna. Two plush navy chairs add extra seating and a pop of color to the cool, neutral space.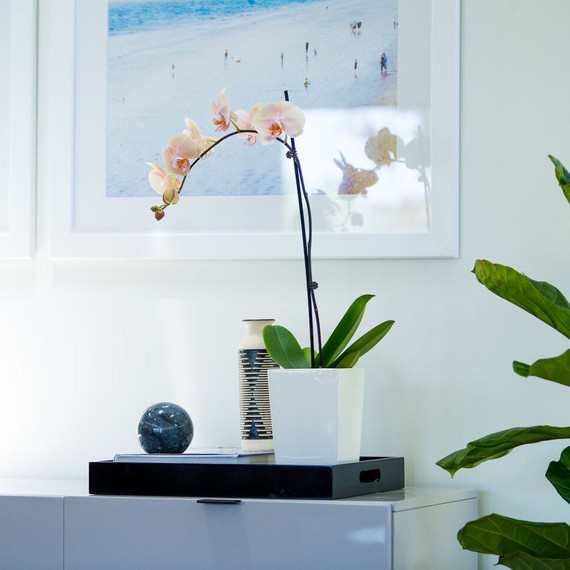 Balancing work and home life is a challenge for all new parents, but having a space to be together helps. "My home for me is like my sanctuary. Without sounding over the top, I try to be very sacred about my time there," Penna says.
The new design provides a serene retreat after busy days at the office. "I love how it's so simple and clean, but it's something that I would never have been able to put together in a million years."