Old fixtures, chipped paint, and cluttered cabinets are all signs that it's time to give your tired bathroom a fresh look. While you might think updating your bathroom will be an expensive task, there are many affordable tips and tricks that can revive your bathroom for very little cash. Even subtle changes, such as new paint or a decorative mirror can have a big impact on the look and feel of your bathroom. With new hardware, stylish accessories and a few simple organization hacks, you can turn your chaotic and cluttered bathroom into a tidy, tranquil retreat. Save time and money with these quick bathroom makeovers that anyone can do.
Here are ten easy ways to update an old and outdated bathroom without breaking the bank.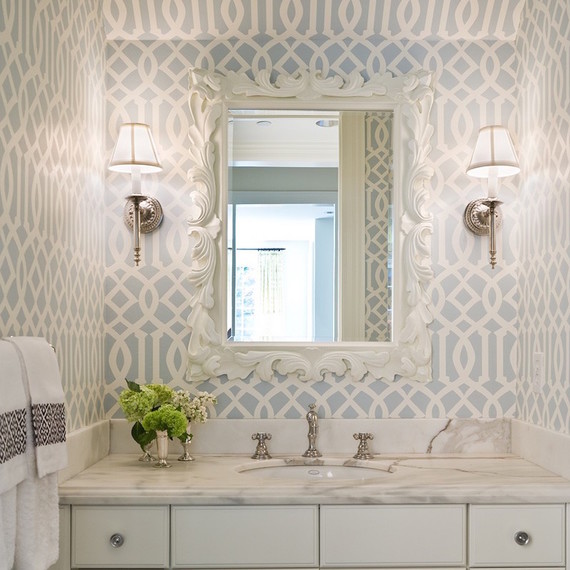 1. Add accessories
A new, shiny mirror, fresh flowers or wall art are easy ways to accessorize your bathroom. A few items of decor will not only improve the appearance of your space, but will also help create a serene and welcoming atmosphere in a room that's used every day. Worried about overspending on pricey decor items? Try accessorizing your bathroom with reused items, like old mason jars, candles, and vases.
Image Credit: Graciela Rutkowski Interiors
[GET MORE: Bathroom Design Ideas]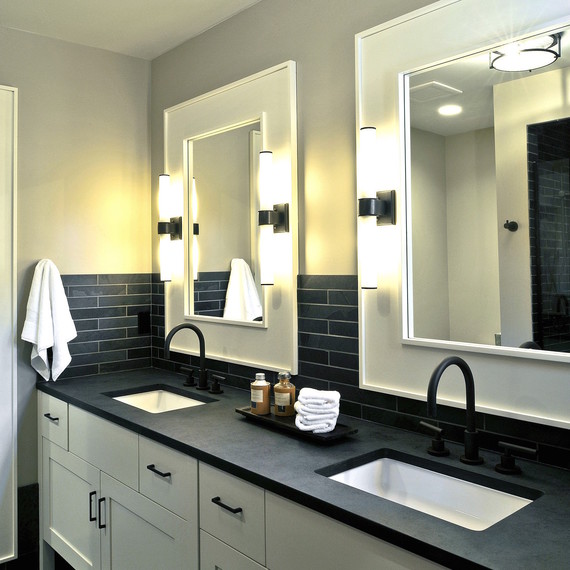 2. Update lighting
Quality lighting is key in a well-designed and functional bathroom. From hanging pendants and crystal chandeliers to vanity lights and wall sconces, there are many options when it comes to illuminating your bathroom. Give your space a quick makeover by adding a decorative lamp or replace your current light fixtures for an entirely new look. If you're not sure how to properly install or replace interior lighting, look to an experienced professional for help.
Image Credit: Hyde Evans Design
[TRY THIS: How to Save Energy on Lighting]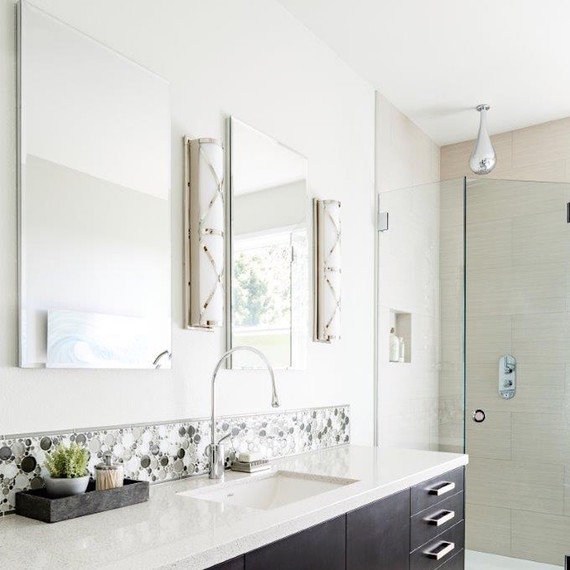 3. Freshen up hardware
Fresh hardware, including hooks, knobs, handles, faucets and more can easily be replaced and updated in your mini bathroom makeover. While you'll want to make sure all of your hardware and fixtures either match, coordinate or complement each other, have fun with your redecorating and choose hardware that suits your style.
Image Credit: Mosaik Design & Remodeling
[BATHING BEAUTIES: The Simple Ideas Behind 2 Stylish Bathroom Makeovers]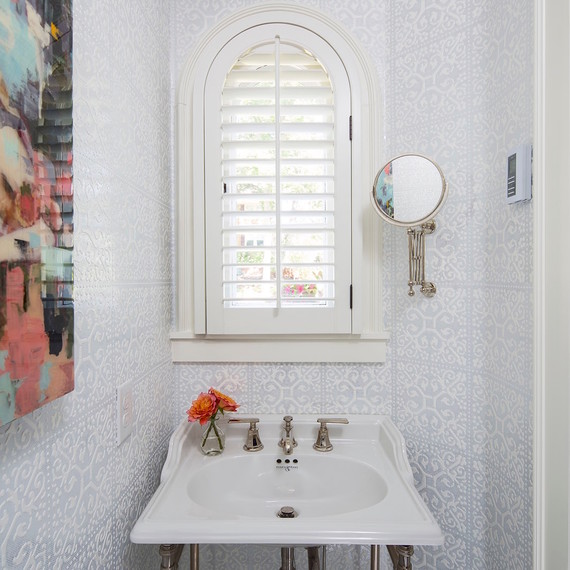 4. Play up the pattern
Budget-friendly bathroom makeovers are meant to be creative. Dress up your small space with fun, decorative wallpaper. Light, patterned wallpaper enlivens this small powder room with a subtle texture that makes a statement. If you're worried about going overboard on playful patterns, try only choosing one wall to update with colorful wallpaper or paint.
Image Credit: Martha O'Hara Interiors
[SAVE TIME: How to Properly Organize Your Vanity]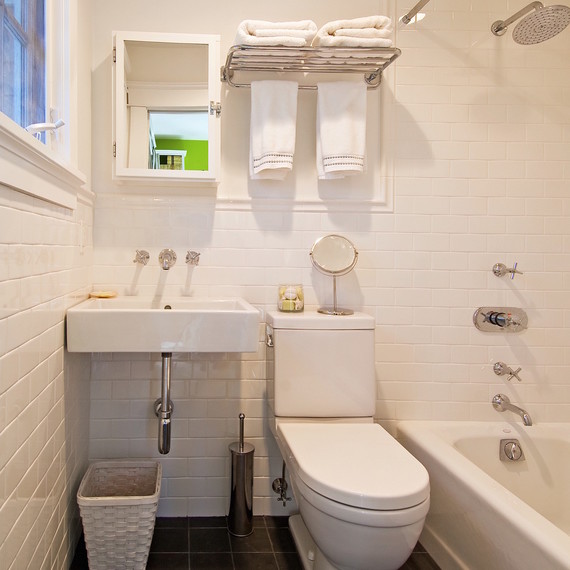 5. Get organized
When working with a bathroom tight on space, redecorating and organizing the room can seem like a difficult task. Add storage bins and baskets, towel racks and shelves to create extra storage space. Replace your mirror with a medicine cabinet and use areas you might not have thought of before, like under the sink, on top of the toilet or above the door.
Image Credit: Benco Construction, Inc.
[TRY THIS: Bathroom Organization Tips]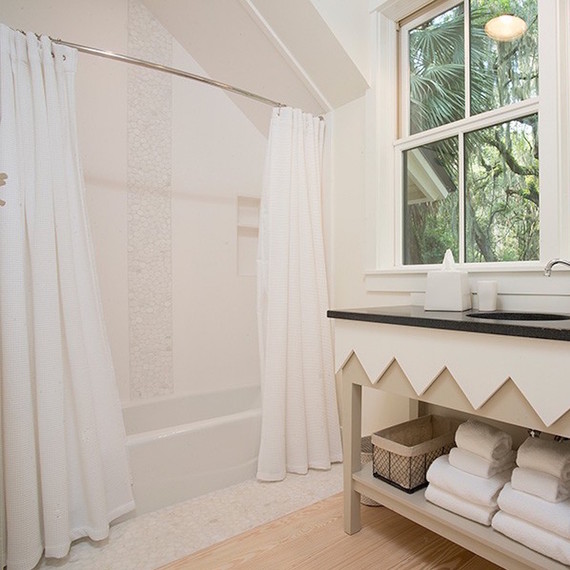 6. Hang a new shower curtain
Shower curtains can quickly build up mold and bacteria. Swapping out your old, dirty cloth or plastic curtains for a fresh, clean shower curtain will instantly give your bathroom a boost. Add a pop of color with bright and patterned prints or opt for a plain white shower curtain to spruce up your space. If you really want to give your bathroom some personal flair, create a custom shower curtain in your desired color and style to complete the look of your new bathroom.
Image Credit: Reclamation By Design
[KEEP IT CLEAN: How to Clean a Shower Curtain Liner]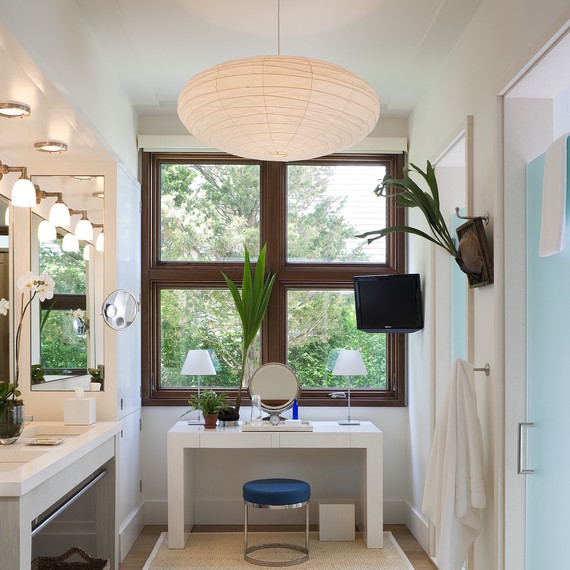 7. Create a spa-like atmosphere
Your bathroom is a place where you can escape after a long day to relax. Turn your bathroom into a personal home spa by mixing in nature and adding calming scents, like lavender or vanilla candles. A few inexpensive decorative touches can update your bathroom into a personal retreat that you'll never want to leave.
Image Credit: Foley & Cox Interiors
[TREAT YOURSELF: An (Almost) Professional At-Home Spa]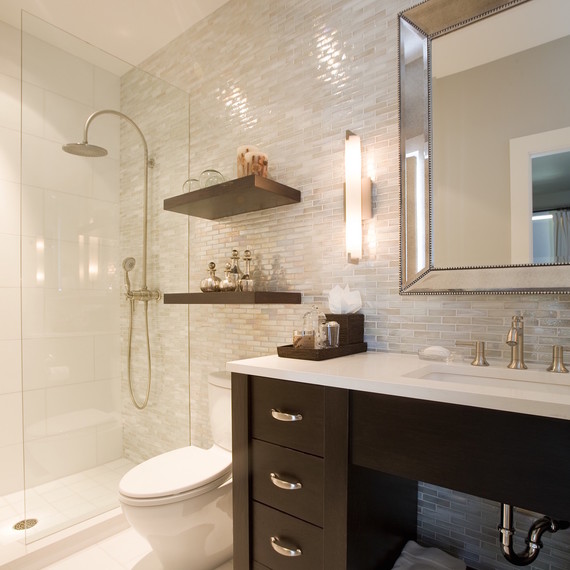 8. Replace your shower head
If your shower's water pressure is feeling dull and you haven't replaced your shower head in years, it's time for an upgrade. Replacing an outdated shower head is an affordable option that will transform your bathroom. From hand held shower heads with extra-long hoses to relaxing rainfall shower heads, the models and styles at different prices are endless.
Image Credit: Sefra Maples Interior Design + Consulting
[TRY THIS: DIY Tub and Tile Cleaner]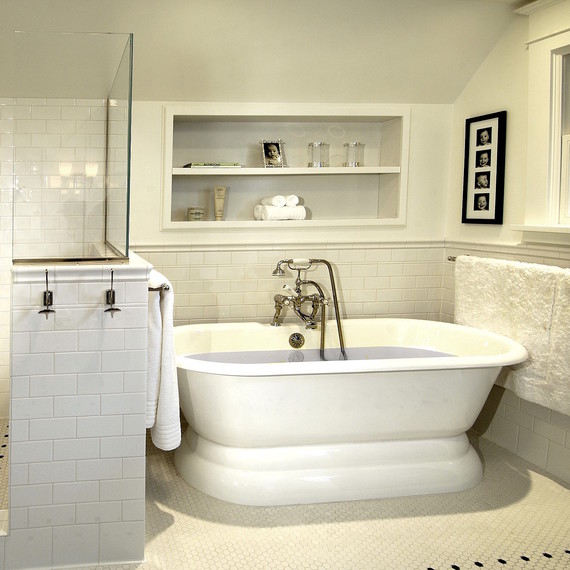 9. Add a personal touch
Don't be afraid to display your framed pictures, favorite magazines and essential beauty products throughout your bathroom. Personal touches can create that homey feel you've been looking for in your space. Bathroom items like monogrammed towels, potpourri or seashells can add personal charm to a room with minimal effort.
Image Credit: Jackson Remodeling
[IT'S MINE! Personalize It with Monogram Crafts]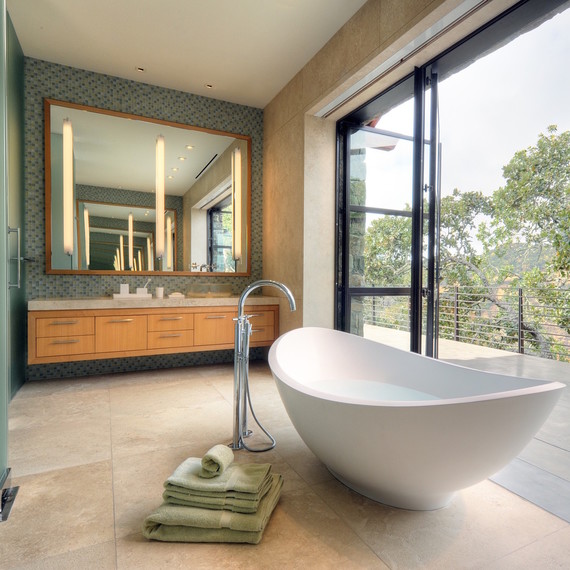 10. Replace towels and bath mats
After a while, it can be tough to get rid of stains and spills on towels or mats. Fresh towels, along with bath and shower mats are an easy and low-cost update you can make to your bathroom. Display plain white hand towels for a clean, simple look or choose a neutral shade of bath mats and rugs that will complement the color and overall theme of your space.
Image Credit: De Meza + Architecture, Inc.
[JIC: Care for Towels and Linens]