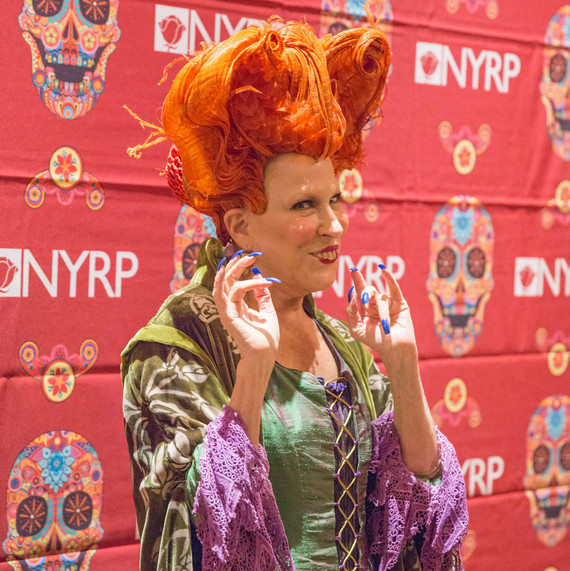 Remember how much you loved Hocus Pocus as a child? And how much witchy Winifred Sanderson either fully delighted or fully terrified you? 
Well, hold on to your broomsticks... because she's back.
[DON'T MISS: 18 More Magical Moments From the Hulaween Gala 2016]
The special ocassion? Last night, she arrived for her annual Halloween party, better known as Hulaween at New York City's Waldorf Astoria Hotel. This star-studded event, which benefits the New York Restoration Project (NYRP) is held every Halloween with a new spooky theme in mind. And this year's theme? Befittingly, it was Witches, Wizards & Warlocks — and all of the guests were encouraged to arrive in their most magical costumes. Guests would be entertained by host Kathy Griffin (who, rebel that she is, arrived as her own Snapchat filter — DIY, of course) and judged in a costume contest by Marc Jacobs (who arrived in a hilarious bikini). 
But prior to dinner and fundraising merriment inside the ballroom, Bette arrived to the carpet in full witchy garb and made all of our Halloween dreams come true.
Her costume included all of the familar devilish details you remember: an embroidered green robe, long talon-like nails, buck teeth, and her signature red hairdo (which, is so mystifying that it must be a product of witchcraft). "I'd like to wear this outfit every day," she says. "In fact, I go around from morning till night wearing it." And despite that magical hairdo, she says it only takes her an hour and a half to transform into Winifred. Now, all we need is for her to reunite with her equally evil Salem witch sisters for a sequel!
Want to see another one of Bette Midler's costumes brought to life? Here, she reveals her willow tree Halloween costume to Martha: