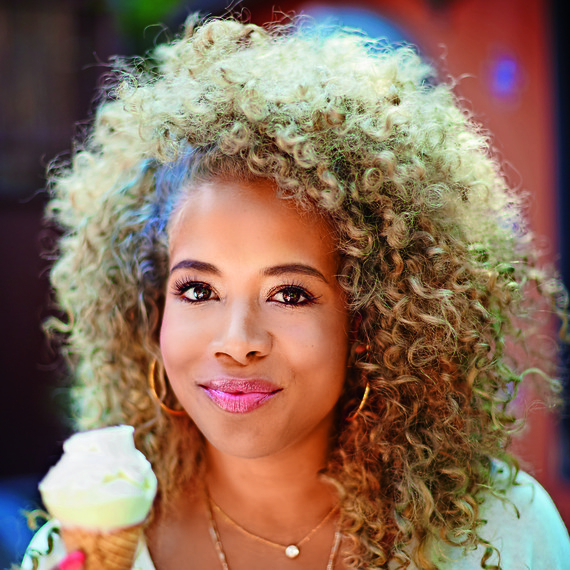 If you only know Kelis from her 2003 hit single, "Milkshake," you are seriously missing out. Since then she has attended culinary school at Le Cordon Bleu, released three more albums (the most recent one was aptly titled Food), launched a line of sauces, and written a legit cookbook, seamlessly jumping from the music industry to the food world and back again. These days, you can find her touring the world and opening pop-up restaurants without breaking a sweat. Kelis was also one of the first guests on Martha's new cooking show with Snoop, making it the perfect time to catch up with her.
How did you first get interested in cooking?
My mom was a chef and had a catering business, so I guess you could say I was indoctrinated early. Dinner was the cornerstone of my family growing up, so food was always a big part of my life. It's funny to draw a line from then to now. I'm working on a brunch pop-up in L.A., but I want to open a brick-and-mortar restaurant more than anything right now. I have three different plans; it's just a matter of which one I execute first.
Who is your biggest inspiration as a chef?
It's still my mom, honestly. There are definitely chefs that I love and admire, but I'm still fascinated by how versatile and fluid my mom is in the kitchen.
Where is your dream food destination?
I travel to eat at this point -- it's my favorite thing to do. I would say India because I think it would be a real food explosion. I've also never been even though I've traveled all around Asia. I was just in Singapore, where everything was amazing -- I really loved the chili crab.
Do you have a food philosophy?
Whenever I describe my style, whether it's fashion or food or music, I always say "more is more." It applies to everything, but especially food. Not getting enough food at a restaurant is a major pet peeve; I'd much rather have too much than too little. I like having options, and I like things to be big and robust, which is why I named my sauce line Bounty & Full.
What are some ingredients you always have in the fridge?
I have a ridiculous number of condiments in my fridge at any given time, and not just the ones from my sauce line! Because of how I eat on a daily basis, hot sauce is my #1. I'm launching a spicy aji sauce next year that I'm really excited about. I also always have fresh produce and lots of cheese. You can't go wrong as long as you have some of those three things.
What kind of music do you like to listen to in the kitchen?
It depends. If I'm in discovery mode, I usually don't listen to music. If I'm prepping something I already have in my head, it can be jazz or whichever new album I'm excited about.
Tell us about your experience on "Martha & Snoop's Potluck Dinner Party."
It was super laid-back, and everyone was so friendly. It's funny -- at the time I was thinking, this show is hilarious and entertaining, but I'm not sure I belong here. Then they brought out this whole pig they were roasting, which is what I do on the weekends, so I was like okay, I belong here for that, if not for anything else.
(MAKE: Our Cuban-Style Roast Pig Recipe)
Was it your first time meeting Martha?
Yes, but she's such a staple -- I'd definitely seen her show growing up. I really respect how Martha started out and how much she's grown. As someone who wants to branch out and build my own lifestyle brand, I definitely relate to her. It was awesome to see Martha at this point in her career having fun and not taking herself too seriously.
(SNEAK PEEK: These Behind-the-Scenes Snaps from "Martha and Snoop's Potluck Dinner Party" Are EVERYTHING)
You said earlier this year that you've never made a milkshake. Have you at least had one before?
I definitely have, but it was never something that I was super thoughtful about. The irony is that once the song came out, ordering a milkshake became less exciting than you could imagine. I'm happy that the song has had such staying power, but the fact that people take it so literally dulled very quickly. So years went by, and now I haven't had a milkshake in a decade. I'll have to have one soon!
Don't miss Kelis on "Martha & Snoop's Potluck Dinner Party" on VH1! The series premieres on Monday, November 7th.