Take a break from fussing with formal floral centerpieces, and display wispy dried branch stalks in different vases. For a snow-kissed look, lay them on paper and spray them with white floral paint before arranging.
Nason & Moretti Idra water glasses, $360 for 6, tableartonline.com.
Billy Cotton Curved water glasses, in Amber, $15 each, billycotton.com.
Amanda Moffat Indigo Tumbler vase (similar to shown), from $125, amandamoffatpottery.com.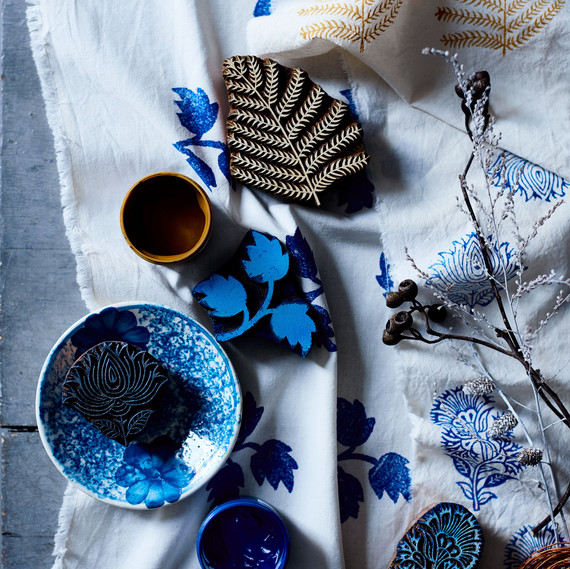 Block-printed linens are costly to buy but surprisingly simple to make. With little more than textile paint, muslin fabric, and woodblock stamps, a personalized setting is close at hand. We went with a botanical motif, but choose whatever appeals to you.
When block-printing napkins, mix colors and patterns to add to your table's eclectic vibe.
[MAKE THIS: Indigo Block-Printed Linens]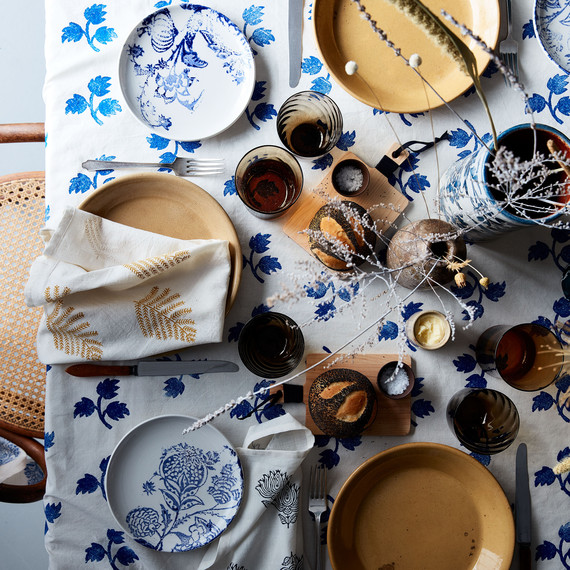 A unique combo of colors and a loose mix of materials make a dining table feel relaxed and inviting but still celebratory. Here, vintage yellowware pie dishes serve as unconventional dinner plates, and individual cutting boards hold bread and salt dishes; for a stylish touch, wind ribbon around their handles.
Mini Rectangle boards, $9 each, jkadams.com.
Studio Carta by Angela Liguori cotton ribbon, 1/4′′, in Dark Indigo, $9 for a 5-yard spool, shopangelaliguori.com.
Cobalt Blooms side plates, $18 each, shopterrain.com.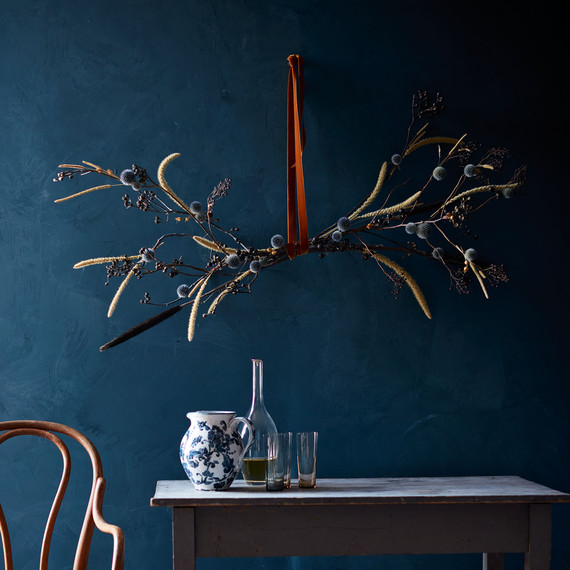 Elevate a buffet table or entryway with a simple bough arrangement that you can pull together yourself. Arrange four sturdy branches (these are eucalpytus) on a table, and wrap them together with floral wire. Add lighter stalks (here, 'Purple Majesty' millet), and hang the display on a wall with a ribbon. Affix smaller dried plants and flowers, such as Echinops and centaurea pods, as pops of color.
Amanda Moffat Indigo Collection pitcher (similar to shown), $395, amandamoffatpottery.com.
[MAKE THIS: Hanging Bough with Dried Flowers]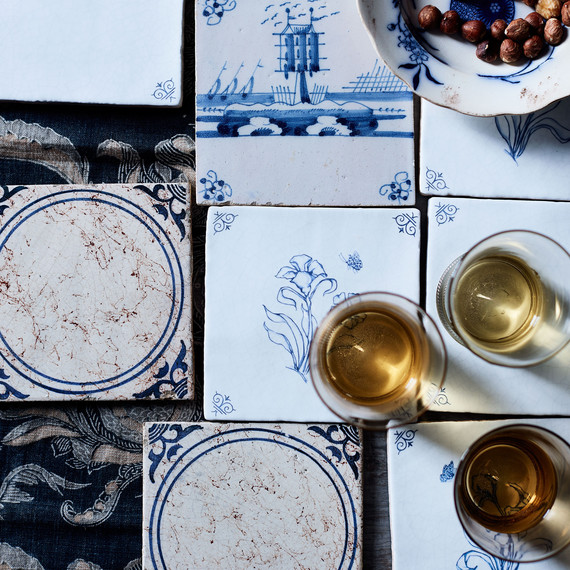 Vintage and reproduction Dutch tiles offer personality -- and cover lots of bases. Arrange them in clusters, or in a band down the center of the table, and use them as trivets, or place them individually as coasters.
Pavé Tile, Wood & Stone reproduction Dutch tiles (top left and center, and top to bottom at right), from $4.25 each, pavetile.com.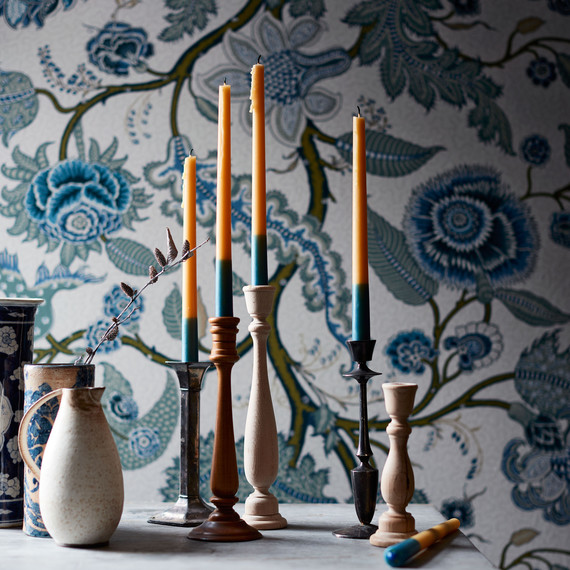 With a quick dip in tinted wax, even simple tapers turn into works of art. Just lower the ends into melted colored wax and let them dry. Then keep things interesting by placing them in an assortment of candlesticks: Some of these are vintage; others are from a crafts store.
Unfinished wooden candlesticks, from $1.25 each, craftparts.com.
Sinhala Sidewall wallpaper, in Sky, price upon request, fschumacher.com.
[MAKE THIS: Dip-Dyed Taper Candles]
Created by Tanya Graff and Silke Stoddard