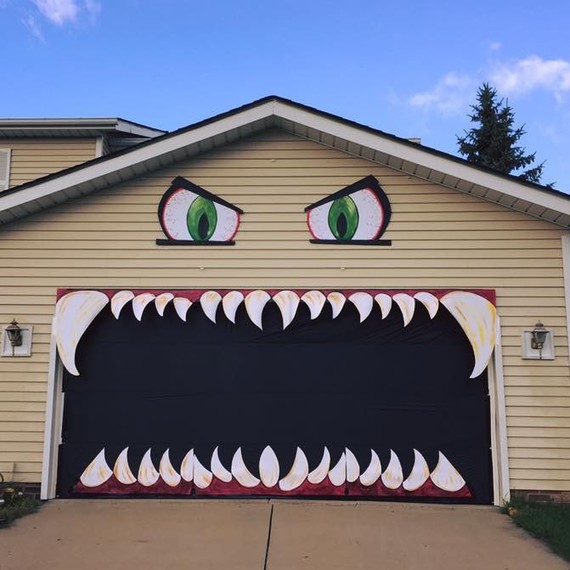 Some people really take Halloween decorating very, very seriously. Take Amanda Destro Pierson, for example. The professional face painter and graphic designer told The Huffington Post that Halloween is her favorite holiday because she loves to dress up.
But it's not her love for costumes that made the news (although, we are sure she will totally nail it at that department, too). Earlier this month, Pierson put all her creativity to work and the result literally went viral. Behold, the Monster House:
[DON'T MISS: 31 Ways We're Counting Down to Halloween]
The video has now been seen over 25 million times and we may be responsible for like half of those views but we can't help it. It's mesmerizing watching that automatic garage door open and close. It took Pierson five hours to paint the pieces for this beauty and another five to attach them all to the outside of her house.
Now that the video has gone viral, Pierson, who lives outside of Cleveland with her family, is already thinking about next year. She plans on making a "My Monster House" Halloween kit that she will sell online. She has also created a Facebook group dedicated on her spooktacular creation. (Obviously, we're not surprised that their house is the most popular place in the neighborhood nowadays.)
On a smaller scale, try making these toothy pumpkins for your outdoor decorations! They're just as delightfully monstrous.