For many, Thanksgiving isn't complete without a bowl of creamy spuds -- the more buttery, the better. Here, our three-step guide to making perfect mashed potatoes, plus three next-level variations. Bonus: You can prep and make them ahead of time.
Grocery List
Yukon Gold potatoes
Garlic 
Whole milk
Unsalted butter
Fresh thyme
Get the Garlic-Thyme Mashed Potatoes Recipe
1. Peel, Cut & Simmer
Peel 5 pounds potatoes and cut them into 1 1/2-inch pieces. Place in a pot with 2 tablespoons kosher salt and 4 peeled and smashed garlic cloves. Add water to cover by 1 inch and bring to a boil. Then reduce heat to medium and simmer until potatoes are tender and can be pierced easily with a fork, 12 to 15 minutes.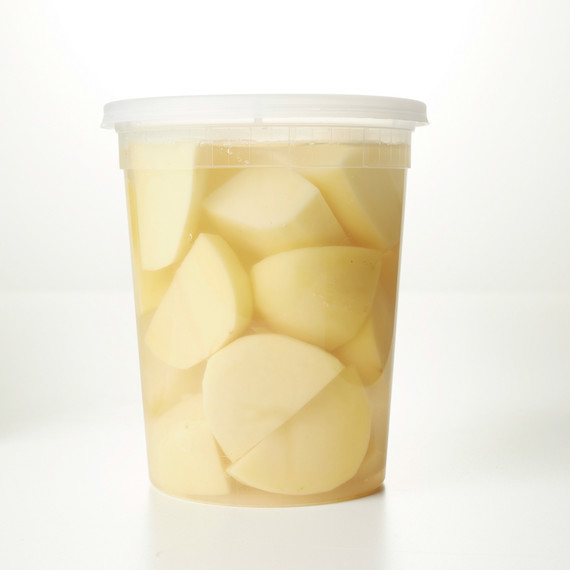 Prep Ahead
Potatoes can be peeled and cut up to 2 days in advance. Store them in the fridge in airtight containers filled with water.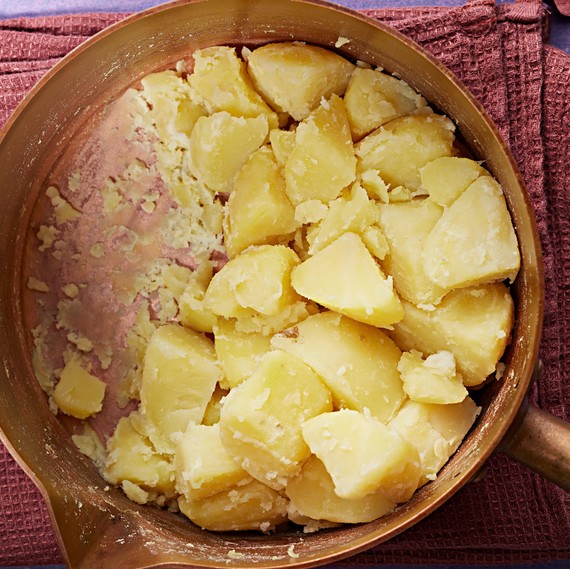 2. Drain, Dry & Mash
Drain potatoes and garlic; return to pot and cook over medium, stirring frequently, until pale, dry, and a film begins to form on bottom of pot, 2 to 3 minutes. Working in batches, press through a ricer into a large bowl, or mash in pot with a potato masher. Cover to keep warm.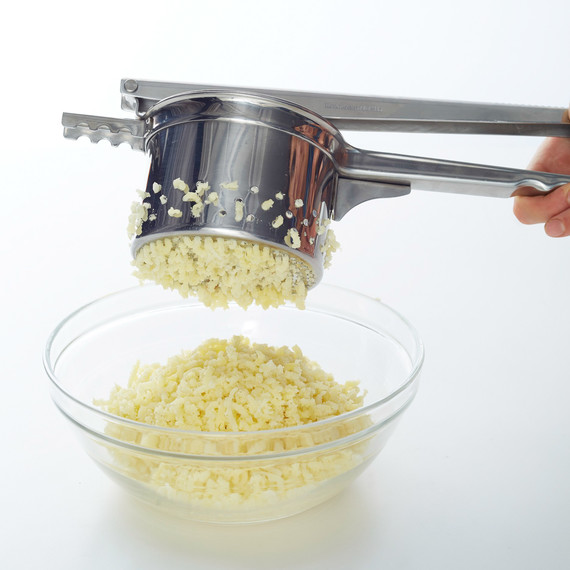 Texture Tips 
For utterly smooth, silky potatoes, press them through a ricer. If you prefer a creamy yet slightly chunky texture, use a potato masher instead.
3. Season & Serve
In a small saucepan, combine 1 1/2 cups milk, 1 stick butter, and 3 sprigs thyme. Cook over medium until butter melts and milk is steaming. Discard thyme, then stir milk mixture into potatoes. Season with salt and freshly ground pepper, top with a pat of butter and more pepper, and serve.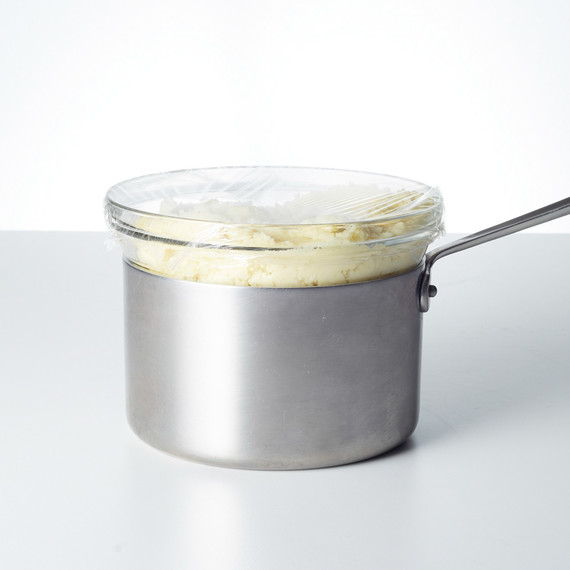 Heating Smarts
You can keep mashed potatoes warm for up to 2 hours before you're ready to eat. Just transfer them to a heatproof bowl, cover with plastic wrap, and place over a pot of simmering water. Give them a good stir right before serving.
3 More Masterful Mash-Ups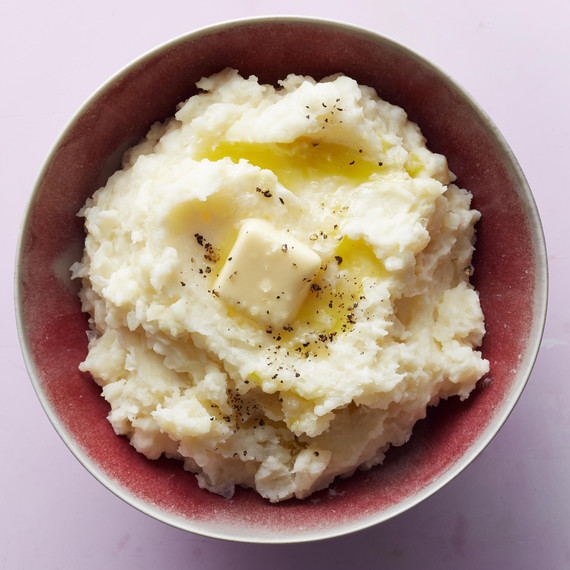 Russets With Cream Cheese
Follow steps 1 and 2, using russet potatoes instead of Yukon Gold. In a small saucepan, heat 1 1/2 cups whole milk and 4 tablespoons unsalted butter. Mix into potatoes; then -- for a deliciously mild tanginess -- add 8 ounces room-temperature cream cheese, cut into small pieces, stirring until fully incorporated. Season with salt and pepper.
Get the Mashed Russet Potatoes with Cream Cheese Recipe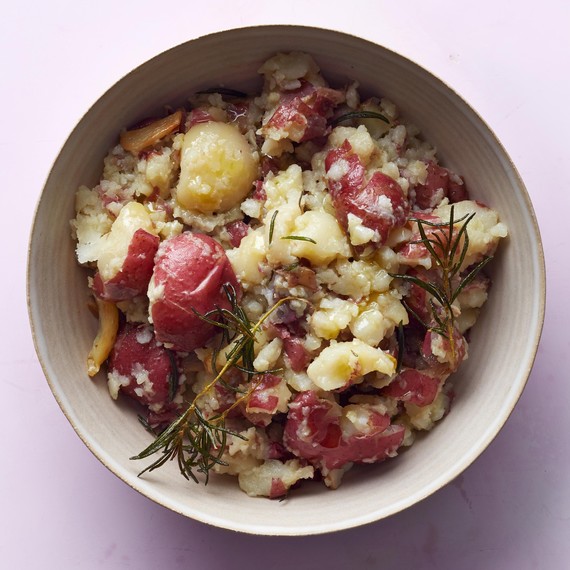 Smashed Baby Reds
Simmer 5 pounds baby red potatoes in boiling water with 2 tablespoons salt until tender, 12 to 15 minutes. In a small saucepan, combine 1/2 cup extra-virgin olive oil, 4 peeled and smashed garlic cloves, and 3 sprigs rosemary; simmer over medium 3 to 4 minutes. Drain potatoes, return to pot, and smash with oil mixture, 1 1/2 cups warmed chicken broth, and salt and pepper.
Get the Dairy-Free Smashed Potatoes Recipe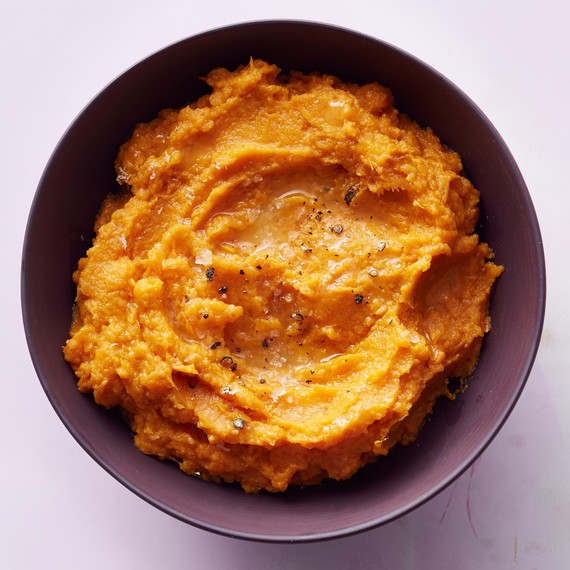 Simply Roasted Sweets
Using a fork, pierce 5 pounds sweet potatoes all over (we love Jewel and Garnet for their earthy, pumpkinlike quality). Rub with extra-virgin olive oil; roast at 375 degrees until very soft, 1 to 1 1/2 hours. When they're cool enough to handle, halve and scoop flesh into a bowl. Mash with 4 tablespoons melted unsalted butter, 1/4 teaspoon freshly grated nutmeg, and salt and pepper.
Get the Sweet Potato Mash Recipe
Watch Everyday Food host Sarah Carey make the ultimate garlic-thyme mashed potatoes: