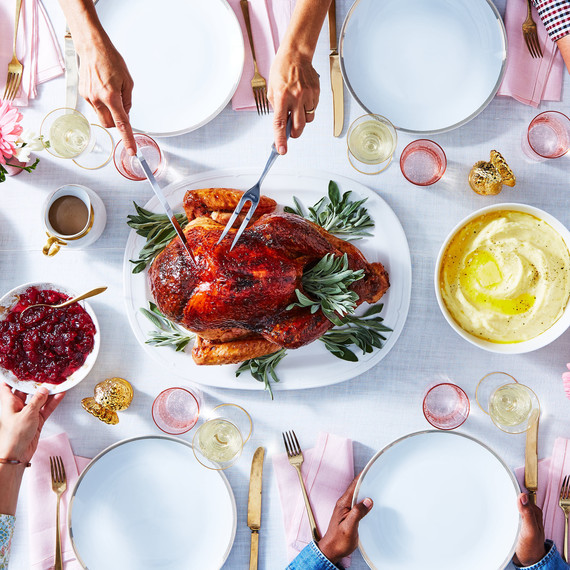 Whether you're a seasoned hostess or you're hosting your first Thanksgiving, we can all use a little help around the holidays. Between busy schedules and an endless shopping list, where do we find time to relax and enjoy time with loved ones? Martha & Marley Spoon is here to help with all of that! Martha's meal kit service is bringing back the holiday-favorite Thanksgiving Box, packed with everything you need to prepare a delicious feast – from fresh ingredients to easy-to-follow cooking instructions.
There are two options to choose from; each feeds 8-10 people and comes with pre-portioned ingredients and recipes. "The Complete Feast" kit contains a 12-14 lb. brown butter glazed turkey from Goffle Road Free Range Poultry Farm in New Jersey, and ingredients to make gravy, four side dishes and one dessert. If you already have the turkey (or want to cook a different main dish), but could use help with the rest of the meal, the "Just the Sides" kit comes with ingredients to make the four sides and one dessert. Your guests will be ready for seconds when you have a menu of Martha's mother's beloved mashed potatoes, classic stuffing, green beans, roasted root vegetables, and spiced apple oat crisp!
Even ordering the Thanksgiving Box is convenient. It can be added to your regular Martha & Marley Spoon meal kit order, or it can be purchased as a one-off with no subscription. The last day to order is November 15 and supplies are limited, so place your order today and rest assured that your Thanksgiving meal is taken care of.
Martha also knows some families don't have time to prepare a Thanksgiving feast, but still want to enjoy a hearty meal and celebrate the season. Martha's turkey and two sides meal available through QVC is a great option! The ready-to-cook 4.25 lb. herb butter turkey breast is delivered frozen and raw, so all you have to do it stick it in the oven. Choose from prepared side dishes of mashed potatoes, mac & cheese, creamy spinach, and cherry stuffing. They're delivered frozen and only need to be thawed and heated in the oven. Order today for shipment on November 13 and delivery within just two days.
[ WATCH: How to Quickly Thaw Your Turkey ]