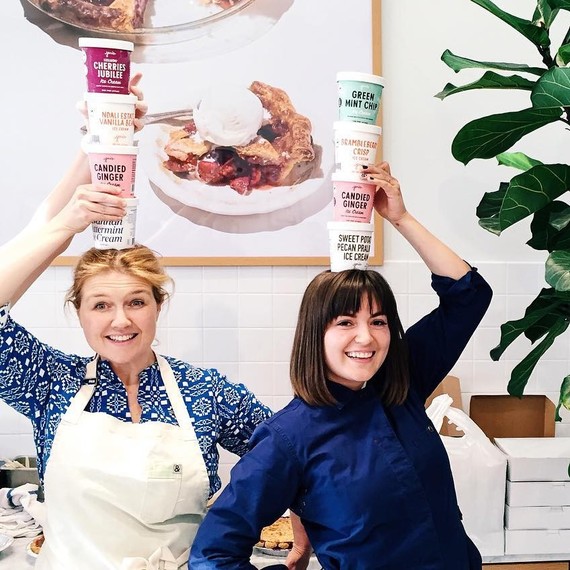 Since they met about four years ago, Ellen Bennett (founder and creative director of apron company Hedley & Bennett) and Jeni Britton Bauer (founder of Jeni's Splendid Ice Creams) have been, as Bauer puts it, "friends for life" and "a couple of pees in a pod."  
Now, with the help of an RV, the entrepreneurial duo is hitting the road equipped with a stash of aprons and plenty of ice cream for an epic, 5-city, 9-day road trip adventure. The goal? To meet and inspire other makers and budding entrepreneurs through pop-ups, meet-ups, and casual drop-ins. And to share lots -- and we do mean lots -- of aprons and ice cream.
(READY for Some Ice Cream? Try our recipes)
The adventure began on October 24, in Bauer's homebase of Columbus, Ohio. From there, the two head to Louisville, Kentucky, arriving on the 26th; Nashville on the 27th - 29th; Atlanta on the 30th and 31st; and, finally, they will finish up in Birmingham, Alabama on November 1.
As they drive an average of 870 miles between each of their destinations, Bennett and Bauer plan to organize things like ice cream and apron pop-up shops, and ice cream socials, in an effort to bring together all the creatives they know in each location, and meet a few more along the way. From a "Meet the Makers" social in Columbus and Nashville, to a Grant Park Farmer's Market pop-up in Atlanta that will benefit local nonprofit The Giving Kitchen, to dropping in on local chefs and their teams to surprise them with unexpected ice cream and apron goodies, the road trip is all about uniting people in the spirit and celebration of entrepreneurship.
Plus, Bennett and Bauer are hoping they can inspire up-and-coming and veteran entrepreneurs alike with their own stories. For Bennett, that means sharing the inspiration behind her decision to found her own apron company at the age of 24, with the goal of providing functional aprons for everyone from chefs and baristas to florists. For Bauer, it means telling how she opened Jeni's Splendid Ice Creams back in 2002 with the ahead-of-the-curve idea of creating  totally one-of-a-kind flavors made entirely with grass-grazed Ohio milk and direct trade ingredients. 
(LEARN about more some amazing American makers)
"We want to inspire entrepreneurs (future and current)," Bauer writes on her blog, "and show that you can do it if you've got enough hustle and go."To follow along as these two creatives go about their aprons-and-ice-cream-filled adventure, check out the #IceCreamAndApronsForAll on Instagram and keep up with their blog. And, of course, if you just happen to be around any of the ladies' stops along their trip, be sure to drop by an event to say hello, grab an apron, eat some ice cream, and get totally inspired. (Oh, and hugs. Bennett promises hugs.)
Watch Ellen Bennett bake with another good friend, our very own Sarah Carey: