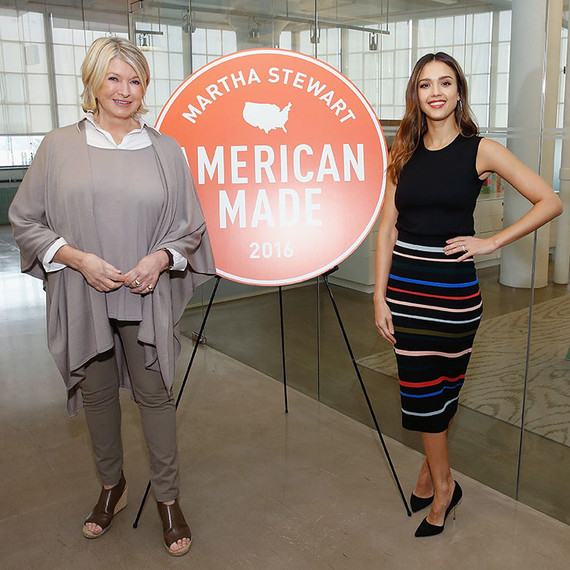 Martha Stewart caught up with award-winning actress, best-selling author, and founder and chief creative officer of The Honest Company, Jessica Alba, at this year's American Made NY Summit. Stewart pointed out that being a mom led Alba to "one of her biggest endeavors," referring to The Honest Company, "where the products are safe, work really well, and come with designs that are both beautiful and functional."
On her motivation to start the company, Alba said, "Like many of you in the audience who are entrepreneurs, I found a need that wasn't being met." Alba detailed how as a kid she was affected by asthma and allergies, and when she was pregnant and had an allergic reaction to a laundry detergent she used to clean baby clothes she was given, she worried about her daughter going through a similar experience.
Make Jessica Alba's Turkey Meatballs (Recipe)
"I Googled what was in this laundry detergent that made me have this type of reaction and I learned that there are lots of potentially harmful chemicals in everything, from cleaning products to personal care products to cosmetics." Alba then lobbied for chemical reform "to make sure that chemicals are tested for safety before they're brought into the marketplace," and was frustrated when it was made a partisan issue. "This is nonpartisan, this is a human health issue," Alba said.
"I knew I needed to create the business that met my needs, and that if people had the option to have products that are safe, perform well, effective, and accessibly priced, why wouldn't people want that product and live a healthier life?"
10 Clever Tricks for Perfect Laundry Every Time
When asked if everything was easy, Alba said, "There's so many things that are not easy." She told the audience about how her company launched with a beta site that crashed and that for the thousands of orders that flooded in after the first week, customers were not actually charged for their orders. "And that was week one," Alba laughed.
"100 percent, there's going to be challenges. I think that with every challenge you overcome it sets you up so that you can then face the next hurdle that comes your way; it's just business. You have to be creative with how you face challenges and not let them define you."
On her success in building a successful brand in a short period of time, Alba said, "When you're thinking of starting a company, you can't do a 'me too' company. We're all inspired by Martha Stewart, but if anyone tries to come out and be Martha Stewart, they're going to fail because Martha is Martha."
Her advice to entrepreneurs is to "really understand what you're doing that no one else is doing. Really know how you can never be replicated, how you can never be copied, and be authentic. And those little details that make you different, that is the difference."