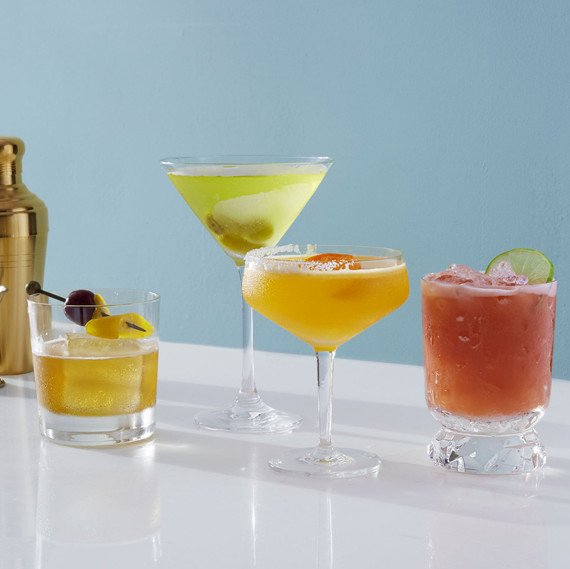 The idea behind these cocktails is to put fresh spins on classics without using too many specialty liqueurs or mixers. Once you edit your bar down to the essentials, all you need are good-quality garnishes and mixers to make small tweaks to tried-and-true favorites. Here are our tips and tricks to getting these next-level cocktails just right.
Maple Manhattan
It's worth seeking out maple syrup labeled "dark/robust taste" for this cocktail. This used to be called grade B syrup, but Vermont did away with that labeling and now refers to all maple syrup as Grade A but with different flavor notes. Also, a cherry is key here! We love using bourbon-soaked cherries, but Luxardo maraschino cherries or sour cherries in syrup would work well too.
Get the Maple Manhattan Recipe
Tomolive Martini
Temperature is arguably the most important ingredient here. It must be ice-cold. Chill your gin or vodka in the freezer and fill your glass with ice (or chill in the freezer 5 minutes) to make sure everything is nice and cold. Tomolives, which are actually tiny green tomatoes that have been pickled, are our briny garnish of choice, but the sky is really the limit. Try caperberries, cocktail onions, stuffed olives, cornichons, or even giardiniera.
Get the Tomolive Martini Recipe
Winter Cadillac Margarita
Why should summer get to have all the fun? This winter margarita plays up the naturally tart-sweet flavor of tangerines, which are especially delicious in early winter. Choose Grand Marnier or Cointreau to lightly sweeten -- the latter will give it a bit more orange flavor. This is another cocktail that is best served ice-cold -- store your tequila in the freezer, and make sure your glass is well chilled.
Get the Winter Cadillac Martini Recipe
Kingston Negroni
Adding a sweet, delicate rum and an egg white softens this Campari-based drink. We love Appleton Reserve Blend both for this cocktail and also just as a sipping rum (complex flavor, great balance, smooth finish). To make this drink even creamier, you can make it a "flip" by adding a whole egg instead of just the white.