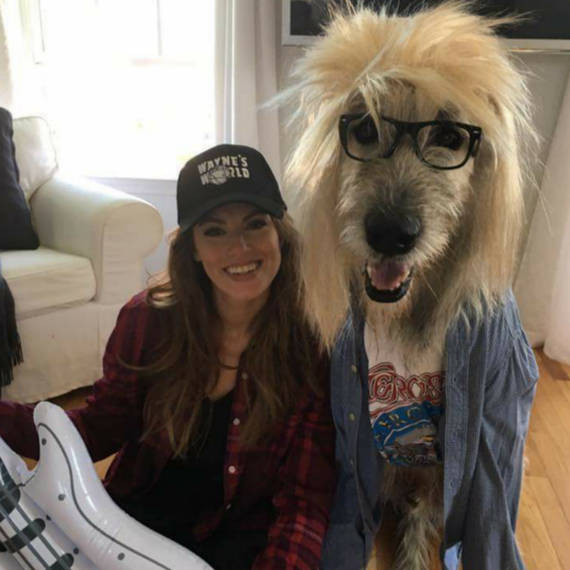 Halloween is fast approaching and while many are racing last-minute for a costume idea, this pair has already hands down won best hallowen costume award ! Former Miss Delaware, Kate Banaszak, and her adorable Irish Wolfhound, Kellan, have been taking over Reddit with their spot-on costume of the '90s classic: Wayne's World. While Ms. Banaszak pulls off a convincing Wayne, it's Kellan's imitation of Garth that really steals the show. His naturally long, blonde fur made for the perfect wild rocker wig, and matched with a goofy smile, you just can't take your eyes off him.
Redditors have been raving over this perfect pair with comments like "Well, you won the internet today" from Aistadar, and "Party on, Wayne! Party on, Barkth!" from lunchtimebesttime. Some Redditors have even questioned the legitimacy of the photo because of Kellar's enormous size in comparison to Ms.Banszak. (And the DIY costumes are really almost too good to be true.) Reddit user Neyr_7 commented, "At first I thought it was a dog, a huge dog of course, but then my brain went... no no that's clearly a human in a dog costume! Wow." Another user chimed in," Please tell me that dog is photo shopped... IT CANT BE THAT BIG?!?"
[DRESS UP YOUR DOG: You Won't Want to Miss This DIY Dragon Costume]
But don't be fooled, Irish Wolfhounds are massive dogs and even considered to be the tallest dog breed by the American Kennel Club. Banaszak even further explained to in an email to TODAY that she doesn't even know how to use Photoshop. Kellan, the fuzzy 140 pound hound, is just truly the center of attention, all the time.
"Honestly, my husband and I take Kellan everywhere with us," she said, "and we joke that we can't make it 5 feet down the street without being stopped by someone who wants to take photos or ask questions. Kellan really is like Garth Algar. He's just enjoying the heck out of every moment and making people laugh without trying."