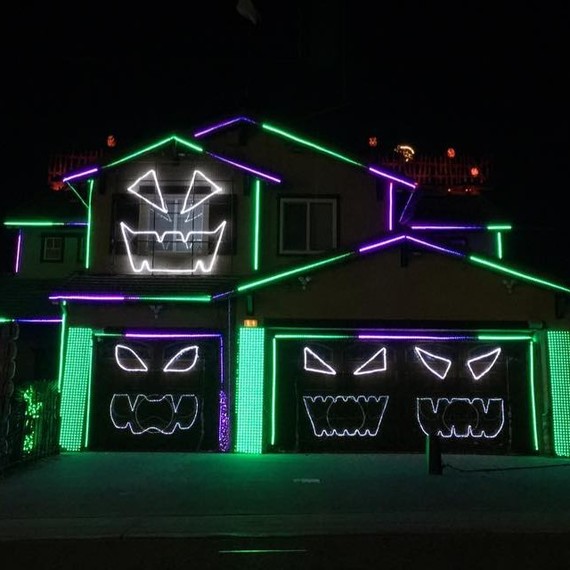 When October rolls around and we feel a chill in the air, we know it's coming: Halloween. Some people carve pumpkins. Some people make cool one-of-a-kind costumes. Some people cook up their own candy and treats.
And some people put on a housefront light show that goes viral on the internet.
If you happen to be in Riverside, California, you can actually witness this epic spectacle for yourself. From the people who brought you the (equally incredible) Ghostbusters-inspired light show last year, comes another display of Halloween greatness. This time around, Kevin and Amber Judd of Creative Lighting Displays have picked "Time Warp" from the 70s classic The Rock Horror Picture Show. And just like last year, they rocked the neighborhood.
[TRY IT: Get Creative With Your Own Halloween Lights]
The display features several pumpkins singing along to the song and colorful, flashing lights. There are also tombstones, smaller hand-carved pumpkins, and two television screens that play footage from the movie. (It's basically a Halloween dream come true, if you ask us.) The schedule for the shows is on Creative Displays' Facebook page so if you are in the area, you might as well stop by one of these days and see the show for yourself.
And those of us on the East Coast will just keep watching it on replay.