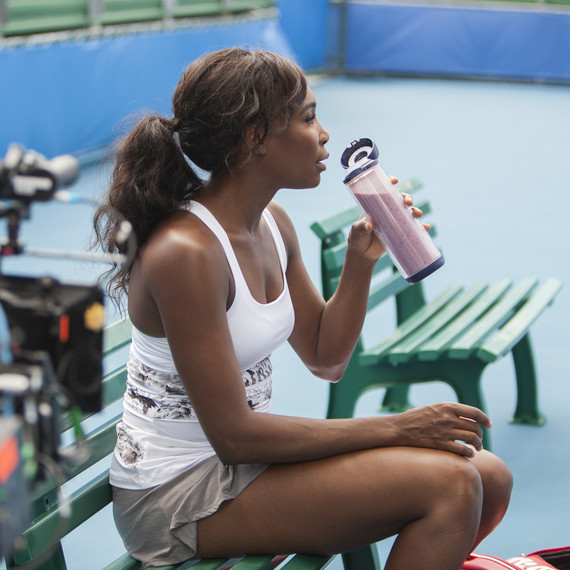 As one of the two most famous sisters in tennis, Venus Williams really needs no introduction. Not only is her tennis career still thriving at the age of 36, but she also runs two businesses: EleVen by Venus Williams, an athleisure clothing line, and V*Starr Interiors, a design firm that handles everything from tennis clubs to luxury residences. She recently added a partnership with Silk to her busy schedule. We caught up with her to ask how she balances eating healthy with everything else on her plate.
When did you first start following a plant-based diet?
Almost five years ago, and it's been an awesome journey. I've learned so much -- once you start, you just want to know more and more about it. It's great that no matter where I go in the world (I travel a lot!), I can follow a plant-based diet. It's one of a number of changes I've made since being diagnosed with Sjögren's syndrome, and I'm so grateful that I'm still able to do what I love.
What does your day-to-day diet look like?
When I'm on the road, I definitely eat a lot more carbs, starches, and grains. I cannot run out of energy -- that cannot be an excuse for losing! When I'm at home, I mostly eat plant-based foods -- one of my favorites is sweet potatoes, so I try to work those in as much as possible. I also always start my morning with a smoothie, no matter where I am. It usually has a base of Silk almond milk, which is funny because that's what I used even before I started working with them.
(TRY Our Kale, Pineapple, and Almond-Milk Smoothie Recipe)
Do you have a celebration food that you turn to after winning a tournament?
I splurge on anything that has the word fries in it; lately my go-to is portobello mushroom fries. Sometimes I have to go directly to another tournament and have to hold off, but otherwise, I order something fried and enjoy myself.
What kind of dishes do you like to cook?
Serena actually cooks for me a lot -- her signature dish is tacos, tacos, tacos! When I'm cooking, it really depends on my mood. I just got back home and want to try making a pan-fried portobello burger, but I usually go to the grocery store and let inspiration strike after I check out all the fresh produce. Sometimes I'll call my mom and my older sister for ideas because they're both very good cooks (or to ask them what I did wrong if I made something and it didn't work out!).
(MAKE Our Double-Portobello Burgers with Roasted Tomatoes)
Are you an adventurous eater?
Not at all. When I travel, it's usually because I have to play, so I can't be too crazy and roll the dice. But I do sometimes get inspired by the foods I try when I'm on the road. I was just in Hong Kong and had this delicious seaweed soup with lime and all these things that didn't seem like they should go together, so I can't wait to attempt to recreate that.
Describe your last dinner party.
One year I didn't play Wimbledon, so I planned a viewing party, but I can't remember what I cooked! Serena was playing, so we were all really caught up in that. I'd never thrown a dinner party alone before, so it made me realize how much work it was. The next time I do one, I'll have to have a co-host.
What kinds of foods did you eat growing up?
We ate extremely healthy. We always had beans and rice, and my mom did not bring any sugar into the house. If we wanted a snack, it would be a carrot, apple, or salad. So honestly, following a plant-based diet feels pretty natural to me -- my body craves foods that are fresh and healthy.
Does your dog Harry follow a plant-based diet, too?
Ha, I haven't been able to get him on board as much, but he does like almond milk! It's pretty cute.
Watch Venus's sister Serena make green juice with Martha: