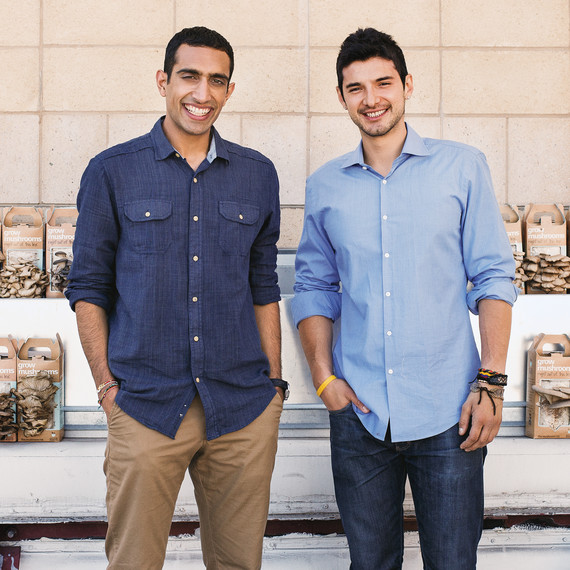 What has changed since Back to the Roots was named an American Made winner?
It's been an incredible journey. When we were named honorees, we just had two products: a mushroom kit and the water garden – the home aquaponic system. Fast forward to today: we have about 18 products; we launched fun grow-it-at-home products, like the garden-in-a-jar; and, probably the biggest leap, is that we were selling mainly produce but we realized you can bring that same trust and transparency you get when you grow your own food into the grocery aisle. So we kind of honed into this idea to "undo food" and "undo categories," and the first food that we're undoing is breakfast cereal. We launched the first line of 100% stoneground, clean-ingredient cereals. It's been really fun, because as a brand, our whole vision is to connect the dots between produce and grocery; between growing and eating.
How did you find your passion? When did you know it was time to turn it into a business?
Our journey started during our last semester of college where Alex, my cofounder, and I met over this random fact that you can grow mushrooms on coffee grounds. We had no background in food, and what really got us started was that partnership and that joy of doing it together. That partnership kind of turned into curiosity, and we started growing our own food and experimenting. Then we realized that it was just way bigger than mushrooms or coffee grounds; it was about connecting families back to their food.
What was the hardest part about starting your own business?
Honestly, I think it's an evolution. At first there's this question of, "Can we even grow these things?" and trying to figure that out. And then it's, "Can we sell it?", and then it's, "Can we make enough of it to actually build a business?" So it's interesting how the challenges change. And it's all about people, too. Everything can get solved if you build the right team around it.
[LEARN MORE: Our Profile on Back to the Roots]
How do you keep a work/life balance?
I think the word "balance" is really tough, because it connotes a 50/50 split in a sense, and that's just not possible with a company like ours; a start-up. It does take a lot of work, and there's no running away from that. So what we talk about a lot is work/life integration, and how you can make sure that what you need to be doing to feel personally satisfied and like you're growing, you find time to do during the day. If you need to go for a 2-hour run in the middle of the day, you go do that. If you have to be home with your kids at 5 p.m. and work at night, that's fine, make it happen. It's more about being flexible with everyone's personal lives. There is a reality that work needs to get done – we are a small, growing company – so it's about making sure that we don't lose ourselves and all of our personal growth and happiness, too.
What is the most valuable piece of advice you've gotten -- in regards to creating/starting your own business?
There's this fallacy in entrepreneurship of "This is my idea," or "This is something that I created, and I invented, and I don't want someone to steal it," and I think the biggest thing to learn is that entrepreneurship is all about sharing. The more you share, only positive things can come of that. If you have an idea, just tell 500 people, and if you're still as excited after the 500th conversation, then you're probably onto something because half the battle is making sure that you're actually passionate about this. It's just the idea of sharing and being open, and I love that we've been pushed by our mentors to see that people have had these similar challenges, and we have all the research in the world – the internet, libraries, mentors – and the answers are out there if we need them. A lot of what we've done has been done before, but we're trying to put our spin on it, and we can't be afraid to ask for help when we need it.
What resources, organizations, groups do you turn to for support?
American Made has been a huge one for us. We just shipped out right now, nationwide into the Home Depot, these custom, organic, DIY grow-it-at-home racks, and we've been working a lot with the American Made team and we have the American Made spiel on there – that this is an American Made product – and that's just been so special to continuously share that with you guys.
But there's just so much out there. Every city has something – we're in Oakland, California, and there's a group called Fund Good Jobs, and for us, Inner City Advisors, which is this nonprofit in Oakland, gave us so much pro bono mentorship and business help. When we had just a bucket of mushrooms, they became our first investor. And the public/private partnerships with the City of Oakland, the New York Redevelopment Grant to build our first urban farm – it's that idea of "it takes a village to raise a child," that I would say is even more true for a business. It's never just us, it's so many people; there have been so many folks involved in this, and I can go on and on.
What has been the biggest surprise since you started your business?
Every day is a surprise in some way, for better or for worse! One of the big ones, which is just a cool feeling, is just how personal food – like, ready-to-eat food. So with our grow-it-at-home products, people are growing it themselves, so they have that pride and that ownership. But with something like our new breakfast cereals, people trust us, and there's so much responsibility in that. It's almost as if millions of people, by buying your boxes, are coming to your home and being your guests to eat something you've cooked for them. It's almost like that level of responsibility. It's inspiring and it's motivation, but it's also nerve-racking because it's like, "I've got to do this right."
[TIPS TO LIVE BY: Five Things We Learned from Starting a Business]
What keeps you going when you want to give up?
There's definitely days when it gets super tough, and you feel like nothing's going right, but I think at the end of the day, for Alex and I, we're blessed to have our partnership. We're co-founders, co-CEOs, and we started this company together collecting coffee grounds and trash at 5 a.m. – dumpster diving for coffee grounds – and what that partnership has built is amazing. We both live a few minutes away from each other, so every morning, at 6:45, he picks me up, we carpool to work, and he drops me back off at 9 p.m. It's just become this sacred space of this time that we both have, and to have somebody else to share all of this with is huge. I can't imagine doing this alone. I think our partnership is what keeps both of us going at the end of the day.
What is the one thing you would tell somebody trying to start their own business?
Just do it. It doesn't have to be a big leap. If you have a job, you don't have to quit your job – just test it. If you're passionate about something, if you want to create something, create five of them and spend a Saturday morning at a farmer's market talking about it and seeing if people are interested. I think so often we turn things into these really, really big decisions, and we have to break them down into smaller pieces. Oftentimes, questions will answer themselves if you break them down into a few small steps – Can I make it? Is there a market for it? Even for us, we had the idea, we grew a couple buckets, went to farmer's markets, walked into grocery stores, and then eventually, enough momentum built up where the answer kind of became clear to us that we had to do it. And it was a big jump for us to go from investment banking to growing mushrooms – it sounds crazy if you think about it that way – but in between that, there were 100 microsteps that made the decision so much easier.