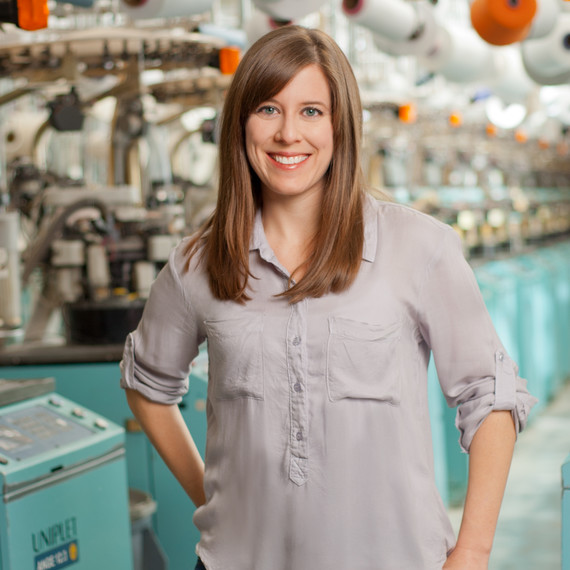 Gina Locklear
Fort Payne, Alabama
How did you find your passion? When did you know it was time to turn it into a business?
I was in my mid-20s -- I'm 37 now -- and I had an actual epiphany moment. For a long time I had this desire to get into the family business in some way. I didn't know how I was going to do that due to a lot of different reasons and things that were happening here in Fort Payne with the textile industry at the time, so there wasn't a clear path for me to take in doing that. Also, I had become very passionate about living an organic lifestyle. One day, it just kind of all hit me, sort of at once, that I could join my family business by creating an organic cotton sock.
[GOOD TO KNOW: Tips for Starting a Business]
What was the hardest part about starting your own business?
I would say it's just the how -- how to do everything. Because we were manufacturers for a long time; our background was making socks for other people. What I was doing was starting our first brand. Even though we knew how to make socks, starting a new brand and selling your own products is a completely different business. I would say just the learning curve associated with making that transition from making socks for other people to making, selling, and marketing your own brand; of your own product.
How do you keep a work/life balance?
I try to do it. I don't always succeed, but something that I try to do is have a certain cutoff each day for when I stop working in order to be able to do other things I like to do, like working out, cooking, hanging out with my family, etc. So whenever I can, I usually set a cut-off time at which I stop working and I try not to work for the rest of the night. Also, just a general rule, I try super hard not to look at my phone when I'm sitting around at night watching TV or something, because it is so tempting. The same goes for social media -- I try to zone out and cut it all off because you can just see one thing, or one email, and it just gets your head racing. And then there you are -- you're at work again. So I try super hard to do that. I don't always succeed, but that's usually my general rule.
What is the most valuable piece of advice you've gotten -- in regards to creating/starting your own business?
It comes from my parents and their knowledge, with their years of experience in this business. They base their business on quality products and they just instilled that in me; that idea that quality is always, always, always number one. It was the reason why they were successful in their business, and what helped their business to keep going while everyone around us started shutting down. They were always known for their quality and it kind of opened a few doors that I'm not sure would have been opened to them otherwise.
What resources, organizations, groups do you turn to for support?
At American Made last year, I learned about The SCORE Foundation, which I was really excited about. I think that that is such a cool thing because you can start a business, you can have great ideas and passion for what you want to do, but it's just hard to know what to do or what steps to take after all that; after you've figured out what you want to do. We are in a bit of a holding pattern in terms of working with them, but we are going to at some point, and I'm excited about that. It's with the Birmingham chapter and they're fantastic, so I'm really looking forward to that. Then I also just try to kind of connect with local small business owners. I feel you can learn a lot from them and just people who are doing what you're doing. It's a wonderful resource.
What has been the biggest surprise since you started your business?
I certainly never expected it to be easy, but I will say, I suppose i'm a little surprised at how hard and the length of time it takes to really get a brand off the ground when you're a small business on a tiny budget like us. That has probably been the biggest surprise.
What keeps you going when you want to give up?
It just is a hundred percent love, and having a purpose for what I'm doing.
What is the one thing you would tell somebody trying to start their own business?
Again, just having love and purpose for what you do. It's essential because in small business, especially when you're starting out, there are so many highs and lows. God knows, I can't even count how many that I've even had in the past month. There's frustration, there's obstacles, and it's easy to get down and out. It's easy to want to throw in the towel sometimes, or it can be. It's that love and that passion that pulls you out of those low points. You've gotta have it.
[INSPIRATION: What One American Made Winner Learned from Like-Minded Entrepreneurs]