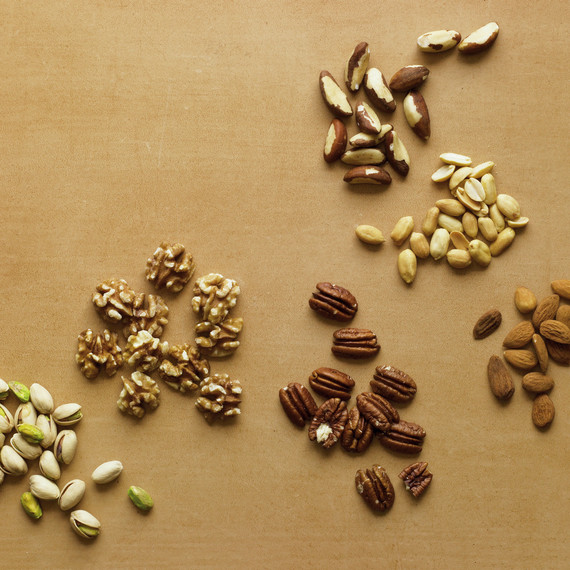 From brazils to hazlenuts to macadamias to pistachios, all the nuts are celebrating. It's National Nut Day, you know it comes right after National Apple Day. It's a food day we can really get behind, National Moldy Cheese day (October 9), not so much. The origins of National Nut Day are murky, it seems to have started in the 1970s to promote eating nuts.
(MAKE our Spiced Mixed Nuts -- the ultimate snack or party food)

Curious what the nation's favorite nuts are, we asked the experts at Nuts.com. They reported their five most popular nuts (in order) are peanuts, almonds, cashews, walnuts, and pistachios. Since peanuts are technically a legume, not a nut, their true number five is pecans.
We also wondered if different regions favored different nuts, guessing that the pecan might be tops in Georgia and maybe the entire south. Georgia of course produces a rich crop of pecans. How wrong can you be? In Georgia the most ordered nuts are English walnuts, and those walnuts are from California. California though doesn't rate its walnuts tops, the sunshine state adores roasted cashews from Brazil. And in New York, raw nuts are favorite, raw almonds in fact -- and they are grown in California! Something else that might not surprise you is that November and December are the biggest months for nut orders. Items like in-shell nuts are a popular holiday item and bakers need to stock up on nuts for their holiday cookies and cakes. 

Even with as classic a food as nuts, there are trends and with nuts it's a move away from roasted and salted nuts towards raw, organic nuts. And some once not so well known nuts like macadamia's (from Hawaii of course!) are becoming better known and more sought after. Tiger nuts, despite their name they are a small root vegetable not a nut, are fast growing caetgory but are still a very small player compared to the classic tree nuts we all know and adore.
(TRY these pesto variations with pistachios, cashews, or almonds)
And what is the best way to store the nuts you love? Nuts.com confirmed what Martha has always told us: nuts should be stored in an airtight container and placed in a dry, cool place such as your pantry for up to a month. Whether the container is glass, plastic or metal matters less its being airtight, clean and dry. For storing for longer than a month, keep nuts in the refrigerator for between six months to a year. How long they can be stored depends on the type of nut.
Learn how to toast nuts: