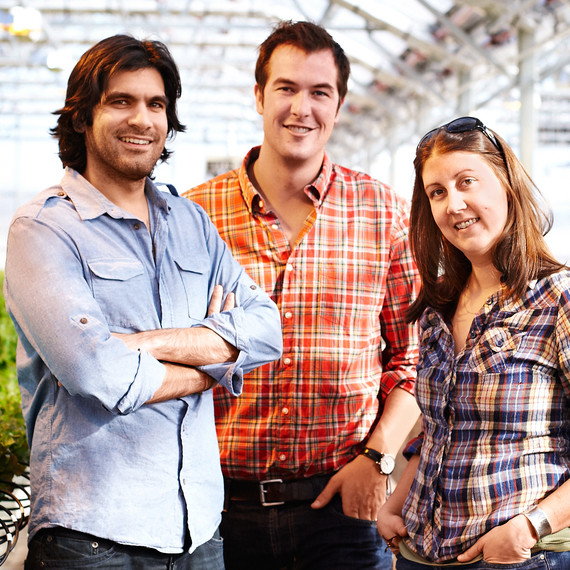 What has changed since Gotham Greens was named an American Made winner?
It's been an exciting year! Our new greenhouses in New York City and Chicago are nearly a year old! We're supplying over 20 million heads of leafy greens between the two markets, added about 100 full time team members and expanded our distribution considerably. And along the way we found some time to launch some new products. On the greens front, we've added some new lettuces and specialty basils to the mix including Thai and Purple Basil. We've also launch a line of Gotham Greens pesto using our fragrant Genovese Basil which is available in both Classic and Vegan varieties. Perhaps the most exciting product we've launched this year is our new Ugly Greens, a bag of slightly bruised or cosmetically imperfect lettuces that are being packaged and sold at a discount. The initiative is bringing attention to the global issue of food waste and continues to support our mission of creating greater efficiency and food access in cities.
How did you find your passion? When did you know it was time to turn it into a business?
My partners Eric, Jenn and I wanted to address the growing ecological and public health concerns surrounding conventional agriculture. As we began studying the conventional supply chain, we realized there were many inefficiencies and thought that there was a potential real business opportunity there. Leafy greens and herbs are traditionally grown in places like California, Florida, Mexico and Israel and are trucked across the country. This means that food, once grown, packed, processed must travel great distances to reach urban consumers in many cities across the country which has a negative impact on flavor, nutrition and also results in food waste. By growing these highly perishable leafy greens and herbs locally in the city, Gotham Greens is able to pass on the additional shelf life to the end consumer, which reduces food waste and delivers a more flavorful and delicious product. Consumers increasingly care about how and where their food is produced and are demanding more integrity and transparency in their food production. Within the first few weeks of operation back in 2011, we had attracted the attention of Michelin starred chefs and supermarkets such as Whole Foods Market, Union Market and Fresh Direct.
[WANT MORE? 6 Steps to Finding a Hobby You Can Be Passionate About]
What was the hardest part about starting your own business?
In 2011, Gotham Greens built the first commercial scale rooftop greenhouse in the United States. Being a pioneer in this type of facility development meant that there was little precedent and no examples to follow.
How do you keep a work/life balance? This is something that a lot of budding entrepreneurs worry about.
Hiring a team of talented, loyal and passionate employees has helped us grow our company to +135 full time employees. In the past few years my business partners Eric, Jenn and I have all started families of our own. As result, we've had to learn to delegate better and lead our teams through empowerment. Giving up control is hard, especially when the company has been your baby all these years. We've built Gotham Greens from the ground up so to speak but we know that in order to continue growing sustainably, it's essential to hire great people and delegate effectively.
[MEET: The American Made Honorees Changing How We Eat Meat]
What is the most valuable piece of advice you've gotten -- in regards to creating/starting your own business?
Don't try and do everything yourself. Break your business concept down into parts and find experts in each field to take ownership over that part of the business.
I come from a sustainable development and clean technology background focusing on green building, renewable energy, and environmental design. My co-founder and CFO, Eric Haley, oversees all financial operations for Gotham Greens and focuses on financial strategy and planning. Prior to Gotham Greens, Eric built over 10 years of experience in finance sector specializing in Mergers and Acquisitions, capital raising, and strategic consulting. Our other partner and Chief Agriculture Officer, Jenn Nelkin Frymark, has an academic and professional background in controlled environment agriculture with greenhouse systems and hydroponics. Jenn has designed and managed greenhouse facilities all over the world including in Antarctica, Anguilla, Arizona and NYC.
[MUST READ: 5 Critical Tips for Crafters and Makers Starting Small Businesses]
What resources, organizations, groups do you turn to for support?
We rely on a whole network of stakeholders including our customers, vendors, contractors, non-profit partners, and others committed to creating a more sustainable and healthy food system. We attend and participate in industry conferences and academic forums to stay abreast of the latest technologies. One organization that we have recently been following closely is the NRDC and its incredible leadership and advocacy in protecting natural resources in the United States and across the globe. Their recent efforts to raise awareness against food waste has been particularly inspiring to us as we launched our new Ugly Greens product.
[SEE: How American Made Honoree Hayden Flour Mills is Leading the Grain Game]
What has been the biggest surprise since you started your business?
Transforming a commercial roof spaces in cities into vibrant greenhouses is very challenging; if it weren't it would be much more commonplace.
Back when we built our first greenhouse in 2011, landlords looked at us like we were crazy when we said we wanted to build a farm on their roof. Now that we've proven our concept multiple times in NYC and Chicago, we have our experience to leverage and have been able to form strategic partnerships (such as our greenhouses on top of Whole Foods Market in NYC and Method's South Side Soap Factory in Chicago.)
What keeps you going when you want to give up?
Knowing that we have hundreds of employees who are dedicated to the cause really motivates me. Also seeing the fruits of our labor so to speak is incredibly rewarding.
Over the last 5 years we've created a commercially viable model for urban farming. We own and operate the 'World's Largest Rooftop Farm' in Chicago and are producing over 20 million heads of lettuce per year while using a fraction of the amount of water as traditional soil based farming. Environmental stewardship is really important to us and from the very beginning we've built our business and farming practices around not using pesticides or GMO seeds. Over the years we've also transitioned to using 100% renewable electricity to power all of our facilities. At 170,000 ft2, we are the largest urban agriculture company in the world and believe this form of farming will have a role to play in the future of a more sustainable and just food system.