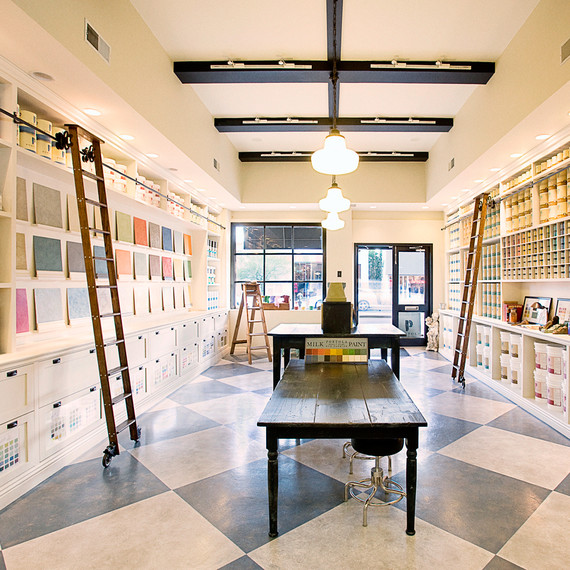 What has changed since Portola was named an American Made winner?
Being named an American Made winner has been such an honor. The last year has been really successful and we are working harder than ever, constantly setting new goals for ourselves. American Made introduced our brand to a wide range of people and is something we are proud to be associated with.
How did you find your passion? When did you know it was time to turn it into a business?
We've always been passionate about design and color. We grew up in a house that was constantly being remodeled and updated. Our father is a high end contractor, so as kids we loved going with him to job sites and learning about the process. When we were just out of high school we had the opportunity to take the family business to the next level, and form our own line of paints and specialty finishes. It was definitely a natural progression.
What was the hardest part about starting your own business?
Trial and error. The hardest thing has been not knowing where to start. There isn't a book that you can read that tells you how to start a successful paint business. You have to constantly grow and evolve. If you believe in yourself and your idea, you just have to work hard and stick with it.
[WHERE TO BEGIN: The First 3 Steps to Starting Your Own Business]
How do you keep a work/life balance? This is something that a lot of budding entrepreneurs worry about.
Work and life overlap everyday. Networking and inspiration often happen outside of your typical 8-5 work day, so it's vital to keep the door open to business, even during free time. It is absolutely difficult to balance at times, but when you're excited about what you're creating, it's all worth it.
What is the most valuable piece of advice you've gotten — in regards to creating/starting your own business?
"Find your passion. I don't care if it's collecting baseball cards. Find something you LOVE and do that!" -Jim Davis
What resources, organizations, groups do you turn to for support?
Our dad is a huge influence and valuable resource. He has so much experience building custom, high end homes. Being able to pick his brain about the details of the homes, architecture, and building process is a big help. We're fortunate enough to work with some amazing designers and influencers. They all have their own tricks, and collaborating to create colors and invent new techniques is an inspiring process that pushes our business forward.
[UPDATES: What Other Past Award Winners Learned Since American Made]
What keeps you going when you want to give up?
Knowing that we are closer than ever to making it to the next level. Thinking about the years of hard work that we've put in. We have amazing friends and family that help us get through the tough times.
Any additional thoughts?
Martha Stewart 4 President.