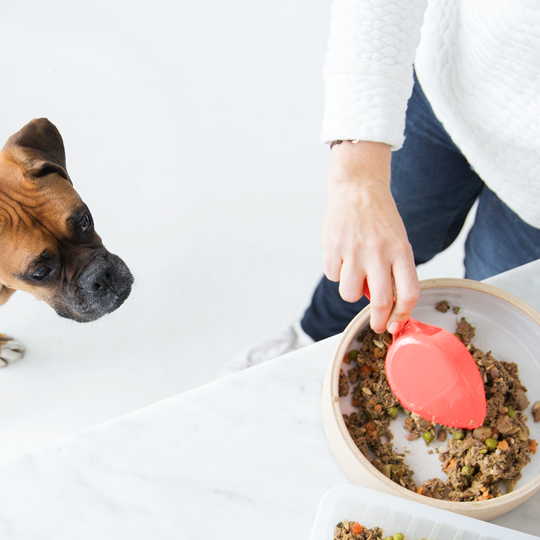 Stop and think: Do you really know what's in your dog's food? 
As humans, we are taught the necessity of taking our health and well being into account when buying food. Think back to the last time you went grocery shopping and put down a certain item because if the ingredients. Now, think of the last time you did the same for your dog. Sometimes, as a dog owner, we trust well-known brands without looking at the nutrition label. Ollie: a subscription box that makes custom dog food for your pup is trying to change the way we pet lovers think about the food our dogs intake.
If your dog loves food like my seven-year-old Yorkie, Alex it is only right that we think of our pets health. That was the mean reason Gabby Slome, Alex Douzet and Randy Jimenez started Ollie. After bringing her dog back from a vacation in Columbia, Gabby realized her dog Pancho was gaining weight at a fast rate. The food from the premium dog brand she brought was the root the of the problem.
The ingredients in the food and it being tailored to your dogs' needs are what sets Ollie apart from other pet subscription boxes. Each co-founder has a dog and wanted the very best food for their canine. After searching high and low they realized most people don't know what they are feeding pets.
[DON'T MISS: 6 Things You Should Never EVER Let Your Dog Eat]
Ollie teamed up with nutritionists in order to develop correct cooking methods for dog food. All food is cooked by humans in a USDA and FDA regulated kitchen. This means that the food is safe enough for human consumption. (That is, if your dog doesn't mind sharing.)
Here's how it works!
Make a profile
Help Ollie pick the perfect recipes by putting in some information about your dog. The company doesn't believe all dog appetites are the same. A range of information from breed, age and weight helps Ollie create a connection with you and your pet.
Customized meals
The profile information is taken to create the perfect meal geared towards your dogs needs, body composition, weight, activity level, allergies, size, and age. Ollie also recommends the portion sized your dog should have each meal.
Delivered ready-to-eat
Food is delivered to your door and is always the exact amount ordered. Depending on your preference it arrives cold or frozen in insulated, recyclable boxes. The only thing you have to do is put the food in the fridge and serve it to your dog. Food unopened stays fresh up to 21 days, and for the ones you do open up to five days.
Easy meal-times
Once your dog is ready for a tasty meal you follow the feeding guidelines given by Ollie. You even get a special scoop customized to your dogs meal portion.
[RELATED: Tips to Shopping for Healthy Pet Food]
Depending on the recipe and ordered amount, the price for is a little over $55 for two weeks. After calculated each meal cost $3 or $4 a day. The ingredients are sourced from family farms in the United States. Some fresh recipes include basil, sweet potatoes, cod liver, chicken, beef, and chia seeds. Imagine how happy your dog will be after a meal with chia seeds, peas and chicken! Dog lovers always want the best for our little canines. And that means we should be feeding them the best food, right?