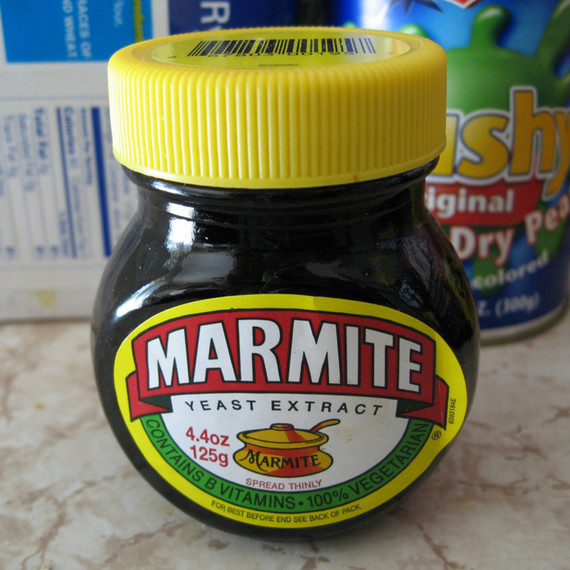 While Americans were still figuring out where they stood on Marmite (and why a sticky, soy sauce-tasting paste made of yeast would exist, let alone be such a favorite in a non-soy nation), citizens in the spread's primary place of production have been dealing with a different dilemma: a full-on Marmite shortage. And that's a bad thing because in Britain, few foods are as beloved as Marmite.
(See what ingredients our food editors always have in their pantry (no Marmite there!))
Spurred by the UK's decision to leave the EU (Brexit, in case you somehow missed it) and the subsequent drop of the British pound, the Great British Marmite Shortage officially started when maker Unilever told British supermarkets that it would be increasing the price of Marmite by 10 percent. According to the food conglomerate, extreme drops in the value of the British pound -- just last week, the currency hit its lowest point since 1848 -- lead to more expensive production and packaging costs for Marmite and other food products, making an increase in price unavoidable.
Not convinced by that line of reasoning, Britain's largest supermarket chain, Tesco, refused to go along with the price hike. And many consumers, frustrated with Unilever's "ransom" and profiteering tactics, opted to boycott Marmite.  The result: a halt in all Marmite deliveries to Tesco, empty supermarket shelves where the Marmite should be, and dangerously low Marmite rations in British homes.
It took a drop in the market shares of both companies -- Unilever and Tesco -- for an agreement to be made. Now people across the U.K. can sleep well knowing there's a full jar of Marmite in their kitchen ready for any emergency -- and the rest of us can go back to questioning the appeal of this unique food.
Ready for more uniquely British food? Watch Martha and renowned food expert Alan Davidson make kippers: