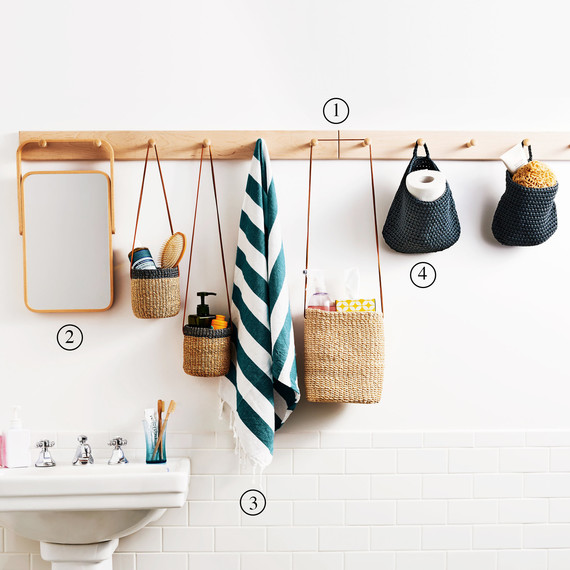 In a bathroom that lacks under-sink storage, make walls work overtime and beautify an empty space in one fell swoop. A row of Shaker pegs -- and a handful of pretty baskets -- are a stylish way to organize get-ready essentials.
1. Do a Double
Mount two rows of pegs in one line to max out the space over your toilet or bathtub, too. Six-peg maple Shaker racks, in Unfinished, $15 each, containerstore.com.
2. Measure Up
Look for a mirror with a hanging bar or rope, and make sure to center it over the sink. IKEA Ikornnes table mirror, in Ash, $30, ikea.com.
3. Bypass the Bar
Your bathroom just got even more streamlined: Pegs eliminate the need for towel racks.
4. Stash the Paper
An extra roll looks more polished when tucked into a pouch. From left: Round Tahiti baskets, $14 each, and Oval Makati waste basket, $20, containerstore.com. IKEA Nordrana basket, $10 for 2, ikea.com.
Clutter Control Tip
Use leather cord to make hanging straps for baskets: Thread the ends through the weave and knot them. Bead Landing leather suede cord, $8 for 9 ft., michaels.com.
WATCH: More ways to maximize your bathroom space