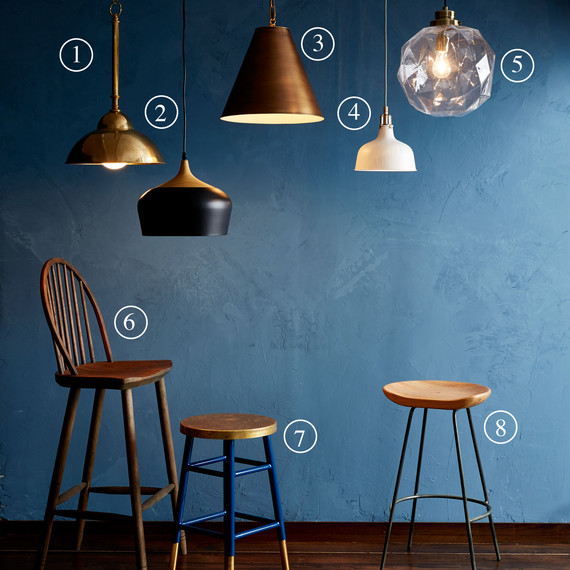 "This is your time to be expressive; mix styles and have fun," says Marissa Brown, vice president and design director for Martha Stewart Living Kitchens at the Home Depot who adds another insider tip: "Figure out how many stools you really need. Don't jam too many together -- you want people to be able to get on and off of them easily." The best part about these kitchen accents? You can update them relatively easily down the line.
Lights

Pendants, which should be hung a few inches above eye level when standing, instantly set the tone in a kitchen. "You can give more of a country look with a fixture made from milk glass or metal with powder coating," Brown says, while a sleek, sculptural shape looks modern. "It's also nice to coordinate metals, like playing off the nickel finish on a faucet."
1. Waterworks Derby ceiling-mounted pendant, in Unlacquered Brass, $1,250, waterworks.com.
2. Lamps Plus Felton black-aluminum-and-wood pendant, 12", $130, lampsplus.com.
3. Restoration Hardware Antiqued Metal Funnel pendant, 15", in Vintage Brass, $425, restorationhardware.com.
4. IKEA Ranarp pendant lamp, in Off-White, $25, ikea.com.
5. Joss & Main Juno pendant, $95, jossandmain.com.
Stools
Wood, metal, upholstered -- anything goes, as long as they complement the room, Brown says. "But a word of advice: Try before you buy. Make sure they're comfortable and have footrests." Also, do the drag test: "Some stools make loud noises on certain floors, even with glides."
6. Restoration Hardware 18th-Century Bow Back Windsor stool, in Brown Oak Drifted, $329, restorationhardware.com.
7. Joss & Main Portsmouth stool, in Navy/Gold, $129, jossandmain.com.
8. West Elm Alden counter stool, $169, westelm.com.
[SHOP SMARTER: Top Kitchen Stools by Style]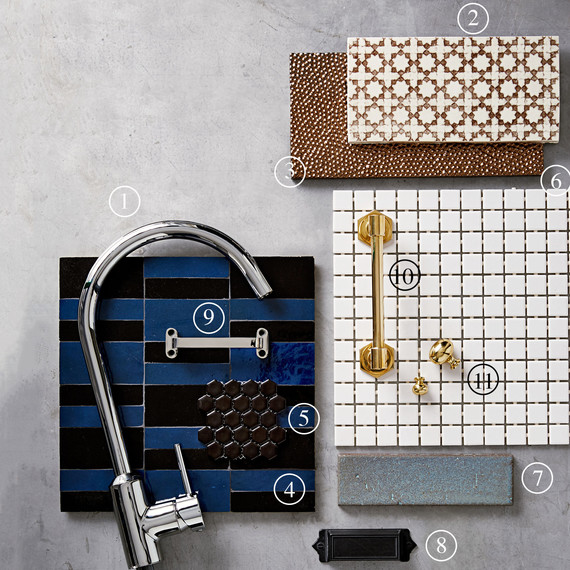 Fixtures
"If you cook a lot, opt for a single-lever kitchen faucet so you can adjust water temperature with one hand," Roberts says. And feel free to combine different finishes: If you choose a silver faucet, contrast it with brass drawer pulls (or vice versa).
1. IKEA Ringskär single-lever kitchen faucet, in Chrome-Plated, $99, ikea.com.
Tiles
Think beyond the basic all-white square for a backsplash or counter accent, says Jessica Gould, an interior designer at Elizabeth Roberts Architecture & Design. "Moroccan Zellige clay tiles have an elegant, handmade look, and a matte-white porcelain grid with dark lines between is strong and graphic."
2. Pratt & Larson Scraffito B tile, in Polywash Mushroom, $86 a sq. ft.
3. Michael Aram Collection Molten Bronze Glass, $61 a sq. ft., artistictile.com.
4. Mosaic House Talia 15-6 Midnight tile, in Cobalt Blue and Black, $63 a sq. ft., mosaichse.com.
5. Home Depot Merola Tile Metro Hexagon matte-black porcelain mosaic tile, 5 mm, $9.75 a sq. ft., homedepot.com.
6. Home Depot Merola Tile Metro Quad matte-white porcelain mosaic tile, $5 a sq. ft., homedepot.com.
7. Waterworks Grove Brickworks Field tile, 2 3/8" by 81/4", $18.50 a sq. ft., waterworks.com.
Hardware
Think of drawer pulls and cabinet knobs "as jewelry," says Gould, who likes to mix some materials or shapes and sizes in the same kitchen. "You don't want to be too matchy-matchy."
8. Martha Stewart Living Soft Iron bracket pull, 3′′, $5, homedepot.com.
9. Sugatsune FT-120 Polished Mirror stainless steel pull, $35.50, simonsny.com.
10. Waterworks Henry Pull, 6", in Unlacquered Brass, $235, waterworks.com.
11. Baldwin Polished Brass Classic Mushroom cabinet knob, 3/4", $3.25; and Baldwin Polished Brass Long Oval cabinet knob, 13/8", $6.50, build.com.
[SHOP NOW: Best Places to Buy the One Item That Can Instantly Transform Your Furniture]