I never really got interested in growing potatoes in my own garden until I had enough space to dedicate to this amazing vegetable. Potatoes do take up a lot of room and are only a "pretty" crop for a few weeks, while the green tops are flourishing. When these start to shrivel and fade, as the underground hidden "prizes" mature and ripen, the potato patch isn't very attractive. Thus I recommend planting them in the back or off to the side of your vegetable garden. I have grown them behind the cabbages and broccoli, and also obscured them behind the tomatoes.
Last year we planted more than a dozen types, and have discovered so many varieties that are utterly delicious substitutes for classic ones like 'Yukon Gold,' 'Red Bliss,' and 'Maine Kennebec.' 'Bake King' has thick white skin and floury white flesh, and is a fantastic baking potato. 'Daisy Gold' is now my favorite mashing potato, with its smooth yellow skin and dark-yellow flesh -- pureed potatoes have never been better. For roasting, I love 'Red Thumb,' which has firm pink flesh and can be eaten whole. 'Huckleberry Gold' is purple on the outside and golden-yellow on the inside, and is a really delicious boiling variety for potato salad.
And if you'd like to know even more about this amazing tuber, read "Helen Hamlin's Pine, Potatoes and People: The Story of Aroostook" (Norton, 1948) and "Charles Morrow Wilson's Aroostook: Our Last Frontier" (Stephen Daye Press, 1937). Both are historical books about the transformation of frontier land into productive potato farms, a change that has occurred in so many parts of the world, including Ireland, and most recently China, which now grows more potatoes than anywhere else in the world.
Learn How to Plant Potatoes
My Favorite Potato Recipes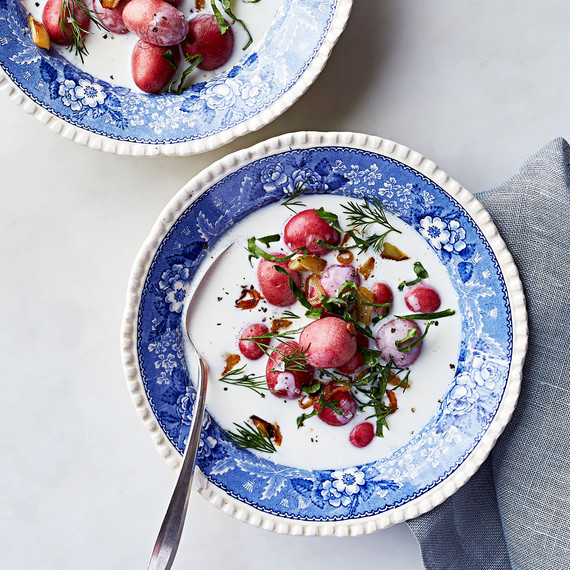 Buttermilk and Steamed-Potato Soup
I serve this simple half-cooked soup for lunch, or as a first course at dinner. The caramelized fennel and shallot and shredded kale enhance the steamed potatoes. Try to find organic buttermilk if you can.
Get the Buttermilk and Steamed-Potato Soup Recipe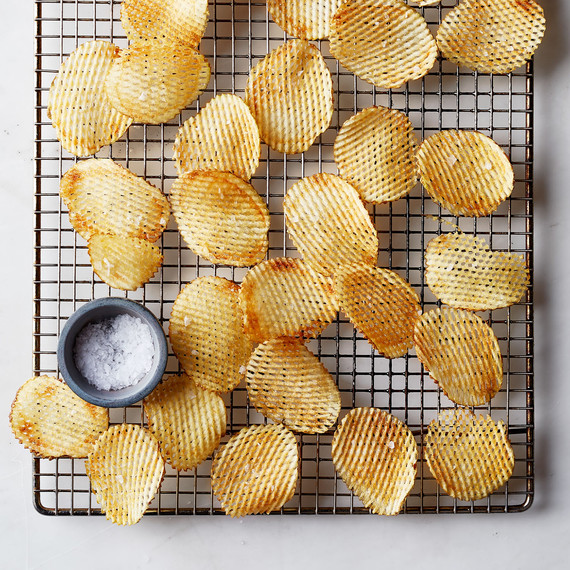 Waffle Chips
Waffle chips are good for a fish fry or as the base for innumerable hors d'oeuvres. Spoon a bit of tuna or salmon tartare on a chip, or a dollop of guacamole -- you will think you've gone to heaven.
Get the Waffle Chips Recipe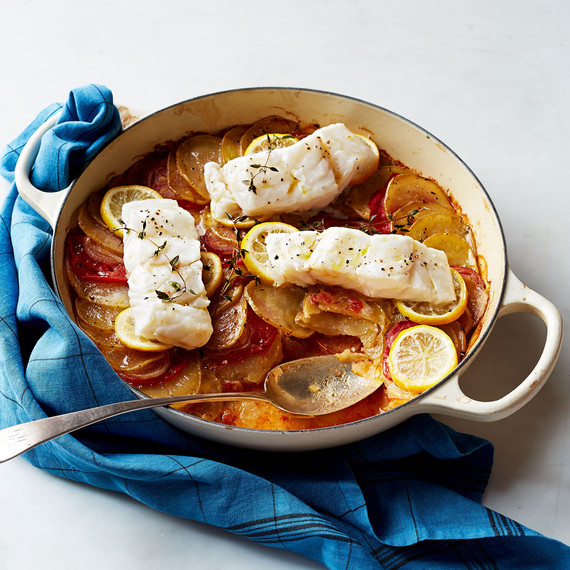 Baked Cod with Tomatoes and Potatoes
This baked-cod dish is amazing, and you can swap in bass, hake, or haddock.
Get the Baked Cod with Tomatoes and Potatoes Recipe