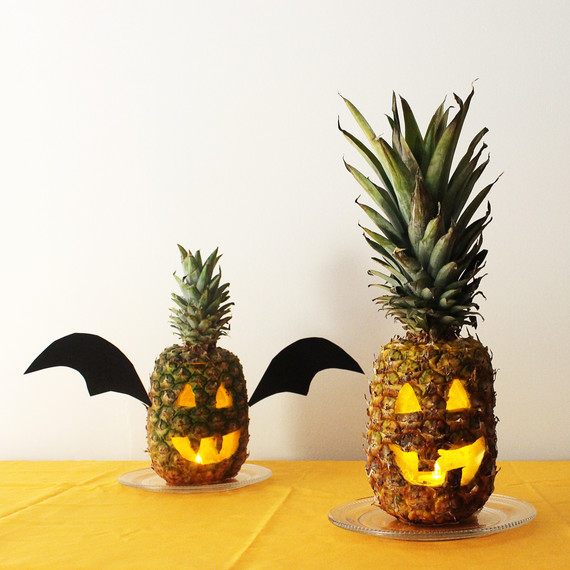 Move over, Pumpkin King. Halloween has found a new contender.
The unlikely trend of choice? Pineapples—they just so happen to be more affordable, smell sweeter, and the inside fruit is a lot easier to slice and scoop. This fruit's prickly exterior limits carving design options, but the classic triangle eyes and mouth look positively spooky when lit up. These people had the right idea:
Want one? The carving process isn't all too different from traditional pumpkin-carving. If you want to try this tropical alternative, select a slightly underripe pineapple for carving. Look for a firm fruit with green skin and a perky leaf top. Using a sharp knife with a thin and flexible blade, cut off the top of the pineapple and remove the insides with a corer or knife. (Note that removing the insides is the tricky part because you will have to be careful not to hurt yourself or break through the exterior of the pineapple.) Once that's done, you can begin to carve in your design as you normally would, insert a candle, and admire your tropical-inspired addition to your Halloween décor (with a piña colada—er, Pina Ghoulada—in hand, of course).
[TRY IT: Get the Pineapple Jack-o'-Lantern How-To]
Ready to try it? Watch how to carve a pineapple mess-free: