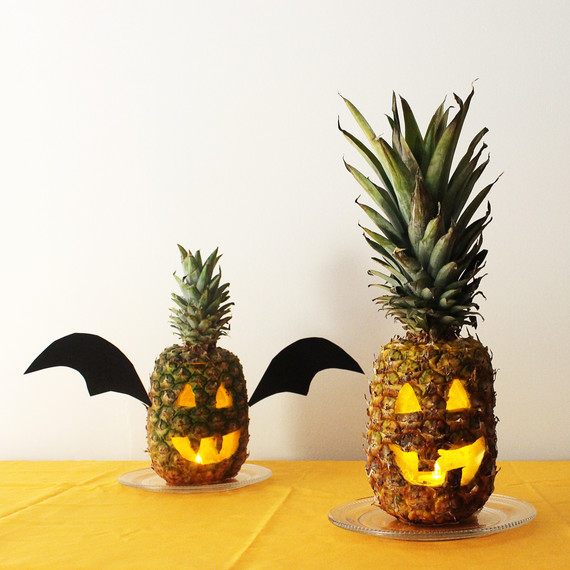 While the traditional pumpkin décor holds dear to our hearts, it's about time to switch things up a bit. How does a little taste of summer this chilly month sound? Or perhaps, for our beach-side residents, pineapples have just been a more fitting choice for October all along. Pineapples happen to be cheaper, smell sweeter, and the inside fruit is a lot easier to deal with than pumpkins. These people had the right idea — would you really rather have roasted pumpkin seeds or a sweet piña colada to sip on?
[TRY IT: Get the Pineapple Jack-o'-Lantern How-To]
This fruit's prickly exterior limits carving design options, but the classic triangle eyes and mouth look positively spooky when lit up.
The carving process isn't all too different from traditional pumpkin-carving. To create your pineapple jack o' lantern masterpiece, start by cutting off the top of the pineapple and removing the insides with a corer or knife. Removing the insides is the tricky part because you will have to be careful not to hurt yourself or break through the exterior of the pineapple. Once that's done, you can begin to carve in your design as you normally would, insert a candle, and admire your tropical-inspired addition to your Halloween décor (with a piña colada — er, Pina Ghoulada — in hand, of course).
So move over, Pumpkin King. Halloween has found a new contender.