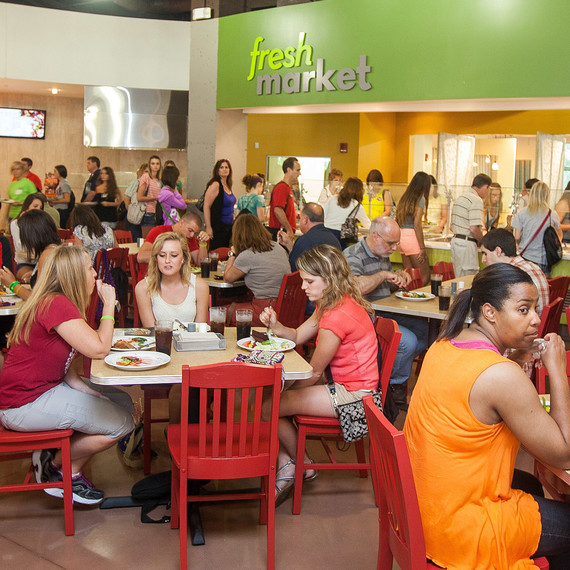 Vegan dining is on the rise at college campuses across the United States according to a survey released by peta2, an offshoot of People for the Ethical Treatment of Animals.
Peta2's survey includes feedback from approximately 1,500 four-year colleges and universities across the nation. Of those surveyed, 62 percent of schools offer daily vegan menu options (up from 28 percent in 2014), while 9 percent have established vegan-centric dining stations. In 2011, the University of North Texas (UNT) in Denton opened Mean Greens, an entire dining hall dedicated to vegan cuisine. UNT, which saw a 20 percent increase in meal-plan sales, was one of two schools in Texas, out of 65, to receive an "A" rating on peta2's Vegan Report Card.
(GO vegan, try these delicious breakfast recipes)
Meat consumption in the U.S. was reently reported to have risen 5 percent in the U.S., the largest increase since the 1970s. However, even meat-eaters have been opting for healthier choices on campus. (You're there for four years, after all!) Traditionally carnivorous parts of the country have also been influenced by vegan eating; the University of Montana has vegan dining stations and Oklahoma City University, located in the "beef belt", offers both vegan and raw dining options.
Peta2's college survey reflects the growing movement to make dining vegan-friendly. Ealier this year their parent organization, PETA, dubbed 2016 #TheYearOfVegan and NYC restaurateur Ravi DeRossi decided to make his 15 bars and restaurants animal-free. Next step? Big companies want in on veganism, even if their traditional businesses are far from vegan -- poultry giant Tyson purchased a 5% share in Beyond Meat, a leading vegan "meat" products company.