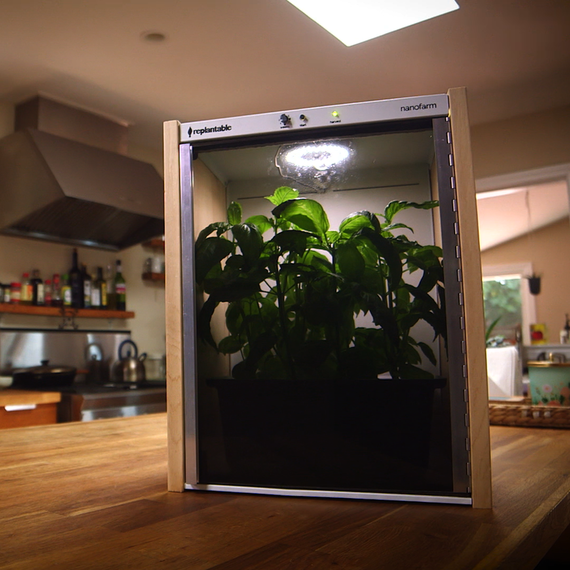 For many of us, the idea of homegrown produce is great in theory but requires a little more work than we're willing to put in or space than we have. That's exactly why Replantable, a start-up dedicated to bringing people "homegrown produce with none of the work," could be a game changer. Introduced via a Kickstarter campaign in late August, Replantable's nanofarm -- a small, stackable appliance that easily fits right onto your countertop -- is looking to change how people go about getting fresh produce at home, and perhaps reduce food miles as well.
(TRY our spinach salads for lunch, dinner, or anytime you need a healthy entree)

 
One of the big advances is that the Replantable nanofarm, unlike some other indoor growing systems, requires virtually no maintenance. You can literally put the parts of your nanofarm in the dishwasher between "harvests." It also doesn't need additional interaction (no apps or tricky watering systems, here). All you have to do is select what you'd like to grow, place the seed-filled plant pad in the nanofarm with a tray of water, push a few buttons to set the nanofarm to the required setting on your plant pad, and let the nanofarm take it from there. (Okay, you do need to have the foresight to choose and order the special seed pads.) Soon, you'll have your own personal supply of just about anything, from radish sprouts and romaine to fenugreek and bean sprouts, right in your own kitchen. The replantable units are pretty flexible too. You can stack them on top of each other, and because there is no wiring or permanent installation, you can keep them on a kitchen counter but decide to move them to another spot when you need all your counters for dinner party prep.
(GET our roast vegetable salad recipes)
"Ours is the first appliance you can set and forget," said Ruwan Subasinghe, a Georgia Tech grad and one of the cofounders of Replantable. "No seeding, no watering, no adding nutrients, no adjusting the lighting. Once you hit start, it does its thing and only notifies you when the produce is ready to harvest." Set to retail at $350, with each plant pad selling for $5, Replantable is planning to begin production of its nanofarms in the coming weeks though it's probably going to be a while before you find the gadget on store shelves. For now, it's exclusively available through the company's Kickstarter campaign.