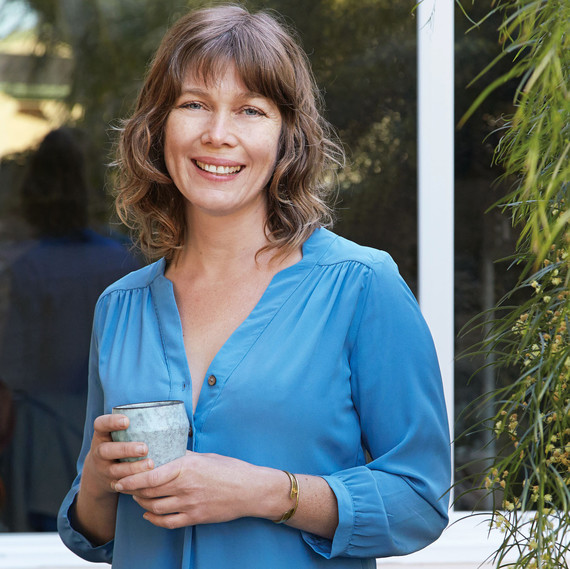 Though she spends most days in her eponymous San Francisco garden shop -- a 28,000-square-foot Eden -- Flora Grubb hadn't had a personal plot in more than a decade. That changed in 2014, when she bought a cozy cottage in Berkeley and set out to transform a ho-hum spot into a restorative retreat. "I built this garden during a time of personal upheaval and grief," Grubb says. "My father had died, I'd gotten divorced, and I was ill. What I needed from my garden was sanctuary and respite and healing."
The challenge? Her front yard was small -- just a narrow strip of lawn and a pad of concrete used for parking cars. But Grubb knew the space had potential. "There was never a grand plan; I just did it bit by bit," she says. To prep the area, she had the concrete driveway ripped out and treated her heavy clay soil with American Soil & Stone's Clodbreaker to improve drainage and fertility. Then she and her 7-year-old son, Greyson, got their hands dirty; Grubb's first priority was making the space as soothing as possible.
[CREATE ZEN NO MATTER THE SPACE: Check Out Our Small Patio Ideas]
To get the effect she wanted, she chose foliage plants in a unified palette of warm spring greens, "colors that say everything is alive." Even the few bloomers Grubb included, such as 'Moonlight' grevillea and acacia, have chartreuse flowers that echo the hues of neighboring leaves. "There's nothing jarring or that grabs your eye and won't let go," Grubb says. And none of her plants need much water -- ideal for the drought-prone Bay Area -- and they only require irrigation once a month.
[GARDEN KNOW-HOW: Small-Space Garden Ideas]
Since she also wanted her garden to look full right away, Grubb planted densely, which means her landscape will always need more upkeep than if she'd spaced plants further apart. "To achieve this billowy look with peaceful curves and carefully constructed undulations, I prune constantly," she says. "But I love spending a little time in the garden every day." Now Grubb and her son enjoy the space all year round. "My daily meditation practice is to sit in my window and stare at my garden," she says. "It's a true gift to myself."
Simple Steps for Serene Spaces
"Coming into my home through my garden is a magical experience for my guests," says Flora Grubb. Consider her tips for turning any
outdoor spot into a quiet refuge.
Open it up
A path of muted-gray basalt in a bed of pea gravel creates negative space, adding to the garden's peacefulness. Its gentle curves lead the eye around, and also slow down the pace of those walking through it.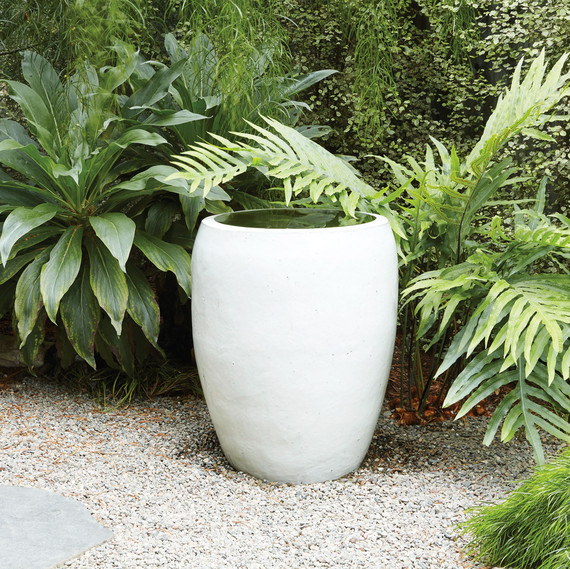 Just Add Water
A white glazed container serves as a recirculating fountain that draws in birds she and Greyson love to watch. "Gardens should have water," Grubb says. "There's something about it that says you're in a place where there's enough."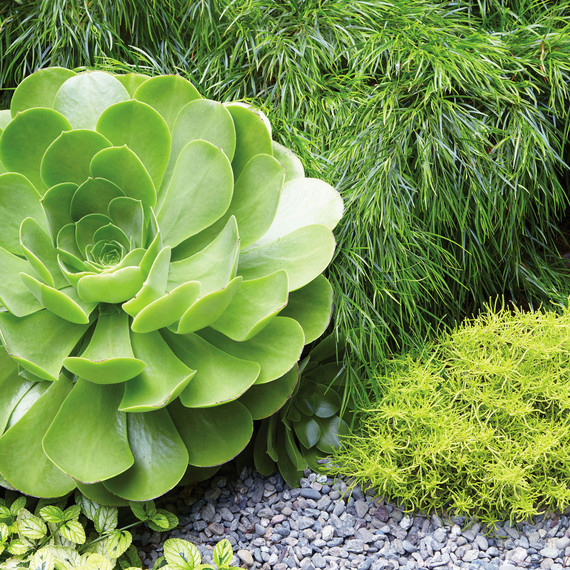 Choose One Hue
There are countless shades of green -- some lean toward blue, silver, and yellow -- and it's important to home in on a single tone. "There are a lot of greens that are excluded from my garden," Grubb says. "It's about restraint even within restraint."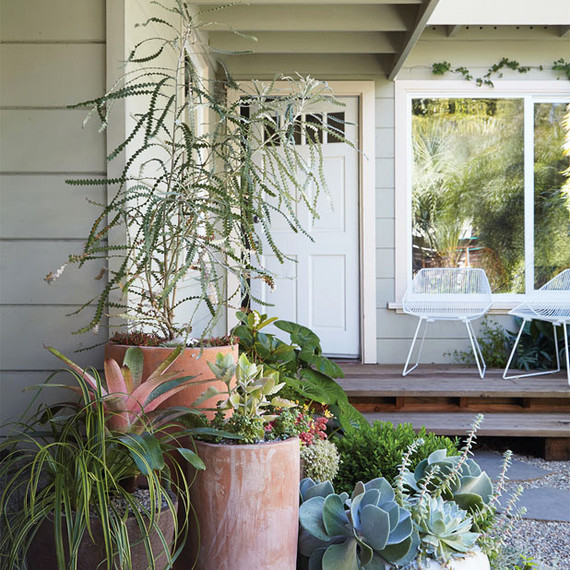 Vary Textures
To keep a monochromatic scheme interesting, incorporate plants in a variety of textures (here, a pot with a large‐leaf bromeliad is planted with wispy, grass‐like carex), and place similar plants far apart. "These plants work together because they have little in common," says Grubb.