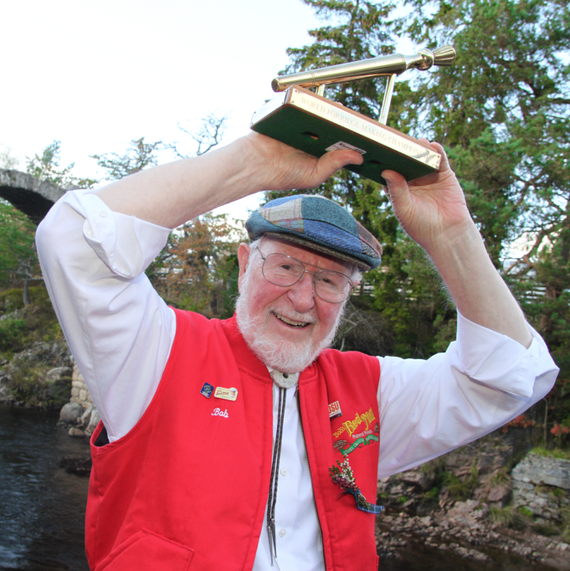 In what just might be the most amazing news of the week, an 87 year-old American went to Scotland and beat the home team at porridge making. Porridge is what the Brits call oatmeal, and this hot cereal is the national dish (well along with haggis) of Scotland, so for an American to win the prestigious World Porridge Making Championship is really something. Then again, Bob Moore isn't just any octogenarian from Portland, Oregon, he's also the founder of one of our favorite food brands, Bob's Red Mill, a go-to source for whole grains, cereals and, yes, oats! A man who has dedicated his life to providing Americans with healthy whole-grain foods, Bob said he "couldn't believe it when my name was announced," adding, "it is so meaningful to me to win the Golden Spurtle."
(INSPIRED? Start your day with oatmeal or other hot cereal, here are our recipes)
In case you didn't know, a spurtle is the traditional tool used for stirring porridge, and it's usually made of wood not gold! Bob won the Golden Spurtle for the best traditional porridge, made with just three ingredients; oatmeal, salt, and water. There was also an award for 'speciality' porridge, where oatmeal must be the main ingredient in a sweet or savory porridge-based dish. This was won by Norwegian Thorbjorn Kristensen. His winning entry, which he called 'Unexpected Guests,' was made from yesterday's porridge combined with eggs, butter, vanilla sugar, cream, and liqueur. Special mentions went to three more untraditional oatmeal dishes: 'Porizo' a savoury chorizo porridge created by Graeme Miller, chef of the Craiglynne Hotel, Granton-on-Spey, Scotland; gluten-free savoury porridge empanadas with venison, spinach and blue cheese created by Perthshire Oatcakes owner Chris Young; and a sweet cherry Bakewell porridge made by Neal Robertson, owner of the Tannochbrae Tearoom in Auchtermuchty, Fife.