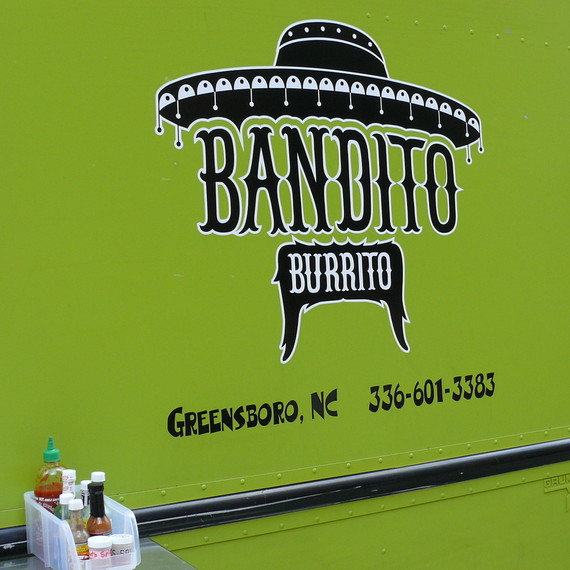 Fact: Twitter has an endless supply of ideas and opinions about pretty much everything, and food is no exception. So if you are seeking to invest in a new food business venture, look no further than the social media platform. Users are not only getting more and more creative with their ideas for food trucks but also with the names they're giving their would-be businesses.
[RELATED: Get a Taste of the Best NYC Street Food at the Vendy Awards]
Everything from clever food puns ("Naan of Your Business" and "Not All Heroes Wear Crepes") to pop culture references are on the menu. Scroll down to see our favorites, and remember, if any of these food trucks become a reality, we called it first!
1. We know what kind of music will be blasting from this one.
IDEA: A food truck called SUSHI MANE with menu items named after Gucci Mane songs

— Jen (@jensized) September 8, 2016

 
2. This one is for all you Kansas fans.
@JonStrickland You could always try again with Curry on My Wayward Son.

— EJ (@erocknelson) September 10, 2016

 
3. Prosper you will.
New idea for Star Wars-themed food truck: Admiral Snackbar. #ageniusyouare

— THE KNEADS (@TheKneads) September 28, 2016

 
4. This one is basically an entire business plan.
Idea: food truck called hot take with like a Quiznos style oven and you gotta grab the food from the oven or it just falls out on the ground

— Ryan Tedrick (@Soupbucket) August 22, 2016

 
5. We're fans of the name but can't really picture what the "funky modern version of gruel" would look like.
Food truck idea: kewl grewl - a food truck that sells funky modern version of gruel

— Pa Rien (@patr1ceo) September 6, 2016

 
6. We'd be regulars here.
@shinypb Rare cheese shop: Gouda Wheel Hunting

— ronnie (@rondoftw) September 2, 2016