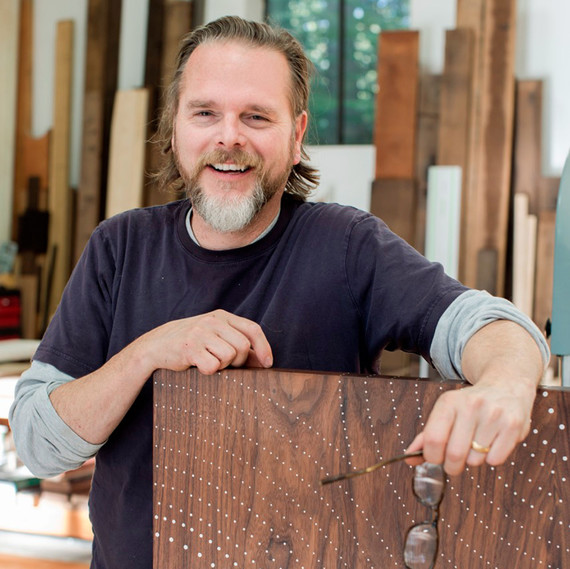 In a converted garage surrounded by 30 acres of lush New Hampshire forest, Peter Sandback spends his days transforming basic materials -- wood, nails, glue -- into works of intricate beauty. No stranger to the woodshop, he was first taught elementary skills by his dad, the minimalist sculptor Fred Sandback, when he was a kid. During graduate school at the Art Institute of Chicago, he got a job in the school's shop "and sort of learned more on the fly," he says. There he built elaborate frames for art, then three-dimensional objects.
But after his degree, he struggled to make a living. Encouraged by his wife, he began to make furniture -- Shaker-style tables out of repurposed wood, and then "stocky" concrete ones, developing a method of making the concrete hollow so they could be easily shipped. When the economy crashed in 2008, however, his business plummeted by about 75 percent within just a couple of months. "I suddenly found myself with a lot of free time and nervous energy," he says. Instead of fretting about the lack of work, he started building pieces that were "decidedly ornate," a departure from his minimalist aesthetic. He found a photograph of an old floral fabric decorated with thousands of dots, grabbed some nails ("because they were cheap and everywhere"), and got to work.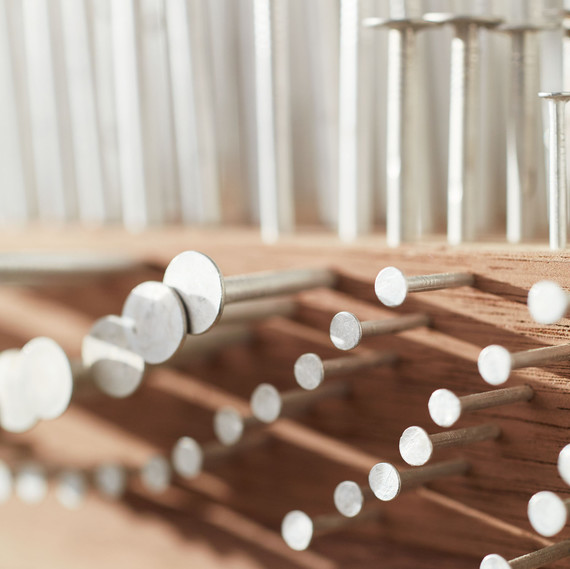 Sandback finds inspiration all over: Japanese katagami stencils, indigo prints, old textiles, even the infomercial fad the BeDazzler. While the tables are elaborately embellished, he still keeps his methods and materials basic. "There's no mystery in how I construct the tables," he says. After he erects a piece by hand, he lays down a pattern, predrills holes, then glues in aluminum, brass, or black resin nails. Once they're dry, he cuts them flush to the surface and sands everything down to a smooth, satiny finish.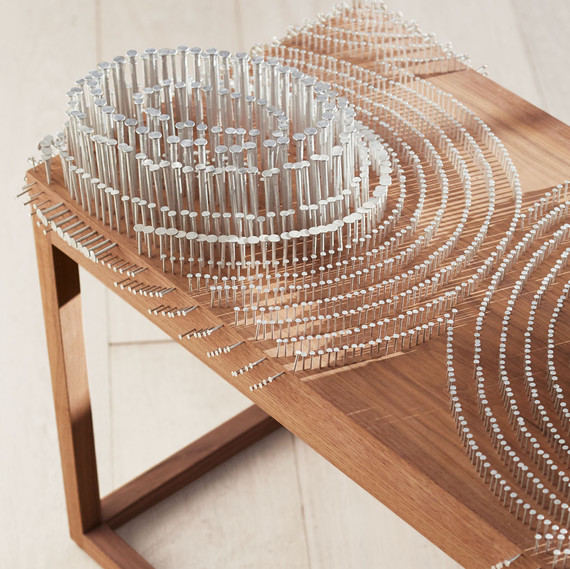 Sandback takes his work seriously, but he is also clearly having fun. He signs and dates each table and irreverently affixes a pewter "wad of chewing gum" made by one of his daughters underneath -- his "mark of quality." "I really enjoy what I do and feel lucky to be able to do it every day," he says. "I think that comes across in the work."