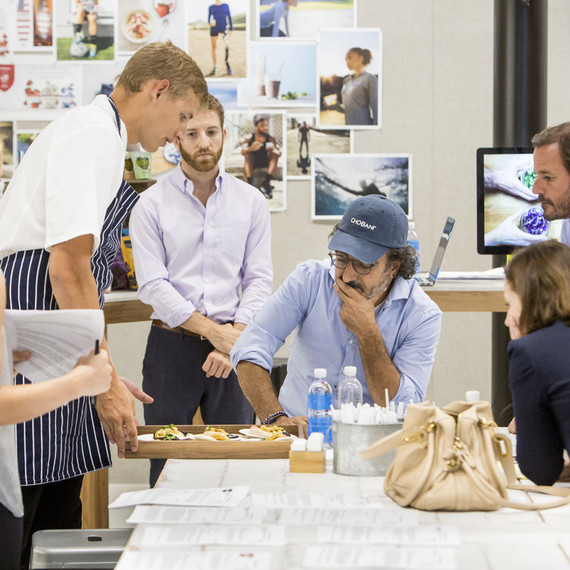 These days a growing number of people have nixed traditional durum wheat pasta to avoid the carbs or the gluten, and are using healthier alternatives such as spaghetti squash, spiralized zucchini, or even quinoa, which lacks the shape but packs a punch of protein. Banza's pasta is made from chickpeas which are naturally gluten-free and vegan, try it with tomato sauce or meatballs. Created by Brian and Scott Rudolph in Detroit, Michigan, Banza's mission is to show that home cooked meals should, and can, be affordable, convenient, and easy for anyone to cook.
(GET our Fall Pasta Recipes)
The journey of Cissé Cocoa Co. begins with founder and CEO, Diana Lovett's love for chocolate and her passion for social justice. Lovett thought about starting a business that combined her two passions and would also help small cocoa growers to earn a living wage. After traveling from West Africa to Central America looking for the right cocoa she found FUNDOPO, an Organic, Fair Trade cooperative in the Dominican Republic. Their single-origin cocoa  beans are featured in all Cissé Cocoa products, which include hot cocoa blends, brownie thins, and baking mixes.
(READY to bake a chocolate cake? Try these recipes)
Started by sisters-in-law Melissa and Laura Vitelli, Jar Goods has a simple objective: provide consumers with tasty, pantry staple jarred foods. With an investment of just $150, they decided to hand bottle Pa Vitelli's regionally famous tomato sauce, branding it 'Classic Red,' and selling at farmers' markets and street fairs. They now sell a small line of sauces and hope to help busy families create quick, delicious meals and have time to spend together at the dinner table.
(SEE what pantry ingredients our food editors always have on hand)
It's a popular on-the-go snack, but not all beef jerky is of the same quality. That's what lead Chops Jerky creator, Dusty, to create a jerky from premium beef brisket that's flavored only with spices and has no added preservatives, nitrites, or MSG.
(GET our favorite quick beef dinner recipes)
Brothers, Nick and Justin started to make bone broth because they wanted to drink it themselves: Justin follows a Paleo diet and he also wanted to find natural ways to assist Nick who was recovering after tearing his ACL. Kettle & Fire broths are made from the bones of cattle that are 100% grass-fed and pasture-raised and are hormone and antibiotic free. The only bones used are knuckle, patella, femur, neck and feet bones which have a high concentration of white and red stem-cell marrow, as well as high levels of collagen. The brothers attention to quality extends to the packaging, which is recyclable and made mainly of wood fibre -- a natural, renewable raw material, and also assures the broth doesn't spoil, even at room temperature.
(LEARN more about bone broth)