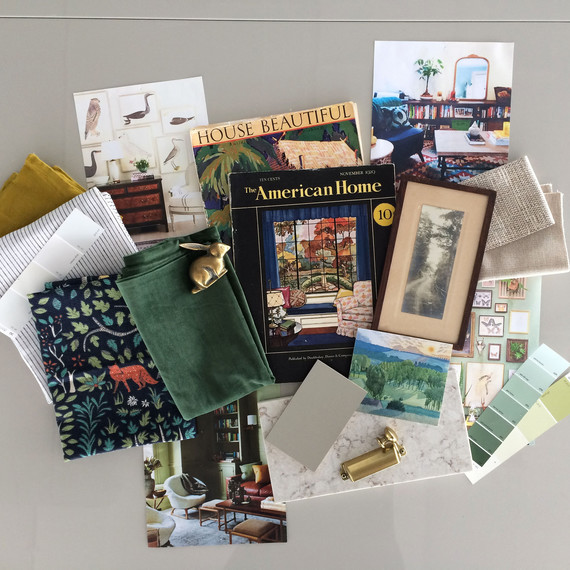 To me, what had to come first was inspiration. We needed to envision what we might want our end result to look like and create some guidelines before we headed to the paint store or started buying furniture.
So, I began with a Pinterest board, gathering imagery that represented our aesthetic while befitting of the style of the house, a 1920s Colonial Revival. Then, I chose my favorite images and combined them with objects that I felt exemplified us onto a physical inspiration board.
It's safe to say that my decorating style has always been shaped by the apartments I lived in and the fact that I knew these spaces were mine only temporarily. I saw each new dwelling as an opportunity to try something new, whether it be the furniture arrangement or a splashy wall color. It was exciting! I've painted the walls of every apartment I've lived in, choosing whatever color my whim dictates: teal, olive green, coral, navy blue, yellow… the list goes on.
[A TREAT! See All Our Editors' Inspiration Boards]
But now? A house seems to call for choices that are a little more considered, less spur-of-the-moment. So I'm thinking about a soft sage green for a guest room, and I have my heart set on the palest shade of grey for our master bedroom. These are big decisions! This house is mine…forever!
For our furnishings and accessories, like pillows and rugs, I'm drawn to rich blues and greens, with bright pops like coral and red. A colorful dhurrie rug and navy blue sofa in our TV room would be livable but not too serious; the palette is reminiscent of the colors in a stack of 1920s magazines I found at a book sale. An acid green linen pillow will spice up black and white bedding against the soft grey master bedroom walls. For our kitchen I'm also thinking grey, paired with brass hardware.
[GET MORE: Some Serious Color Inspiration]
Brass is a theme that will be carried into our living room as well, inspired by the vintage brass animals that Will and I have been collecting for the last couple of years.  We both love imagery drawn from nature, and we've been collecting vintage prints, paintings, and photographs for our walls.  Each piece is fairly small, so a gallery wall is a great way to make a big statement.  The houseplants we've carried from apartment to apartment will also add a natural element to our decor.   
If I had to use three words to describe my dream home, I'd choose: "quiet," "nature," and "history."  That's how we ended up here in the first place -- in an almost century-old house on a peaceful, tree-lined street.  I want our home to look cared-for and curated, an assemblage of collected objects that have stories behind them.  But, as many Pinterest users know, the inspiration is the easy part. It's fun imagining what your home could look like. Bringing the dream to life is another matter! I wonder how this is going to work out!
Check out these beautiful interior designs and fabrics.