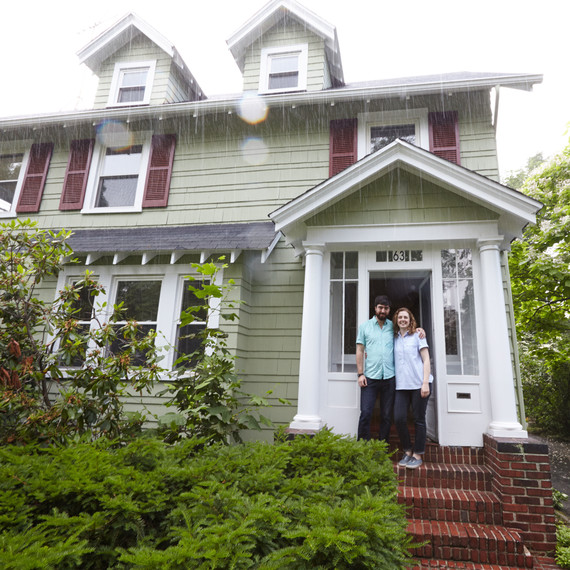 My name is Jessica Davis and I've spent most of my life doing the urban shuffle, moving from one rented apartment to another.
But at a certain point, my perspective began to change. I began to fantasize about things like dishwashers and laundry rooms, and two people being able to work in the kitchen at the same time! Can you imagine?
[TRY THIS: Small Kitchen Storage Ideas]
Last fall my husband, Will, and I bought a car and started taking long drives outside the city, wondering what it might be like to go home to a house in the country. Eventually we found ourselves spending hours online looking for houses with backyards big enough for entertaining and planting vegetables. The word "suburb" no longer made either of us cringe. We realized we were ready to take the leap: leave Brooklyn and be our own landlords.
So, after months (and months) of searching, Will and I bought a house with a garden in the Garden State. It's our pale-green clapboard vision of suburban life, and it's totally ours. We love it, but it sometimes feels like a pair of too-large borrowed trousers. We don't have nearly enough furniture to fill a house.
[OOH! 5 Furniture Arrangement Ideas That'll Make Your Home Look Professionally Designed]
Growing pains aside, there are things we are so excited about -- We own a house, and we get to decorate it, without worrying about what it says in our lease! I'm a textile designer so, as you can imagine, the decorating part is a complete dream come true for me. Painting, making pillows, giving new life to antiques….I can't wait to feather our nest. But, before we get there, we have a few renovation projects up our sleeves, too -- particularly a complete makeover of the kitchen. Easy, right? What could go wrong?
I'll be detailing the process of fixing up and decorating our new home, from planning to painting to picking furniture and beyond. And I'm inviting each of you to join us on our journey, as we learn everything there is to know about becoming first-time homeowners: the good, the bad, and the completely outdated.
Meanwhile, watch for tips on how to design a comfortable living room: