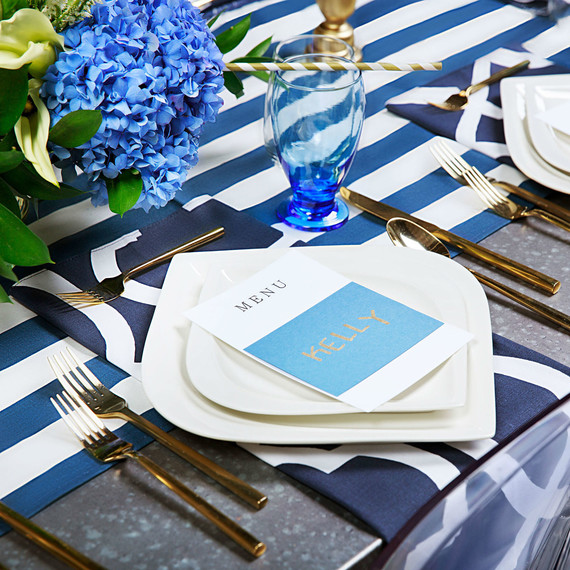 Any good hostess knows: Even the best laid plans can go terribly, terribly wrong. But when it comes to last-minute entertaining, we all know there's no time for trial and error. This is where Table + Teaspoon comes in: it's a new San Francisco-based "rent the table" service that promises to simplify your party planning needs.
Founder Liz Curtis came up with this idea while picking up an order at a rental warehouse for an event. She spent four years in the catering, events, and interior design industries and during that time discovered a serious need for a simpler way to design a tablescape. "In a city where you can order literally anything on-demand — flowers, dresses, tuxes, meals, chefs, groceries, cocktails, servers, sommeliers — why can't you similarly order your tablescape?" she says.
[TRY THIS: Use Calligraphy To Upgrade Your Tablescape]
The main goal of Table + Teaspoon is to make elegant entertaining accessible to everyone with pre-designed tablescape themes that range from a classic holiday dinner party to a glam birthday bash. Each package that you can rent for your party includes beautifully coordinated luxury table runners, dual-sided napkins, flatware, and all the extra tiny details that are likely to sneak their way out of a last minute to-do list.
[DON'T MISS: 5 Creative, Nontraditional Table-Setting Ideas]
The process is easy: simply enter the date of the event and guest count, then choose from the premade sets available! Additionally, you can mix and match dinnerware and servingware as needed. Need a dozen wine glasses? Check. A pair of taper candles? Check. Want to skip a table runner? No problem. The package will be delivered to your doorstep in a specially patented box that ensures the products arrive intact. And the best part of it all? After creating your gorgeous table setting, you won't need to deal with a mountain of dishes the day after! With Table + Teaspoon, simply package your dirty dishes right back up into the box and send them back to be cleaned. (How's that for service?)