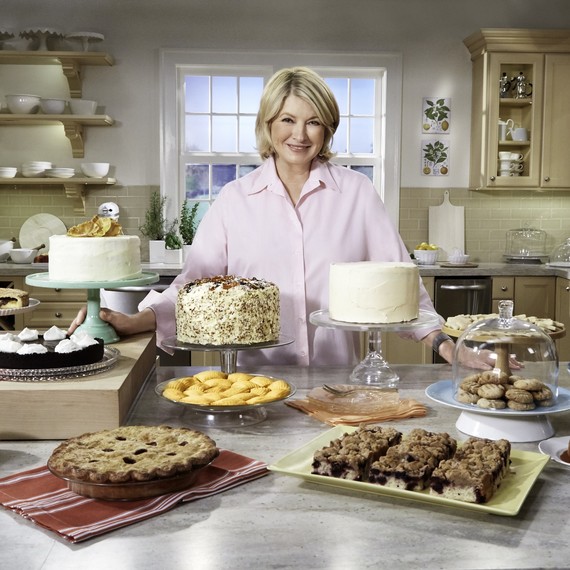 Are you one of those people who love to sample the local specialty when you travel? Martha definitely is, but per usual, she takes it to the next level -- she recreates the iconic dishes she's tasted in her own kitchen. On this season of "Martha Bakes," you can join Martha on a culinary journey around the U.S. She'll be focusing on 11 different regions and the classic American desserts they're known for and demonstrating how to make them at home. We're talking maple custard pie from New England, gooey butter cake from the Midwest, and Virginia peanut pie from the mid-Atlantic, just to name a few.
Get the Virginia Peanut Pie Recipe
Narrowing down the best desserts in each region and developing the recipes was no easy feat. Senior producer Greta Anthony says, "Baking across this country varies greatly from one region to another, and behind every recipe is a unique story. Through research, testing, and lots (and lots!) of tasting, the difficult job of selecting recipes came down to two questions: Did the recipe best define the region? Was this a recipe that would inspire viewers to want to get into the kitchen and bake it for their family and friends? I believe we aced it on all accounts!"
Martha's favorite desserts to bake (and eat!) this season were the sour cherry pie, nut-crusted cranberry tart, and layer cakes of all stripes, including the stunning, over-the-top hummingbird cake and Lady Baltimore cake. Martha will share her pro tips and guide you through the techniques you need to make these spectacular all-American desserts (just in time for the holidays, too!). Plus, look out for cameos from some of Martha's longtime kitchen squad, including our resident Kitchen Conundrums expert Thomas Joseph and our editorial director for food, Sarah Carey (who also hosts our Everyday Food series!).
Watch Martha and Thomas bake two of the knockout recipes from last season: kitchen sink cookies and Atlantic Beach tart.