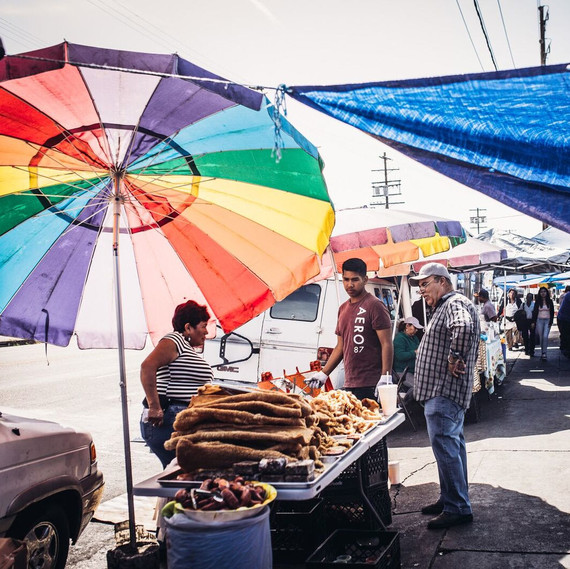 We are living in the era of peak television -- there are more shows than ever before, both scripted and unscripted, and countless platforms to choose from. While we obviously can't keep up with every series, there's always something that we can't help but add to our streaming list. Right now it's "The Migrant Kitchen," which explores Los Angeles' sprawling culinary landscape from a never-before-seen perspective -- immigrants.
Need a snack before you watch? Make Mexican Corn
Los Angeles owes so much of its singular food culture to its vibrant immigrant communities. It has the largest Koreatown in the U.S., a Chinese food mecca in the San Gabriel Valley neighborhood, taco stands across the city that each boast their own regional specialty, sushi bars straight out of Tokyo, and so much more. Not only are immigrants keeping their own food traditions alive, but they're often also the unsung heroes behind Los Angeles' high-end restaurants. The first episode of "The Migrant Kitchen" profiles Jorge Dugal, kitchen manager at celebrated two Michelin-star restaurant Providence, and his grandmother's recipe for chirmol, a classic Guatemalan salsa. He first made the dish for a staff meal at Providence, and it ended up becoming a staple on the restaurant's tasting menu.
Inspired to cook? Make Mole Sauce
The latest episode takes place in a rapidly gentrifying area of downtown Los Angeles and follows two immigrants' pursuit of the American dream. One is Celestino Lopez, the late owner of Chiles Secos in the historic Grand Central Market, which has been providing Mexican ingredients such as mole pastes and dried chiles to the community for decades. The other is Enrique Peralta, a street vendor whose chicharrones (fried pork rinds) are among the best in the city. The show zeroes in on the dedication and hard work it takes to start over in a new country and on the importance of food and family. There is always going to be a place for famous chefs on TV, but even with the onslaught of new shows, it feels rare and refreshing to watch these stories being told. Plus, the episodes are only 10 to 12 minutes long, so they're super easy to binge!
Check out an exclusive clip from the latest episode:
Tune in: Episodes will be released every Tuesday online and culminate with a television broadcast special airing on October 25 at 8 P.M. ET/PT on KCET in Southern California and Link TV nationwide (DirectTV 375 DISH Network 9410).