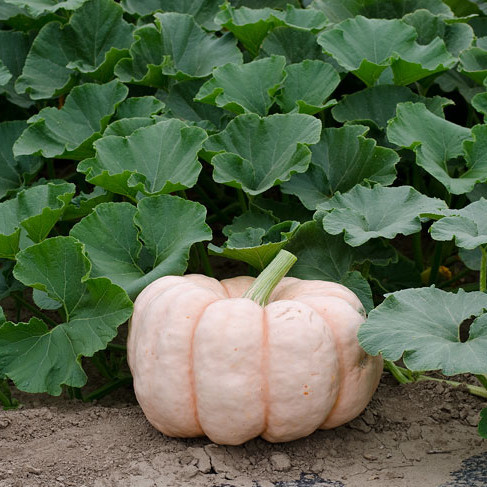 Not every pumpkin is grown orange. Some, in fact, are planted pink — and for a good cause.
Introducing The Pink Pumpkin Patch Foundation, which oversees the cultivation of Porcelain Doll F1 pink pumpkins by farmers across the country. The foundation's purpose is to unify in the battle against breast cancer, which is accomplished in a number of ways. Firstly, the growers involved with the organization have agreed to donate a percentage of pink pumpkin sales to the Pink Pumpkin Patch Foundation itself, which in turn, funnels those funds to breast cancer research organizations. Secondly, the foundation's mission is to spread awareness. The goal is simple: have a pink pumpkin on every porch, which stands for the disease that is expected to take the lives of more than 40,000 women this year.
How did it start? The foundation was created in 2012 and is based in Colorado. Proceeds are given to organizations with "the highest percentage of dollars spent on actual research." This year's grant recipients are Dr. Ted Hinchcliffe and Gail Dennison at The Hormel Institute, and Dr. Eva McGhee, Department of Medicine, Division of Cancer Research at the Charles R. Drew University of Medicine and Science.
[Related: Learn About a Similar Project: the Teal Pumpkin Project]
So where does one get herself a pastel pumpkin? The site names each of the growers, and the list is comprehensive — even including participating farms in Canada.
Pink pumpkin grower Andy Todosciuk of Andy T's Farm in St. John's, Michigan, says this is his second year involved with the organization. "I've got friends who've had breast cancer," he says. "I grow a lot of heirlooms. I wholesale them as well so I mix [the pink pumpkins] with the other heirlooms. [I'm hoping to] just spread awareness. It's really a pretty pumpkin, too, as a decoration."
You can buy your own seeds from a number of seed distributors, should you wish to grow your own. Remember: every pink pumpkin counts.