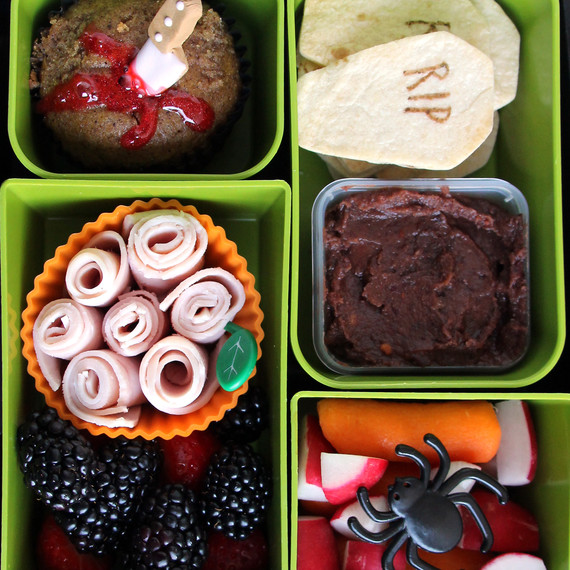 1. Make a Halloween-Themed Bento Box
Wendy Copley, author of "Everyday Bento" and creator of the blog Wendolonia, uses simple ingredients to make a kid-friendly lunch that strikes the perfect balance between cute and scary. Take a page out of her book and pair tortilla chip gravestones with black bean dip 'dirt,' decorate veggies with a spider pick, or fashion a pumpkin out of turkey spirals. The piece de resistance? A pumpkin muffin stabbed by a cookie knife that 'bleeds' red icing.
Ready for more? Don't miss the rest of our super-cool bento box lunch ideas.
2. Surprise Them with a Spooky (But Still Healthy!) Treat
Boo! Make an extra-special something for your kids to scarf at recess, like these Vampire Lips. All you need to do is spread apple wedges with peanut butter and add mini-marshmallow "teeth" and almond "fangs." Watch food editor Greg Lofts demonstrate how easy they are to whip up above.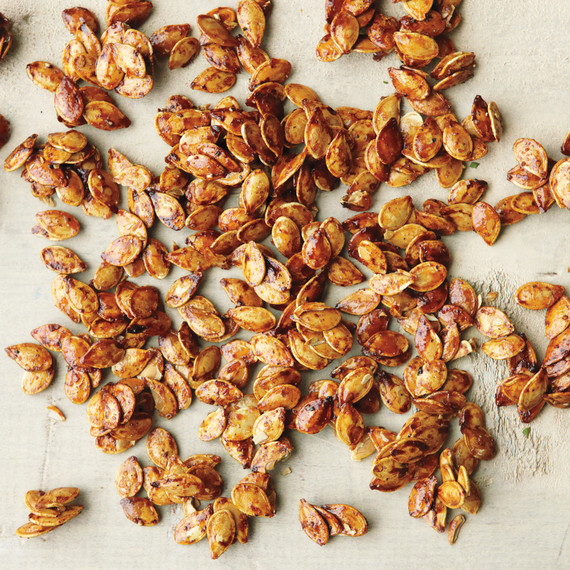 3. Pack Pumpkin Seeds
No nuts allowed? Pumpkin seeds are the answer. This recipe is the perfect way to use up all those seeds left over from pumpkin carving. They're just as crunchy and satisfying as chips but so much better for your kids. We like flavoring ours with plenty of spices and a touch of honey.
Get the Spiced Pumpkin Seeds Recipe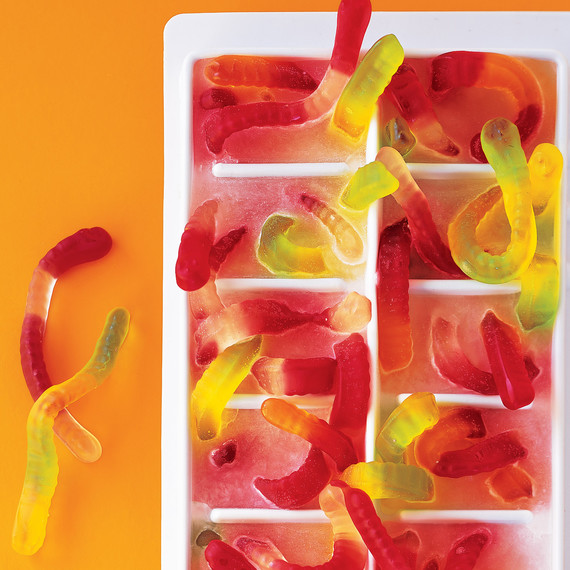 4. Add Creepy-Crawly Ice Cubes to Their Water Bottle
Turn gummy worms into next-level ice cubes, then let them infest your kids' water bottles. They'll be excited to drink plain old water for a change and get a candy treat once the ice melts!
Get the Worm Ice Recipe
5. Include a Halloween-Themed Lunchbox Note
How adorable are these printable notes from illustrator Laura Palmer? Keep the Halloween spirit going by slipping one into your little one's lunchbox all fall.
$1.50, xo-lp.com.