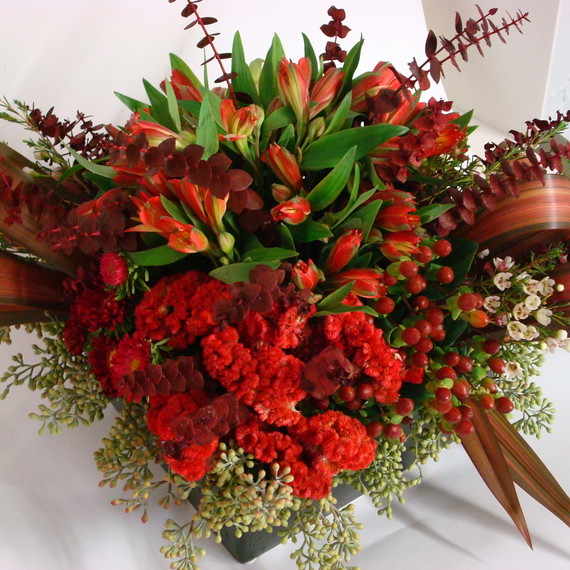 Are you hosting the holidays this year? If the answer is yes, then look no further! This magnificent centerpiece is perfect for your dinner table. Your guests will admire the warm and inviting floral arrangement possibly even more than your famous casserole.
This arrangement was designed for a client's Christmas party; we placed flax leaves, eucalyptus seeds, hypericum berry, eucalyptus, wax flower, celosia / cockscomb, and alstroemeria in a simple square black vase. If all of that seems a little overwhelming, try creating this look with just a few plants. Stay within a color scheme and choose plants with different textures to create an arrangement fit for your table.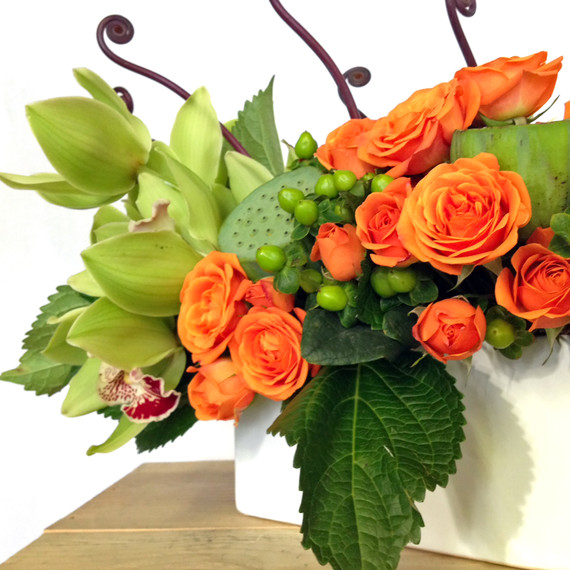 Want to add a bit of life to your office space? This beautiful floral arrangement will have you working harder and happier in no time!
We designed this display for a client who owns an office space and rents out spots as needed. Who wouldn't want to work next to this beautiful arrangement with green cymbidium orchids, orange spray roses, green hypericum berries, lotus pods, fern fiddleheads, and hydrangea leaves in a modern square vase? We know we would!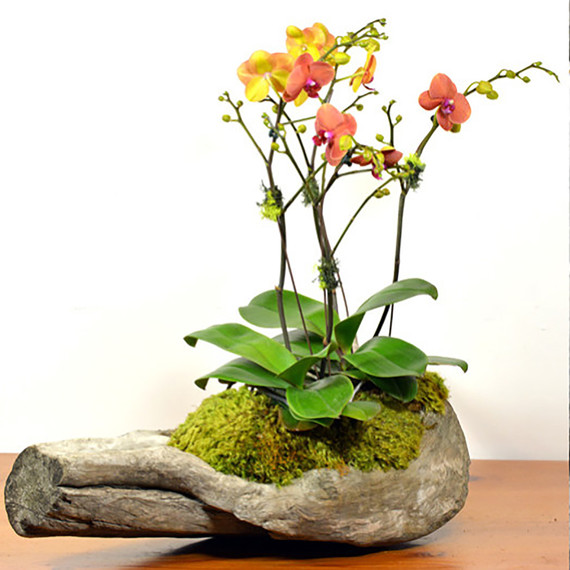 What better way to say thank you than a beautiful custom floral arrangement? This unique arrangement goes above and beyond a traditional bouquet of flowers!
This project doesn't need many materials, but looks like a million bucks! We placed moss and phalaenopsis orchids on Lake Michigan driftwood for a truly exceptional floral arrangement.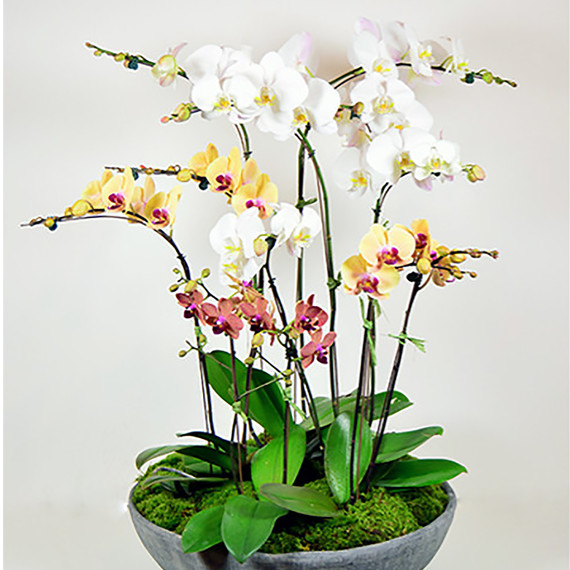 And if you don't happen to have driftwood lying around, try a similar look with a simple concrete bowl!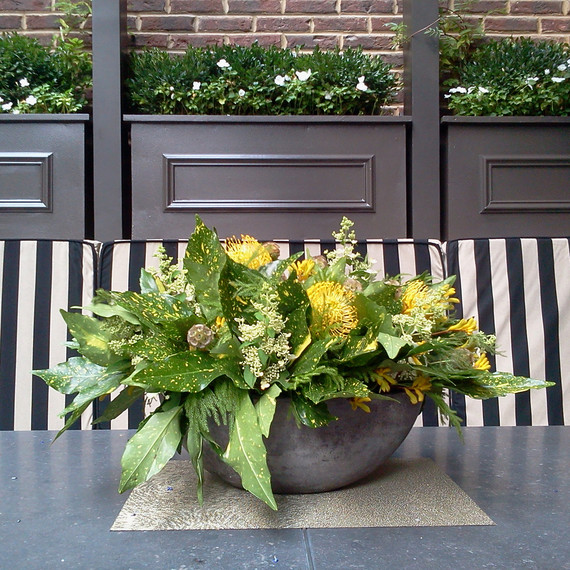 If you love dining outdoors, don't forget to set the mood with a fresh floral arrangement. Whether you're hosting an outdoor dinner party or just having family dinner, this arrangement will kick your meal up a notch.
For this centerpiece, we added aspidistra leaves, yellow pincushion protea, yellow kangeroo paw, cream limonium, and scabiosa pods to a gray vase for a bright and sunny table display.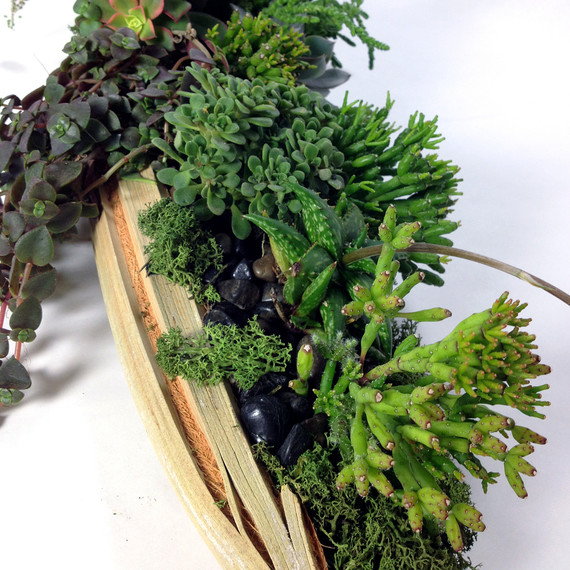 If you're like us and have a large family, you're probably hauling out the big folding tables for your holiday dinner. Try spicing up the boring tables with a long centerpiece for all of your guests to enjoy.
We created this arrangement for our very own Thanksgiving table. The holder is a dried palm frond, line with plastic. From there, we secured a variety of succulents and a bit of soil with floral tape and covered the exposed tape with bits of moss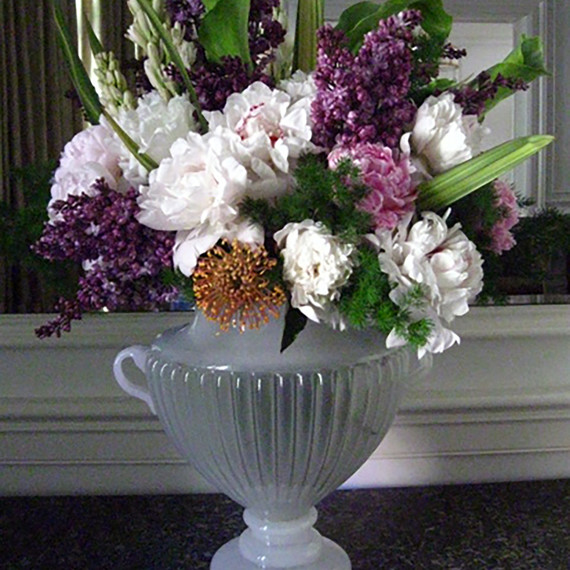 Do you have an expensive antique that you're never quite sure what to do with? Add some flowers to create a one of a kind vase! It doesn't have to be a traditional vase either, get creative with an old milk jug or whatever you have collecting dust.
This stunning arrangement is perfect for a living room, but would work for really any occasion. We placed peonies, lilacs, orange pincushion protea, flax leaves, green calla lilies, asparagus fern, and tuberose in a glass vase to create this elegant look.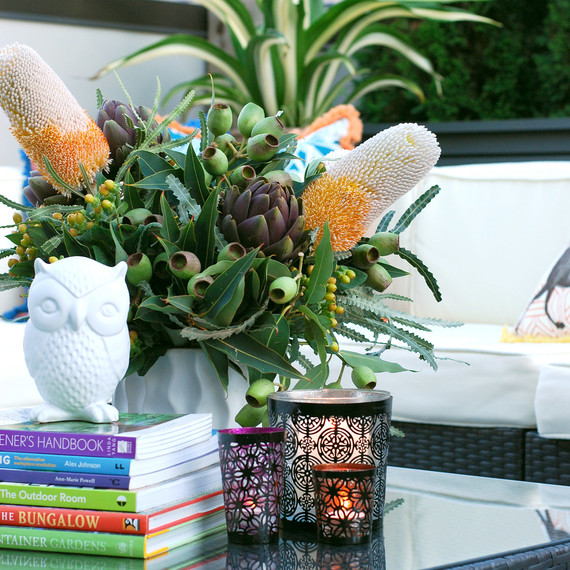 If you're all about outdoor entertaining, try a sophisticated centerpiece on your outdoor coffee table. Sure, you might be surrounded by beautiful plants in your garden, but the centerpiece adds touch of class to your seating area. Once the party is over, don't forget to bring it inside to enjoy.
To create this grandiose arrangement, we placed artichoke, protea banksia, hypericum berries, and eucalyptus pods in a sleek white ceramic vase.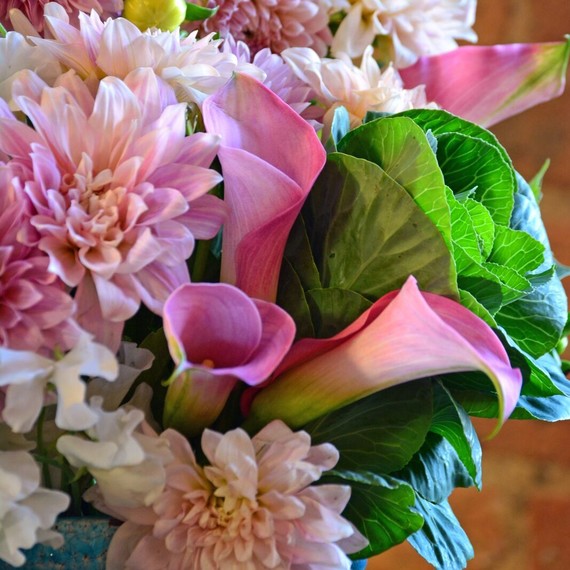 This whimsical centerpiece would be perfect for a tea party, girl's night, or birthday party! Mixing various pink flowers with a blue ceramic vase adds a bit of boldness to the sweet display.
We made this charming arrangement for an anniversary gift, and what better way to congratulate a happy couple than with beautiful flowers? Here we used pink dahlias, white sweet pea, pink calla lilies, and ornamental cabbage to create this lovely gift.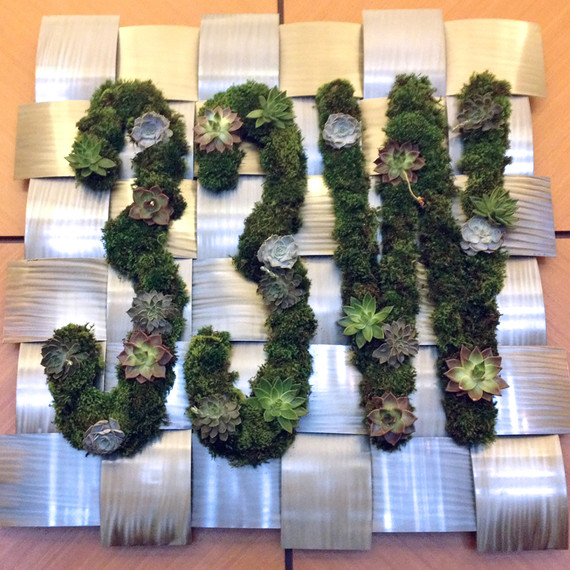 If traditional centerpieces aren't your thing, try jazzing up your house numbers instead!
The 33W project was at the entrance of a multi-unit building here in Chicago. We did a 4-season rotation: spring, summer, fall, and winter. To create the display, we used an overhead projector to blow up the 33W, cut out two layers of foam core and then wrapped the moss and succulents around the 33W with floral wire.