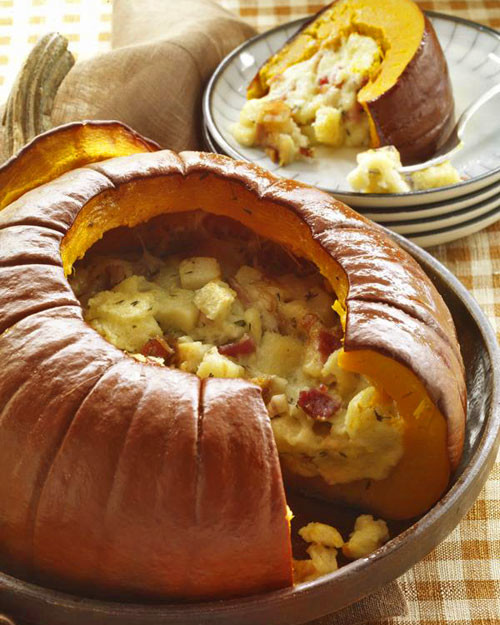 Pumpkin Stuffed with Everything Good
This cheesy, bready, pumpkin dish is an ideal fall appetizer for a potluck or party. The large gourd is scooped out and stuffed with a sensational combination of bread cubes, garlic, cheese, cream, and bacon. Fresh herbs and a dusting of nutmeg make this dish even more spectacular. Be warned: you'll be asked to make it again!
Get the Pumpkin Stuffed with Everything Good Recipe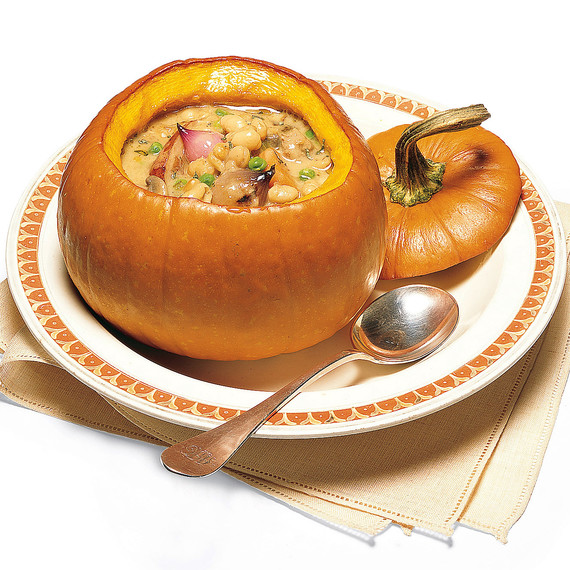 White Bean and Sausage Stew in Pumpkin Bowls
Here, everyone gets their own pumpkin; little sugar pumpkins are cut open, scooped out, and filled with a hearty white bean, sausage, and potato stew.
Get the White Bean and Sausage Stew in Pumpkin Bowls Recipe
Pumpkin Soup Served In a Pumpkin Tureen
Rouge Vif d'Etampes, Cinderella, or cheese pumpkin are what you need for this recipe, for making the soup and for serving.
Get the Pumpkin Soup With Pimenton and Preserved Lemon Recipe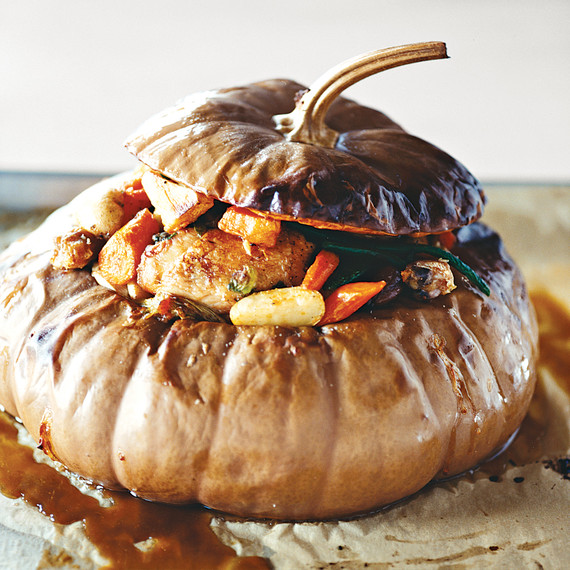 Stuffed Pumpkin Stew
One big cheese pumpkin makes a dramatic serving vessel for a chicken, chestnut, apple, and root vegetable stew. Served with the stem on top, this hearty dish is the ultimate autumnal meal. After you've served the stew, slice the pumpkin up and serve it too.
Get the Stuffed Pumpkin Stew Recipe
Pumpkin Punch Bowl
Not only do pumpkins make excellent soup bowls, they're fabulous as homemade punch bowls! This spectacular double pumpkin punch bowl stays cold with dry ice: fill with wine and beer bottles and guests will be refreshed -- and amazed.