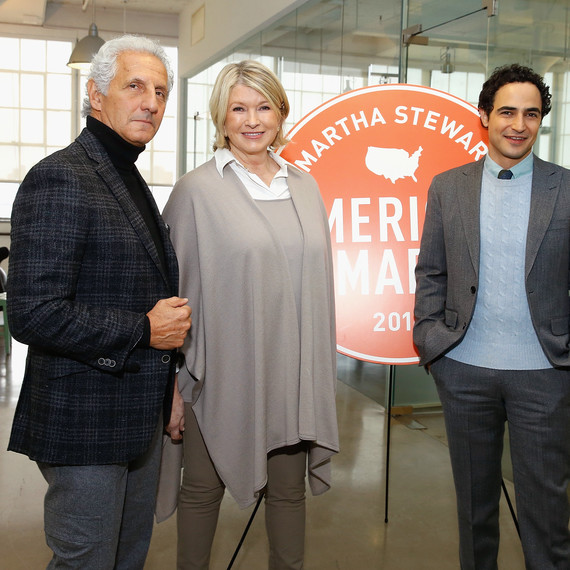 Lifestyle designer Joseph Abboud was drawn to the fashion business by a deep appreciation for quality and elegance. Born in Boston on May 5, 1950, he studied comparative literature at the University of Massachusetts. Shortly after, he went on to attend the Sorbonne in Paris, where he grew to love the sophisticated polish of European style. In 1968, Abboud joined the prestigious retail store, Louis of Boston. Over the course of twelve years, he served as Buyer, Merchandiser, and eventually Coordinator of Promotion and Advertising. After three years as the Director of Menswear Design for Polo/Ralph Lauren, further refining his own vision of Men's Style, Abboud made the decision to go out on his own, "I realized I had something new to say, something that wasn't already out there."
Launching his namesake brand in 1987, Abboud has succeeded in establishing an exceptional style sensibility which is infused with intelligence, grace and ease. Joseph Abboud Manufacturing Corporation has been an integral part of the Abboud brand since its inception. Always mindful of his roots, Abboud produces his tailored clothing collections in New Bedford, MA by dedicated and skilled craftsman. As a designer, one of Abboud's more distinguishing characteristics is his innate and unique application of color. His ability to choose tones and shades that seemingly work together so effortlessly is nothing short of masterful. Joseph Abboud's trademark approach to color is subtle yet highly refined as he strives to capture a timelessness harmony in tonality and hue. Abboud has been accorded numerous honors including the distinction of being the only designer to have received the coveted Menswear Designer of the Year two years in a row (1989 and 1990) from the Council of Fashion Designers of America (CFDA). Especially meaningful to Abboud was the Special Achievement Award from The Neckwear Association of America, which he received in May 1994. This is presented only when the association feels an individual's work has changed the face of the industry. In the association's prior history, only two other designers had been similarly honored, Ralph Lauren and Bill Blass. Other awards and honors include The Cutty Sark Award for Most Promising Menswear Designer (1988), his first Woolmark Award for Distinguished Fashion (1989) and again in March of 1993. Soon after, Abboud was the honored guest of the Japanese Government in conjunction with the Association of Total Fashion, introducing the brand to the Japanese public with a two week tour and culminating with a fashion show. In 1995, Abboud was honored for Excellence in American Design by the U.S. Department of Commerce. Numerous other prestigious awards have followed including Person of the Year from the American Apparel & Footwear Association and the Lifetime Achievement Award from MR magazine in 2016. After leaving his namesake brand in 2005, Abboud launched Black Brown 1826 for Lord & Taylor and was instrumental in reinvigorating Hickey Freeman. Abboud joined Tailored Brands Inc. (NYSE: TLRD) as its Chief Creative Director in December 2012 and was reunited with Joseph Abboud brand when Tailored Brands Inc. acquired JA Holding Inc. in August 2013. The Joseph Abboud designer collection launched in October 2014 on JosephAbboud.com and is now available at the Joseph Abboud Flagship Store in New York City.
 
Abboud is personally involved in every step of the design and manufacturing process. He is grounded, engaging, and possesses an infectious passion for his work.
[MORE: Zac Posen and Joseph Abboud on Their Creative Process and Advice to Entrepreneurs]