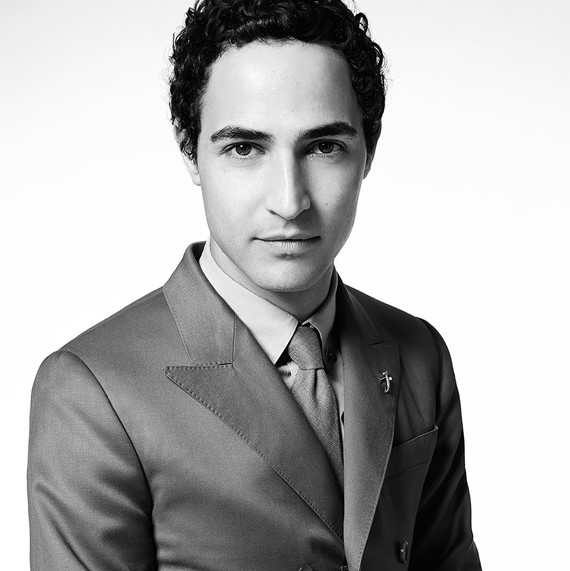 Zac Posen launched his eponymous collection in 2001, with a vision for modern American glamour that married couture technique with striking innovation. Raised in New York, Zac began his design training early. At 16, he attended Parson's School of Design followed by London's Central Saint Martins University. Two years following his first collection, he was awarded one of fashion's most prestigious honors, Swarovski's The Perry Ellis Award for Women's wear by the CFDA. In 2015, Zac Posen was also awarded Designer of the Year by Women's Wear Daily and Variety Magazine.
Today, Zac is known globally for his technique in artisanal craftsmanship, anatomical construction and textile manipulation. His daywear, suiting and red carpet evening wear are infused with his bold sophistication, sexy femininity and distinctive glamour. Worn by leading women, including Uma Thurman, First Lady Michelle Obama, Gwyneth Paltrow, Naomi Watts, and Rihanna, he has become a staple on the red carpet. His collections have grown to include Zac Posen, ZAC Zac Posen, and Truly Zac Posen with offerings in handbags, accessories, hosiery, eyewear, fur, and fine jewelry. Zac Posen just launched his Red Carpet make-up collection with longstanding partner, M.A.C Cosmetics.
Zac Posen serves as a judge with Heidi Klum and Nina Garcia on Lifetime's mainstay Project Runway, now approaching its fifteenth season.
In Fall 2014, Zac Posen was announced as Creative Director for the Brooks Brothers signature women's collection and accessories. The first collection will debut in Spring 2016 and will be available worldwide.
Most Recently, Zac Posen partnered with Delta Air Lines to re-design the iconic uniforms that will be unveiled in 2018.
Follow American Made on Facebook, Instagram, Pinterest, and Twitter