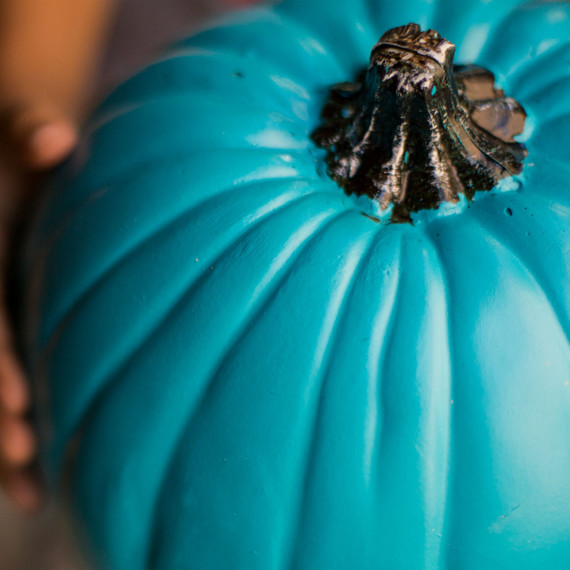 As a night that revolves around candy -- and one that allows you to much on leftover sweets for months on end -- it's no wonder that Halloween is high on people's list of favorite holidays. For parents whose kids suffer from an allergy or food intolerance, the prospect of going door to door for potentially dangerous treats is not quite as sweet. That's where teal pumpkins come in.
 
Inspired by the activities of the Food Allergy Community of East Tennessee, the Teal Pumpkin Project is an initiative that aims to make Halloween more inclusive for all trick-or-treaters, regardless of dietary restrictions, like a peanut allergy, and food-related conditions, like celiac disease.
 
The concept is simple: households that elect to participate in the Teal Pumpkin Project start by getting together a supply of non-candy treats to serve as alternatives to all the Kit Kats, Reese's, and Starburst. These non-food treats can include Halloween-themed items like spider rings and vampire fangs, or more general goodies like glow sticks, bouncy balls, stickers, and noisemakers.
 
Each participating household places a painted teal pumpkin on their doorstep, which tells trick-or-treaters that the house is offering non-food treats for kids.
 
In the process of making Halloween safer and more fun for all costumed ghouls, witches, and zombies, the Teal Pumpkin Project has quickly extended beyond Tennessee. The initiative was launched as a national campaign launched by Food Allergy Research & Education (FARE) in 2014, and has since gone international, with houses in all 50 states and in 14 countries participating in the movement in 2015.
 
To get involved in making this Halloween the safest and most inclusive yet, learn more about the Teal Pumpkin Project.