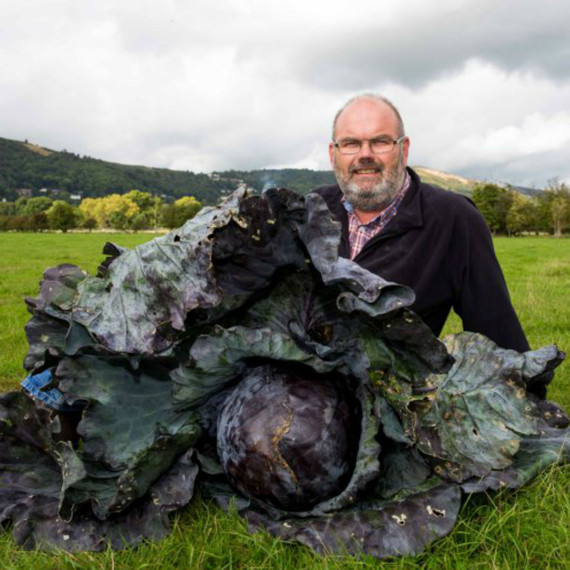 Records are made to be broken. Even records that have held for 90 years like that for the world's heaviest red cabbage. Cornwall, U.K. resident David Thomas just broke that one.
 
The amateur vegetable farmer set the new record for the world's heaviest red cabbage after entering his mega beach ball-sized, 51.1-pound cabbage into this year's U.K. National Giant Vegetable Championships. (Yes, truly that's a thing.) Thomas said he couldn't be happier to have broken the record held since 1925 by Mr. R Straw from Derbyshire, whose red cabbage weighed in at 42 pounds.
 
"There's no big secret to growing giant veg," Thomas told Metro. "You just need the right seeds to start with, plenty of room, good soil, and a bit of luck."
 
But his victory might have more to do with experience than luck. This isn't Thomas' first time at the rodeo -- er, veggie big leagues. The veteran cultivator has been growing vegetables competitively for more than 15 years and already holds two world records -- for the heaviest parsnip and the heaviest cucumber.
 
Other world records set at the 2016 U.K. National Giant Vegetable Championships include the longest carrot (20.4 feet), beet (25.9 feet), and parsnip (16.5 feet). However, these records have yet to be confirmed by Guinness World Records.

One thing that needs no confirmation, though, is that salads in David Thomas' house are probably a big deal. Or just big?!