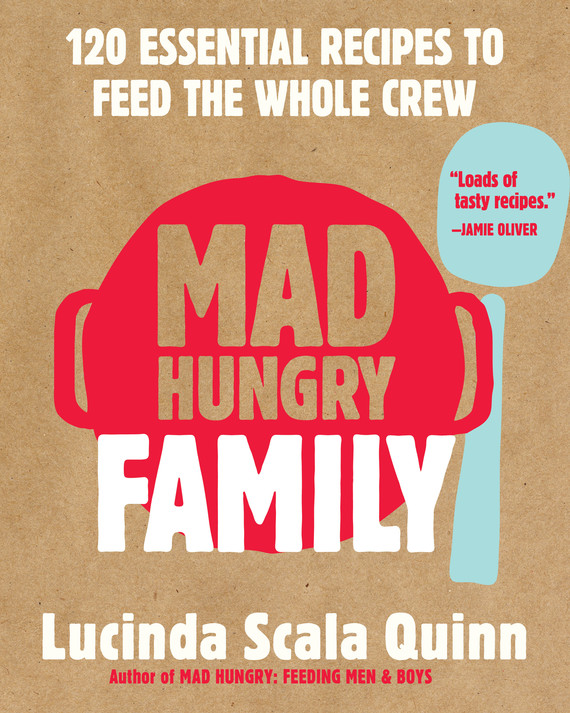 Why is home cooking important? 
It's an essential life skill, a key to self-reliance and a one-stop shop for wellness and community. The kitchen and the dinner table are places where you nourish yourself physically but also emotionally and spiritually, where you take the time to slow down.
You can take what arguably could be a chore, flip it, and see it as a lens through which you view the world. As somebody who has cooked for more than 20 years for a family, for 5 to 6 people every day, I recognized the value of home cooking and have really sought to make it pleasure not pain. One of the ways to do that was to look at those really quotidian jobs, like chopping broccoli or making rice as a sort of act of meditation. I've really incorporated that into my life, and now when I step into the kitchen, I feel a sense of calm.

Another reason I am so devoted to home cooking is the frugality, not just of budget but of resources. When you are a home cook, you really learn, such as how to use not just the florets of broccoli but also the stalks. You cook chicken so you can make chicken salad or tacos but then how do you utilize the nourishment and the flavor that is in the bones? I'm very proud that all my kids, especially the oldest, can rustle up dinner from scraps in the bottom of the crisper drawer. It started because we had to, but that necessity became a pleasure, and a delicious pleasure.
This is the third in the Mad Hungry series, so what do fans of Mad Hungry and those new to your recipes need to know?
Look at the books as a trilogy; "Mad Hungry: Feeding Men and Boys" was the first leg of the journey. The immediacy of having three really hungry adolescent boys, and a husband, often plus one or two friends who dropped by. It was an epic reality. "What's for dinner?" was the most burning question in the universe. I'd better make a plan, better be able to do it too. Not just a plan for dinner but also for breakfast and lunch too. It was about cooking for these emerging appetites.
Cook a five-ingredient recipe from "Mad Hungry: Feeding Men and Boys," Pork Chops with Apple and Onions
My next book, the second in the series, "Mad Hungry Cravings" came about because we lived in NYC, and after all of this work I'd done to prepare healthy food and bring my family together, suddenly my kids were out and about as teenagers. They would not eat well, not be together, and not be around the table. How could I get them to keep coming to the family table to spend time together? I decided to take some of foods from the outside world and make simple, delicious versions of them -- Chinese, pizza, and hot dogs at home. And I learned that making food that really smelled good was key, so before going out with friends, they'd ask "When is the steak pizzaiola going to be ready?"
Try this irresistible recipe from "Mad Hungry Cravings," Caramelized Onion and Bacon Dip
This third book is proof of concept. All three of my sons know how to cook. They like to be together and cook. They eat with us and cook for us. The pleasures are so enormous. They want to know what to cook themselves. They are now asking questions about cooking and recipes. I realized they didn't know some basic things, like egg preparations (boiled, scrambled, etc.), so that is part of the book. I also share a lot of the whys behind cooking: why ice broccoli after cooking it? What is the purpose? So it stays green, but why do it, why care?
While I was writing this book, I was getting these phone calls from college: "How do you make the flat-roast chicken?" "What smoothie recipe is easiest?" "I want to stir fry but I don't have a recipe." And that made me provide some roadmaps. I got a text from my son Luca asking how to cook a pork shoulder (he'd already bought one!) and sent him my recipe, and he texted he didn't think he could get all the ingredients. I told him to use red-wine vinegar instead of rice-wine vinegar and some other substitutions, and that led me to include ingredient substitutions in the book. He also asked if he could trim off all the marinating time -- "would it still be good if I don't have nine extra hours?" That all informed the direction of this book. I was able to anticipate questions and answer them and also just encourage confidence -- it's cool, don't worry, use this instead.
Get the Pinky Pasta Recipe from "Mad Hungry Family"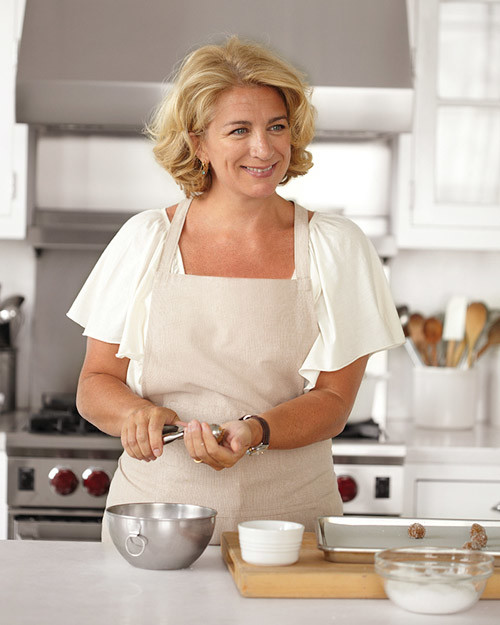 What is the best way to improve cooking skills?
There is no right way. There is no right knife. If you like to use a paring knife for everything, go for it. You can have a 4-foot square table, a paring knife, a cutting board, and a pan, and I promise you that if you have the will, you will be able to make food the way anybody who has all the bells and whistles does. Some of the best meals come out of the most humble places. But it's important not to bite off more than you can chew. No pun intended!

So for instance, everyone has something they make. Let's say you make a roast chicken, something you think is pretty darn good. Then I would take one other thing that you like, learn how to make it, and incorporate that into a meal with the old standard that you are already familiar with. Don't jump into multiple recipes with multiple cooking times when you're starting.
I've been cooking professionally for years and years, but I'm always learning. When I cooked corn, I always shucked it and painstakingly removed every last piece of silk -- because I never knew you could put the entire cob in a 400-degree oven, cook it that way, and peel it, and not one silk would remain.
If someone was going to cook dinner for you tonight, what should they make?
I would want them to cook what they feel most comfortable cooking so that they aren't nervous. I like everything. It can be rice and peas or a steak or a tuna sandwich -- as long as they are doing something achievable for them. I'm pathetically happy when someone cooks for me. But I also never don't want to cook. If I'm not cooking a meal out of my head for my family, I want to dig into a cookbook. Right now it is Taste of Persia by Naomi Duguid. She travels and takes us on tours of distant lands, but the thing about her books is that she manages to make recipes that we can cook. Her recipes work.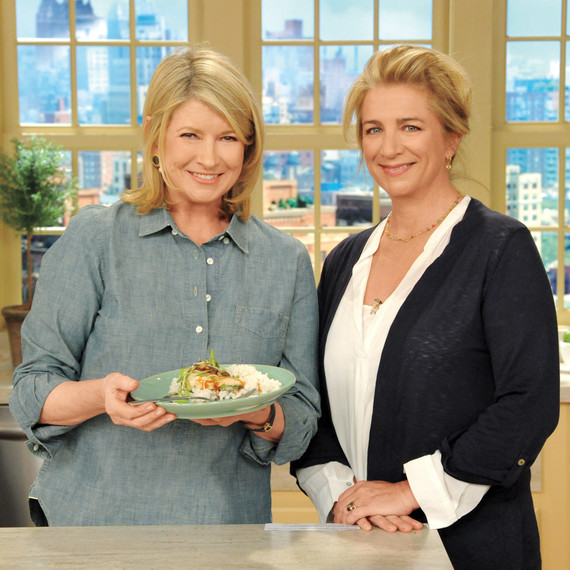 The Martha question! Tell us how you first met Martha.
This is funny -- I was a young teenager, and I was working at my first cooking job. We had moved across the country from the Midwest to Connecticut, and I was a very unhappy girl -- I had left my first boyfriend behind. I think I was floundering in high school, and a counselor said, "We have to get you on track, there's a work study program, is there anything you can do?" And I said "I can cook." And I got this great job at a little gourmet store in the neighborhood. It only did lunch and catering -- omelets to order and quiche and always one other dish. Martha was a customer. I didn't know her at the time, but I remember being in the kitchen when she first came to see if her cookies could be sold there. After college and my own career, I saw the rise of Martha's business. I chuckled and remembered her back then.
Cut to many years later after kids, professional life, books. It was time for me to expand. There were just two people I wanted to write to about a job, and Martha was one of them. I didn't think I'd hear back. Of course she took a look at my resume and said "Wait, you were where? When?" We worked together for 15 years. People don't know this about Martha; Martha is not a snob when it comes to food. She is 100 percent devoted to real food. We have traveled tons of places together. It is so fun to travel with Martha in another city, particularly in another country. Martha always wants to seek out what is new, and she is excited and endlessly curious. 
I've never really had a chance to talk about this, but Martha really helped to solidify something that I have always been about: real pure food in its natural state, cooked simply. We always would laugh because I am Mad Hungry and have a bunch of boys, and it's kind of messy and unhinged, while Martha is orderly and precise. I remember being on her show once, and we were peeling shrimp, and she said "Oh you don't have a shrimp peeler." I said, "You have a shrimp peeler, and I'm just ripping it off with my hands." So we are quite different, but we had a really extraordinary professional relationship. Martha had a profound effect on my commitment to staying on the path that really began with my mother and my grandmother.
Get into the Mad Hungry spirit -- watch Lucinda and her sons Miles and Calder make fried chicken on the first-ever episode of the Mad Hungry TV series: